The Buffalo Sabres came into the season seeking their first playoff appearance in a decade. Now, the Sabres will have to turn things around in a hurry if they want to avoid setting a new NHL record for futility.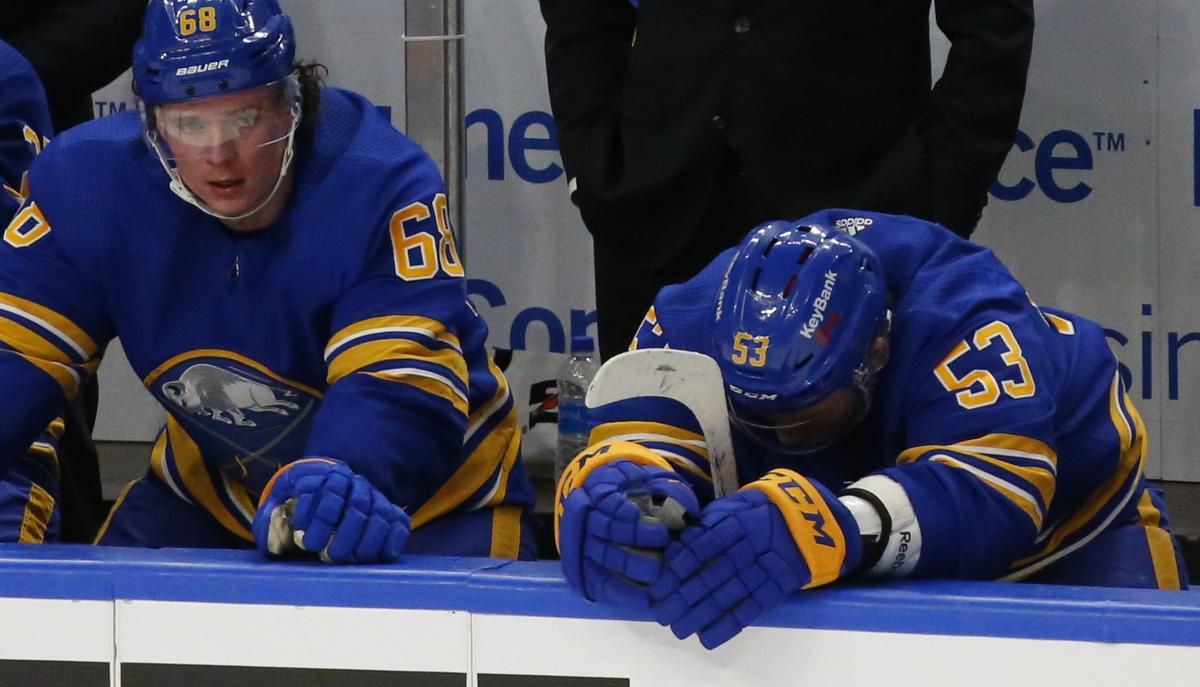 Buffalo lost 5-2 to the Pittsburgh Penguins on Wednesday night, extending their losing streak to a franchise-record 15 games.
Frustration sets in as Sabres search for answers
That ties for the fourth-longest streak in NHL history, matching a stretch of defeats by the Philadelphia Quakers way back in the 1930-31 season. That Quakers team ended the year with a 4-36-4 record.
At their current pace, the Sabres (6-21-4) won't be much better. With three more consecutive losses, they'll tie the 2003-04 Pittsburgh Penguins for the NHL record of 18 straight losses.
"Frustration has to be the first and foremost," Sabres forward Curtis Lazar told the Buffalo News. "As a team, as a whole, we have to understand that playing skill-based hockey when you're in a slump is not going to cut it. We have to get back to the basics … build a game, make the other team earn every chance they get. Right now we're making it too easy."
Buffalo has already set one record. The 15-game streak is the longest winless streak since the NHL adopted the shootout and abolished ties in the 2005-05 season.
After losing 12 straight, the franchise fired coach Ralph Krueger, appointing Don Granato to lead the team. It hasn't helped so far.
The Sabres' 15-game winless streak is now the longest in the salary cap era. https://t.co/Z8KQUJ7trt

— Sportsnet (@Sportsnet) March 25, 2021
"I guess anybody's confidence would be affected with the scenario," Granato told reporters after Wednesday's loss. "They did continue to push through to the end. They skated hard, so there's no question everybody's confidence goes up and down."
COVID, goaltending contribute to mounting losses
Buffalo has earned just two points – for overtime and shootout losses – in the 15-game stretch. The Sabres sit 20 points out of the playoff picture in the East Division, and are 12 points back of the seventh-place New Jersey Devils. Buffalo's -45 goal differential also stands as the worst mark in the league.
There's no single factor that's caused the Sabres to fall into their pitiful state. The team suffered an early-season COVID-19 outbreak, and couldn't recall players from its AHL affiliate for a time for COVID reasons. Buffalo is currently missing its top two goaltenders, starter Linus Ullmark and backup Carter Hutton, due to injury. The Sabres started Dustin Tokarski, who hadn't appeared in the NHL since the 2016-17 season, in the last two games; he's allowed nine goals on 79 shots. The team has also added ECHL callup Michael Houser to the roster.
Granato is implementing a more offensive system than his predecessor used, and while it hasn't paid dividends yet, players say that expect it to lead to a win. Eventually.
"Obviously everything is not going to be perfect right away," winger Victor Olofsson told the Buffalo News. "I think we got to play a little bit smarter. We're working hard, but maybe not as efficient as we want to. Just got to be a little bit more calm out there and read the play a little bit better. I think that will go a long way."
Buffalo plays at Pittsburgh on Thursday night. The Sabres come in as a +300 underdog, according to FanDuel Sportsbook.