Bryce Harper fractured his left thumb after Blake Snell hit him with a fastball during the fourth inning of Philadelphia's 4-2 win over the San Diego Padres on Saturday — an injury that could change the course of the Phillies' season.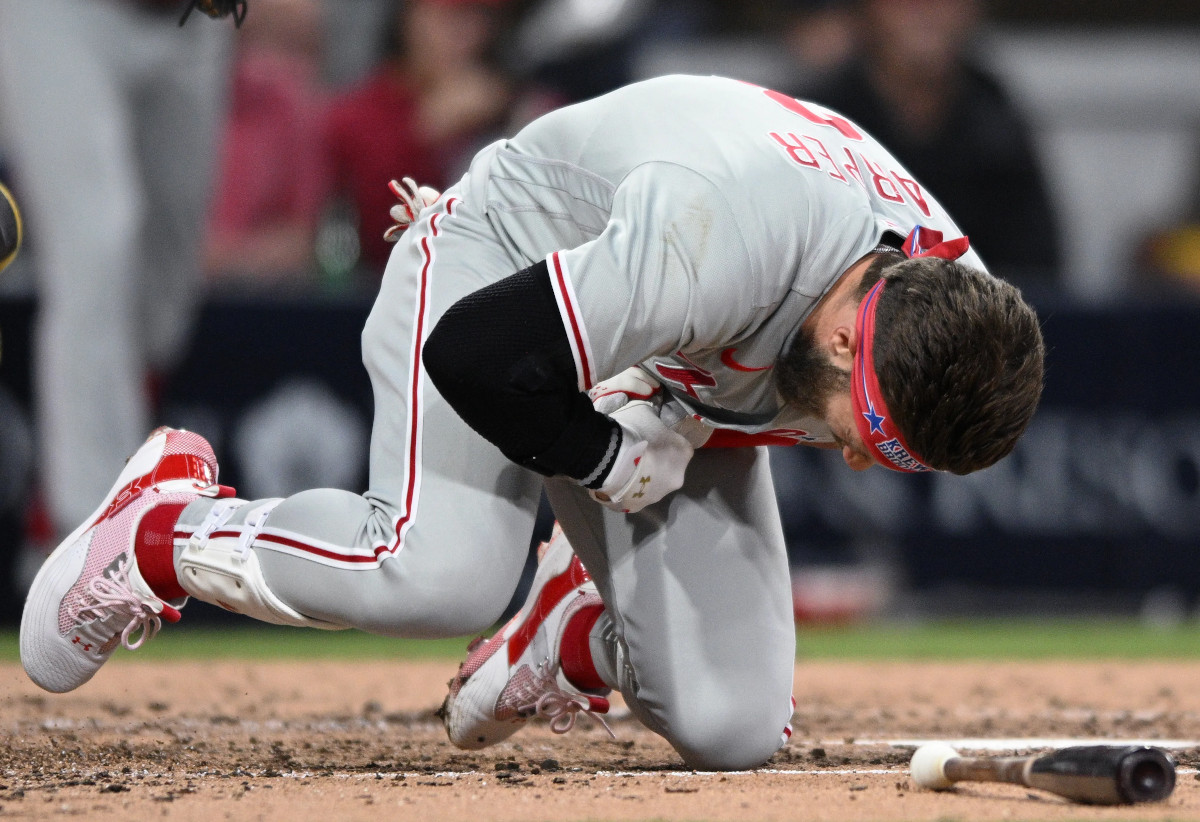 The Phillies placed Harper on the 10-day injured list on Sunday, but don't yet know how much time the superstar will miss.
Harper will see hand specialist
Harper told reporters that he doesn't yet know if he'll need surgery, and should have a better sense of a recovery timeline after further evaluation.
"Things happen for a reason," Harper told reporters. "This reason sucks right now, but at the same time, it is what it is. I've got to be positive. I've got to be positive for the guys in here. I know they'll pick up the slack. I'm just really bummed for the organization, the guys, the city of Philadelphia, the fans."
The 29-year-old Harper is coming off of a 2021 season in which he won the National League MVP award for the second time in his career. So far this season, he's hitting .318 with 15 home runs and 48 RBIs, with a stellar .985 OPS. While Harper didn't rank as a leading favorite to win MVP honors again this year – FanDuel Sportsbook had his odds at around +2000 earlier in the spring – the injury might take him out of contention altogether. FanDuel is now offering +7000 odds on Harper to repeat.
Harper says that part of the uncertainty comes because he doesn't have experience with these types of injuries.
"I've never had a hand injury like this," Harper said on Saturday. "Never broken anything in my life. This is new to me, so I'm just going to go day by day, see kind of where we're at, and see the specialist in Philly."
The Phillies are currently third in the NL East at 39-35, eight games behind the division-leading New York Mets. Philadelphia stands as a +1500 pick to win the division, but is just 1.5 games out of a wild-card spot.
Acuna can't put weight on foot, tests negative for break
Another NL East contender could also be without one of its superstars, at least for a short time. Ronald Acuna Jr. sat out of the Atlanta Braves' Sunday night loss to the Los Angeles Dodgers after fouling a ball off of his foot on Saturday.
According to Acuna, he couldn't put pressure on his foot, though tests didn't show a fracture.
"I'd say that's the one thing that has me a little worried, but we'll see how it goes," Acuna said via a translator, speaking of his inability to put pressure on the foot. "I just kept playing and then as the game went on, eventually it just got to the point I couldn't really stand on it."
Braves manager Brian Snitker described the injury as "just a bruise," and said the team will reevaluate Acuna before its next game on Tuesday.
Acuna is hitting .281 with seven homers and 18 RBIs over 43 games this season. He's already missed time this year while recovering from a torn ACL he suffered last July.
The Braves currently hold one of the three wild-card positions in the National League with a 42-32 record. Atlanta trails the Mets by five games in the NL East, with FanDuel giving the Braves +195 odds of winning the division.