Derek Brunson will try to pick up his fifth straight win and position himself for a rematch with midweight champion Israel Adesanya when he takes on fellow contender Darren Till in the main event of UFC Fight Night 191 on Saturday in Las Vegas.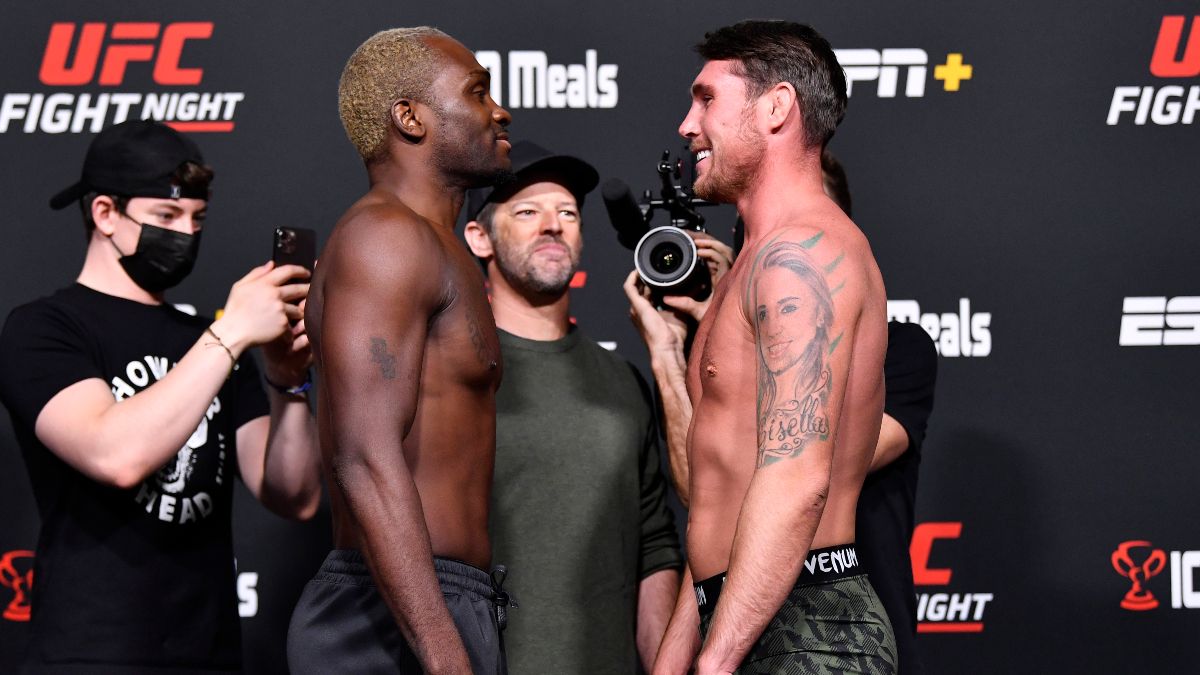 Brunson defeated Kevin Holland via unanimous decision in March to run his current winning streak to four fights over the past two years.
Brunson wins, doesn't always please fans
Those victories have thrust Brunson (22-7) back into the title picture, as he now ranks fifth in the UFC's middleweight division. And while beating Till might not be enough on its own to secure his first UFC title shot, it would certainly put him back in the picture after an up-and-down tenure in the promotion.
On the other hand, many fans and pundits see Brunson's style as an impediment to a championship. In a sport where flashy athletes earn the most attention, Brunson often fights to win rather than to look good. That happened against Holland, when he simply took down his opponent and wrestled his way to an easy victory.
---
Brunson vs. Till Odds (via FanDuel Sportsbook)
Derek Brunson: +154
Darren Till: -184
Method of Victory
Brunson by KO/TKO: +320
Till by KO/TKO: +145
Brunson by Submission: +2900
Till by Submission: +2300
Brunson by Decision: +500
Till by Decision: +290
Draw: +5000
---
"Yeah, it was a no-win situation," Brunson said of the Holland fight, speaking to Yahoo Sports. "He was a guy who had a lot of buzz from his previous year, but there really wasn't a lot to gain from that and not a lot of traction going forward."
Till (18-3-1) has lost three of his past four fights. That includes a unanimous decision loss to Robert Whittaker in July 2020, the last time Till stepped inside the Octagon. But the former welterweight championship challenger hasn't lost his reputation as a dangerous fighter.
Oddsmakers see clear favorite in main event
Now ranked seventh in the middleweight division, Till has an immediate opportunity to prove himself against a larger fighter and establish himself as a potential contender in a higher weight class. Till sees Brunson as an underrated fighter who represents a true test of whether he can compete with the middleweight elite.
"He's beaten all these top guys," Till told reporters. "I'm not trying to discredit Kevin Holland and Shahbazyan and the other guys he's beat and say, you know, I'm a different monster. I know I'm a different monster but he's beaten all these top guys, he's on a f***ing roll, he knows what he wants, he knows the man he is and what he wants to be. I have to respect that, as always."
Till comes in as a significant favorite. FanDuel Sportsbook lists Till as a -184 pick over Brunson (+154), despite the fact that Till hasn't fought someone as big as Brunson yet as a middleweight. Brunson is also the one riding a winning streak, making it possible that the public perception – and even dislike – of Brunson as a fighter may be tilting the odds a bit.
That's not to say that Till can't win. But Brunson believes he can overcome the challenge by sticking to his gameplan.
"I'm expecting a game [guy] who made some improvements to come out here and fight," Brunson said of Till. "That gives me more chance to be on top of my game and understand what I'm best at and making him pay."