The Tampa Bay Bucs hired Bruce Arians as their new head coach and hope Arians can quickly turn around the team's bad luck after failing to qualify for the playoffs for 11 consecutive seasons.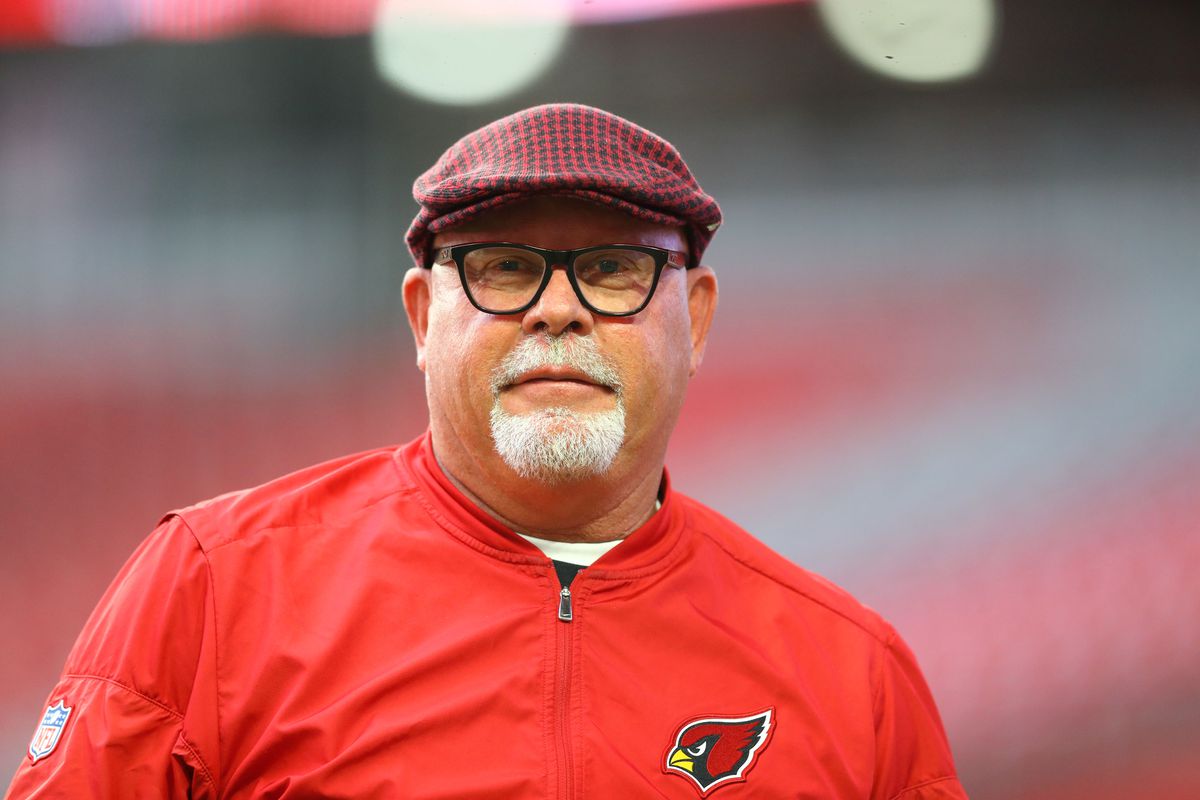 The Bucs fired head coach Dirk Koetter after an ugly 5-11 season. Koetter went 19-29 in three seasons with the Bucs.
Arians, 66, retired from coaching at the end of the 2017 season after five seasons with the Arizona Cardinals. He finished with a 50-32-1 record, which is the best winning percentage in Cardinals history.
Arians is technically sill under contract with the Cardinals. To simplify the compensation, the Bucs and Cardinals agreed to swap late-round draft picks in the 2019 NFL Draft in exchange for Arians rights.
The Bucs offered Arians a four-year deal with an option for a fifth year.
Career Coach
Arians grew up in Pennsylvania and played his collegiate ball at Virginia Tech. He played played quarterback in the early 1970s and ran the wishbone offense, where he racked up more career rushing yardage than speedster Michael Vick.
Arians returned to VaTech and began his storied career as an assistant coach. He also coached at Mississippi State, Alabama, and Temple before moving onto the NFL.
Who Is Bruce Arians?
Age: 66
Hometown: York, Pennsylvania
College: Virginia Tech
Colleges Coached: Virginia Tech, Temple, Alabama, Mississippi State
NFL Teams Coached: Chiefs, Saints, Colts, Steelers, Cardinals, Bucs
Career NFL Wins: 58-33-1
Playoff Record: 1-2
The offensive-minded Arians coached the running backs for the Kansas City Chiefs in the early 1990s and tight ends for the New Orleans Saints in the mid-90s. He spent three seasons as the Indianapolis Colts' QB coach from 1998-2000, before he landed his first OC job with the Cleveland Browns in 2001. He later served as the Pittsburgh Steelers OC from 2007-2011 and won two Super Bowls.
In 2012, Bruce Arians accepted the OC job for the Colts. He took over for Chick Pagano as interim head coach when Pagano was diagnosed with cancer.
In 2013, the Arizona Cardinals tapped Arians to become their new head coach. Arians accepted his first head coaching job in the NFL at age 61. Arians turned around the Cardinals and made them into a playoff contender.
Tampa Bound
Bucs general manager Jason Licht tapped Chicago Cubs manager Joe Maddon to help sway Arians back into coaching. Maddon is a resident of Tampa and Licht wanted Maddon to help sell the city as a great place to live and coach.
The NFL is gobbling up offensive-minded head coaches, such as Kliff Kingsbury. It was no surprise that a team tried to coax Arians, known as an offensive genius, to return to the sidelines.
According to Buccaneers owner Bryan Glazer, "Bruce Arians is one of the NFL's most well-respected coaches over the past two decades, and we are excited to have him leading our team. Throughout this process, we focused on finding the right coach with a proven ability to elevate our players and lead our team forward. Bruce has played a large role in the development and career success of some of our league's best players, and we look forward to seeing him continue that work here with our franchise."
Arians is most excited about coaching Jameis Winston, who had previously attending Arians' football camp in Alabama.
"He would be fun to coach, there's no doubt about it," Arians said about Winston. "He's a winner and a great leader and obviously a heckuva young quarterback."
Getting the Band Back Together
Arians did not hesitate in hiring two of his former colleagues. Former quarterback turned coach, Byron Leftwich, will handle play-calling duties as the Bucs new offensive coordinator.
The New York Jets fired Todd Bowles after three consecutive losing seasons. Mike McCarthy, former Green Bay Packers head coach, is rumored to take the Jets job.
The Bucs named Bowles as their new defensive coordinator. Bowles coached under Arians in Arizona during the 2013 and 2014 season, before he accepted the head coaching position with the Jets.