First Brooks Koepka dominated major championships, now he has moved on to capturing World Golf Championship events. He won the WGC FedEx St. Jude Classic on Sunday by three strokes over Webb Simpson.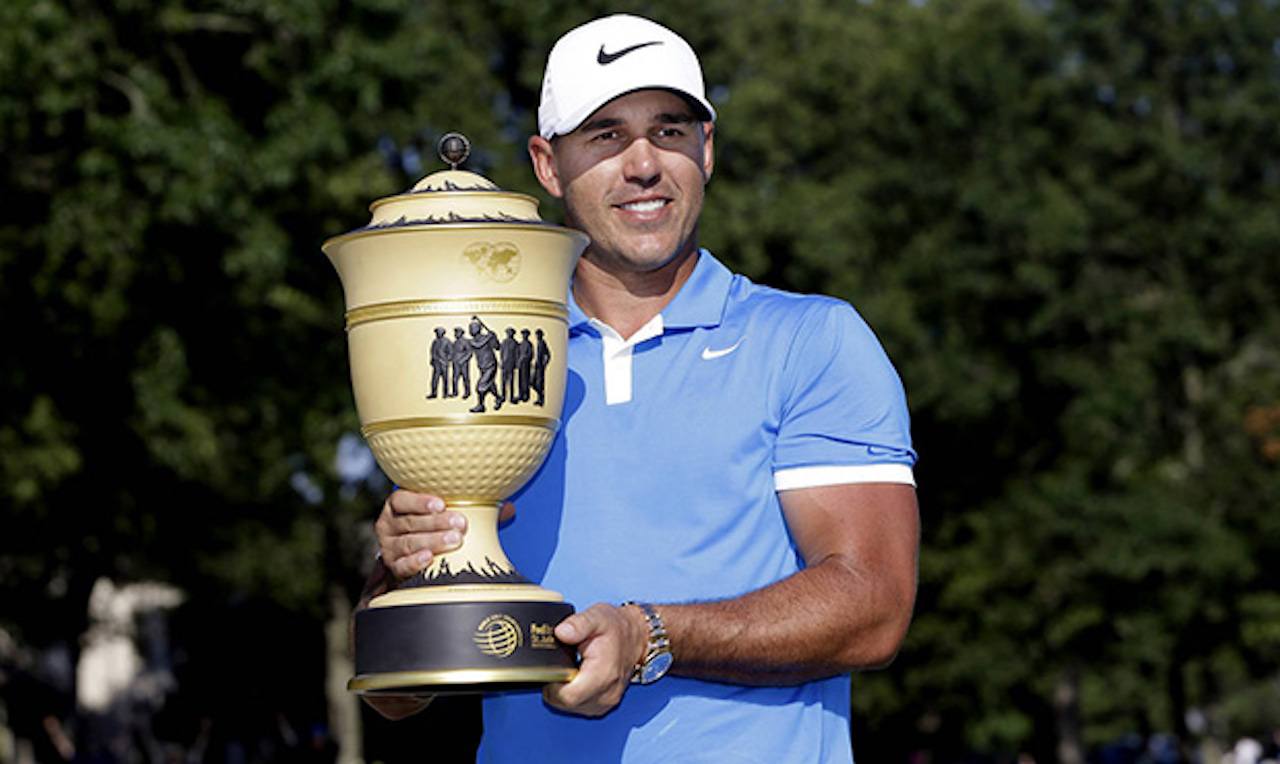 Koepka, who was 12/1 to win, had been sick all week, but looked the picture of health on Sunday. He began the day arriving to TPC Southwind just 40 minutes before his tee time, but said that wasn't unusual.
"I always take less time on Sunday," Koepka said. "I played for three straight days, it's hot, I don't feel that great, so I'm not going to go out there and waste my energy on the range when I can do it on the course."
Sunday Showdown
The leader going into the final round was tournament co-favorite Rory McIlroy. He, and Dustin Johnson, were the top pick before the tournament began at 10/1. The Irishman shot a third-round 62 to take a one-shot lead going into Sunday's fourth round.
It set up a showdown between the No. 1 (Koepka) and No. 2 (McIlroy) in tour season points. Koepka is also No. 1 in the Official World Golf Rankings, while McIlroy is No. 3.
"I want to go into New York No. 1 in those points because it's important, and I want to try to stay up there as high as possible and I'm going up again against the best player in the world," McIlroy said. "He's won four majors in the last three years. It's going to be a fun day tomorrow, I'm excited about it. I got to play alongside him the first two days and his game looked awfully impressive. So I need to go out and try and focus on myself and put a sort of thought or target in my head and just try and go for that."
McIlroy Wilts Again
Instead of a two-golfer dual, it was yet another example of how dominant Koepka is in big events. It didn't matter that he was sicker than a dog, he went out and shot a tidy 65.
"It doesn't affect me hitting a golf ball," Koepka said of his illness. "I don't feel good. I haven't felt good all week, but I don't want to make an excuse, I'm not trying to complain. Just get on with it. People go to work sick all the time."
It also showed the continuing struggles of McIlroy. Less than a month after his awful opening round at the Open Championship, which was held at Northern Ireland's Portrush, he faded in another marquee tournament. This time he shot a final-round 1-over par 71 and finished five shots back of Koepka, tied for fourth.
This isn't the first time McIlroy has squandered a lead. Though he won the Players Championship, and the Canadian Open this year, there have been a couple of instances beside the Open Championship, where it appeared the pressure got to him.
McIlroy declined to talk to the media after the round, but at some point he is going to have to address why he seems to disappear when he is at the top of the leaderboard.