The bad news for the Brooklyn Nets is that Kevin Durant is out the next four to six weeks with a knee injury, but the good news is that it's only an MCL sprain and he'll be back in March.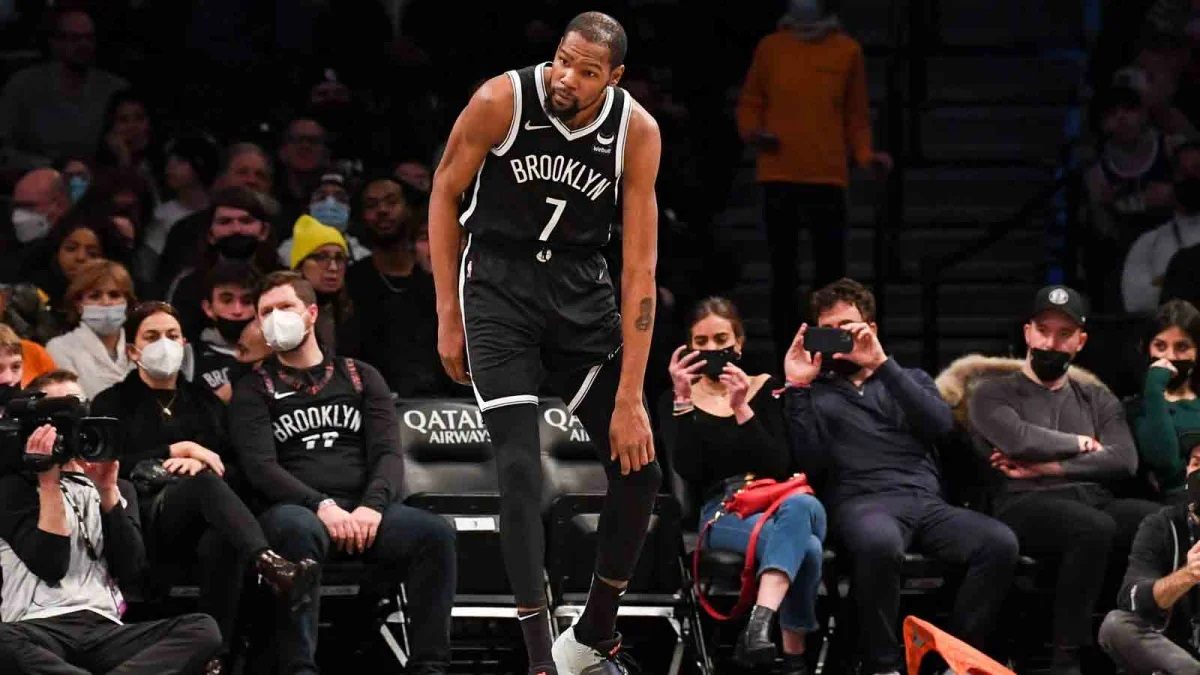 Durant suffered the injury in the first half against the New Orleans Pelicans last night. Bruce Brown from the Nets fell backwards into Durant's knee on a freak play after Brown collided with Herbert Jones from the Pelicans.
Banged-Up Nets
Despite losing Durant, the Nets still defeated the Pelicans by 15 points. James Harden missed a triple-double with 27 points, 15 assists, and 8 rebounds, but he didn't flinch when Durant went down.
"Tonight what happened to KD, and other injuries to Joe, Nic, and LaMarcus, we've been a resilient group all year," said Harden. "And we just got to keep going, keep pushing, keep pushing."
On Sunday morning, Durant underwent an MRI which revealed no serious damage to his ACL.
"Yeah, of course it will be tough to lose him," said head coach Steve Nash. "You know no one wants to see that. We have to continue to work, build and grow, and get better and compete."
The Nets were short-handed in recent weeks. Joe Harris has yet to recover from ankle surgery. They also lost a couple of key role players in January to injuries. Nic Claxton missed three games with a strained hamstring, and Aldridge missed five games with a foot injury.
Kyrie Irving finally returned to the Nets, but he's limited to road games only. He's unable to play home games at Barclay's Center or against the New York Knicks at Madison Square Garden due to New York City's health mandate that requires vaccinations to patriciate in activities in indoor gyms.
On Deck: Cavs, Wizards, Spurs, Timberwolves
The Nets are on the road nine times in their next 11 games, which is perfect timing because they could use Irving in the lineup after losing Durant.
The Nets have a four-game road trip this upcoming week against the Cleveland Cavs, Washington Wizards, San Antonio Spurs, and Minnesota Timberwolves. Then, the Nets return home to Brooklyn for a tough back-to-back against the Denver Nuggets and the struggling Los Angeles Lakers. In February, the Nets leave Brooklyn for a five-game road trip out west.
The Nets (27-15) occupy the #2 seed in the Eastern Conference and trail the Chicago Bulls (27-15) by a half-game. The Bulls recently lost their second-best scorer when Zach LaVine went down on Friday evening with a sprained MCL. He's out a couple of weeks, but should miss up to a month of action.
Both the Nets and Bulls will try to fend off the smoking-hot Miami Heat (27-16), who moved into the #3 seed in the east after a surge in the first two weeks of January.
The Nets are still the consensus favorite to win the 2022 NBA championship at +245 odds, according to DraftKings.