Preakness Stakes champion Swiss Skydiver will bypass the Breeders' Cup Classic and run with her gender in the Breeders' Cup Distaff. And with that, she and 2018 Distaff champion Monomoy Girl will separate themselves from the rest of the field, according to their speed figures.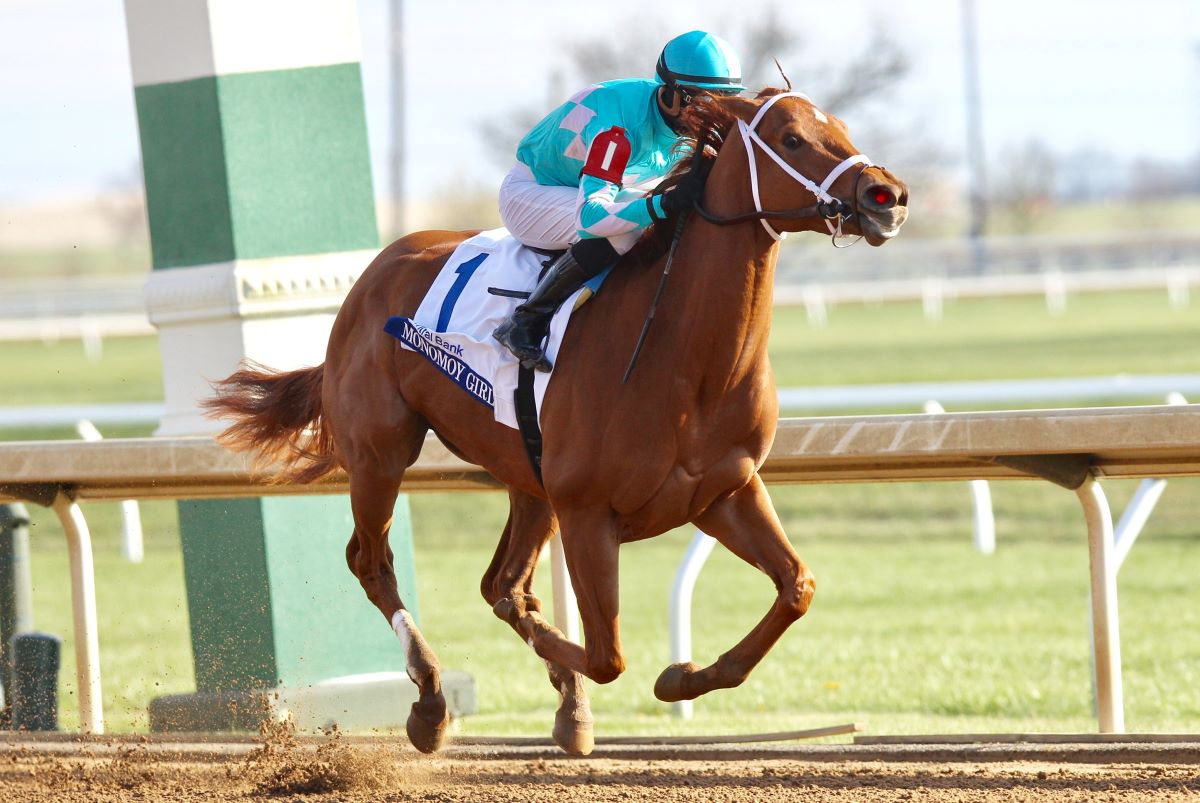 The $2 million Breeders' Cup Distaff is the featured race for fillies and mares. Going to post at 12:54 p.m. PT at Keeneland, it's the 10th of 12 races Saturday. It factors into the $1 million Breeders' Cup Ultra Pick 6, the $2 million Breeders' Cup Late Pick 5, and the $2 million Breeders' Cup Late Pick 4.
And it's a safe bet, based on speed figures, that Monomoy Girl and Swiss Skydiver will figure prominently on most – if not all – of those tickets. Those two dug a speed-figure moat between themselves and the rest of the Distaff field chasing them.
Swiss Skydiver's 105 Beyer Speed Figure from her Preakness victory is the best Beyer in the field. Her 109 Brisnet Figure is the best last-out Brisnet, but Equibase doesn't value it as highly as it values some of her competitors' speed figures. Her 109 Equibase trails several last-out efforts, including Ollie's Candy's 112 from the Spinster Stakes, Valiance's 113 from the same race, and Harvey's Lil Goil's 111 from the Queen Elizabeth II Challenge Cup.
Monomoy Girl Becomes Deserving Favorite
Regardless, Swiss Skydiver carries a 2/1 second-favorite status on the morning line.
Not surprisingly, on the tote board, Swiss Skydiver and the rest of the Distaff field look up to Monomoy Girl — your 8/5 favorite. Her 104 Beyer from the 2019 Cotillion Stakes puts her a tick below Swiss Skydiver, but her 111 best Brisnet tops the field. So does her 118 Equibase – by five points over Valiance.
---
Breeders' Cup Distaff Speed Figures
Below is a list of the best, and most recent, speed figures posted by the top contenders running in the Breeders' Cup Distaff.
| | | | |
| --- | --- | --- | --- |
| | Best/Last Beyer | Best/Last Brisnet | Best/Last Equibase |
| Monomoy Girl | 104/104 | 111/110 | 118/106 |
| Swiss Skydiver | 105/105 | 109/109 | 109/109 |
| Horologist | 101/100 | 106/101 | 110/105 |
| Ollie's Candy | 100/95 | 104/102 | 112/112 |
| Ce Ce | 100/91 | 101/95 | 109/99 |
| Harvey's Lil' Goil | N/A | 104/104 | 111/111 |
| Harvest Moon | 97/97 | 98/98 | 107/107 |
| Valiance | 96/96 | 105/103 | 113/113 |
| Point of Honor | 96/96 | 103/97 | 106/101 |
| | | | |
| --- | --- | --- | --- |
| Dunbar Road | 96/92 | 101/95 | 109/97 |
---
Monomoy Girl won this race in 2018 before sitting out the next 19 months with various ailments. She returned this year with a 104 Beyer and 106 Equibase en route to the La Troienne Stakes title at Churchill Downs in early September. That was Monomoy Girl's third victory in as many 2020 races, and it came on the heels of her 115 Equibase in the Ruffian Stakes at Belmont Park in July.
Swiss Skydiver's Peak vs. Monomoy Girl's Consistency
When deciding between the two and breaking down their speed figures, the choice comes to two factors. Swiss Skydiver's peak efforts vs. Monomoy Girl's consistency.
Both horses own Brisnet figures better than every Distaff winner over the last decade. Speaking of which, on the Brisnet scale, every Distaff winner over the last decade owns at least one triple-digit Brisnet figure.
Looking at that makes it easy to scratch Harvest Moon (12/1). Not only are her Brisnet figures – a career-best 98 in her last-out Zenyatta Stakes victory at Santa Anita – the lowest in the field, but her career-best 97 Beyer is near the bottom of the field as well. She simply doesn't have the raw speed to contend here.
Three Intriguing Contenders Lurk Behind Top Two
That speed-figure housekeeping out of the way, from there, things get interesting. Three other contenders, Horologist (101), Ce Ce (100), and Ollie's Candy (100) own triple-digit Beyers, with Horologist throwing in a 100 from her Grade 2 Beldame victory. Their Equibase figures are comparable, as are their Brisnets.
So are their morning line odds. Horologist is 8/1, Ollie's Candy 10/1, and Ce Ce and Valiance 12/1. Horologist rebounded from her third in the La Troienne to win the Beldame. Valiance, meanwhile, beat Ollie's Candy last time out in the Spinster Stakes at Keeneland with that 113 Equibase and a career-best 96 Beyer.
That makes it a handicapper's puzzle: picking the right filly or mare to either pull that upset or fill that exotic. From a speed-figure standpoint, all of them give you a rich body of work to pick through.