Jan Blachowicz got the win he needed to re-enter the light heavyweight title picture on Saturday night, but the biggest story coming out of the fight was the injury Aleksandar Rakic suffered during the bout.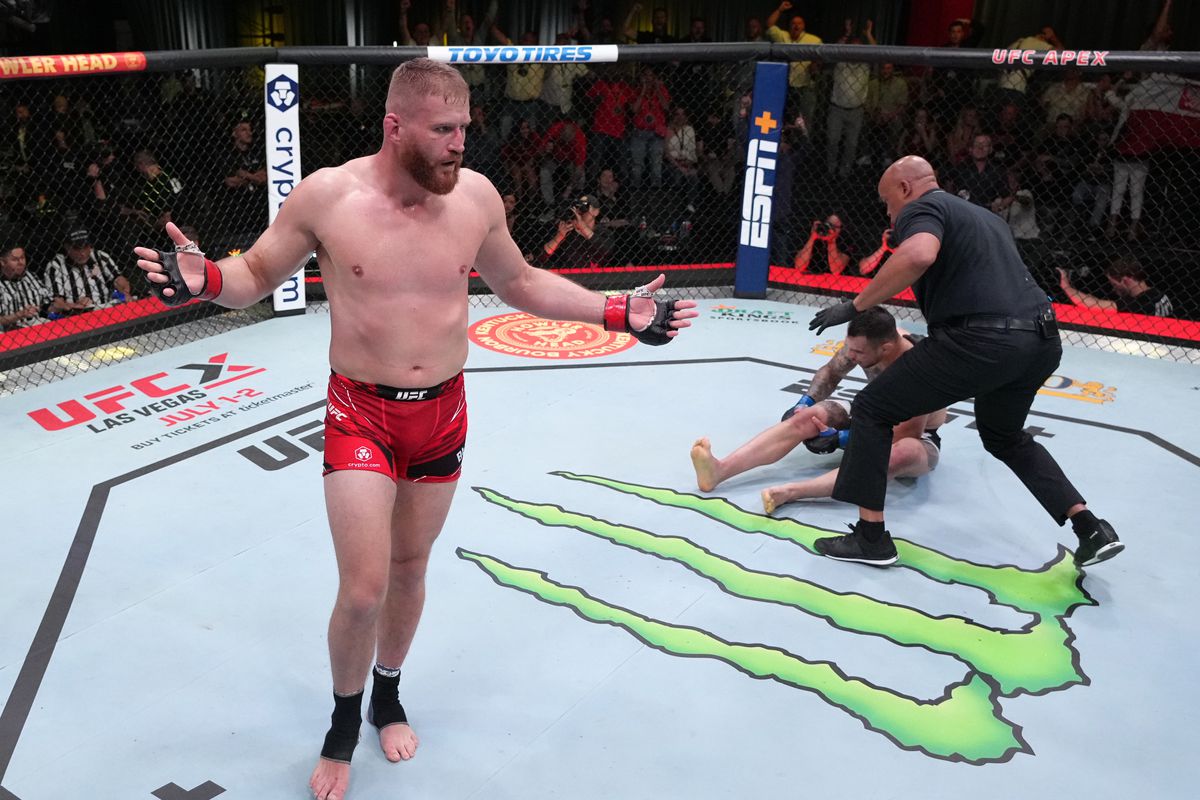 Blachowicz scored a TKO win at 1:11 into the third round when Rakic injured his knee.
Blachowicz asks for next title shot
Rakic tried to plant his right leg while stepping back after Blachowicz landed a combination. His leg gave out from under him, and he fell to the ground. Referee Mark Smith immediately stepped in to stop the fight.
While Blachowicz (28-9) would have preferred a clean finish, he was enjoying the best of the fight ahead of the injury as well. Leg kicks slowed Rakic throughout the fight, and Blachowicz had sustained success in the standup game.
"He had an injury, it is what it is," Blachowicz later said of the finish. "I cannot wait to step inside again with this type of feeling, with this joy. And I hope the UFC gives me the next title shot."
The result was a minor upset, as Blachowicz entered the bout as a +170 pick at DraftKings Sportsbook.
On Monday, Rakic (14-3) learned that he had torn the ACL in his right knee during the main event. Rakic will need surgery for the injury and could miss around a year during rehab. Rakic has twice suffered a torn ACL in his left leg.
Storley picks up interim Bellator welterweight title
Logan Storley disappointed the London fans by picking up a split-decision win over Michael "Venom" Page at the OVO Arena Wembley on Saturday in the main event of Bellator 281.
The judges gave Storley a 48-47, 47-48, 49-46 win in the five-round fight. Storley came in as a -280 favorite at DraftKings.
A four-time NCAA All-American in wrestling, Storley used those skills to take Page to the ground and avoid Page's excellent standup skills. It was a sound strategy, but also one that led to a largely uneventful fight – one the crowd booed for much of the bout.
"Boo me all you want, nobody stands with him," Storley said after the fight. "So you can boo me, but I'm the world champ."
Storley (14-1) only won the interim title on Saturday. Yaroslav Amosov holds the Bellator welterweight crown, but is fighting for Ukraine in Russia's invasion of the country.
Judge denies bail to Cain Velasquez
Former UFC heavyweight champion Cain Velasquez remains in custody as Judge Shelyna Brown denied him bail for a second time on Monday. Brown cited Velasquez's "reckless disregard for human life" in denying bail.
Velasquez faces charges of attempted murder, along with 10 other gun-related charges, stemming from a February incident in which he allegedly chased down Harry Eugene Goularte and shot a gun into his vehicle. One bullet hit Goularte's stepfather, Paul Bender, who was in the vehicle. He suffered non-life-threatening injuries as a result.
Goularte faces charges of molesting a young child who is a relative of Velasquez.
"There is a degree of irony that the accused pedophile and his presumed co-conspirators are out there trying to claim the mantle of victim," Velasquez attorney Mark Geragos told MMA Junkie. "I always prefer having a client out, but Cain is strong. I look forward to vindicating him."