Big Ten Football it entering its final week of non-conference tune-ups. In a traditional September rivalry, that means Iowa travels to Ames to take on Iowa State. Both teams are 2-0 and were ranked last week, but State struggled in an overtime win against Northern Iowa and fell out of the Top 25. Still, this is the marquee non-conference match-up in the Big Ten this Saturday.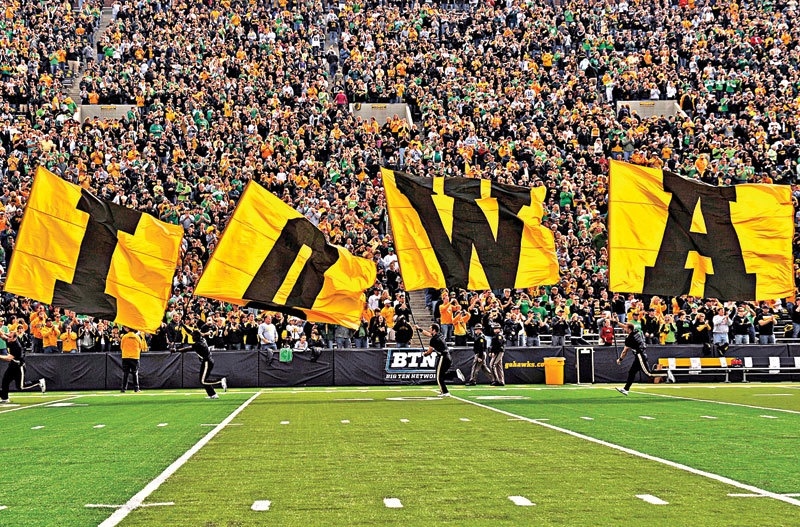 One more week of mostly non-conference games fill the Big Ten football schedule this weekend. There have been some early season surprises, like the fact that Maryland is putting up record offensive numbers. Or, that conference co-favorite, Michigan, has stumbled to a 2-0 opening awash with a rash of fumbles and penalties.
Big Ten Football Last Week: Against the Odds
The Big Ten had a big week against non-conference opponents, going 11-1 outright. Against the spread, the league was 8-3.
Highlights included several monster shutouts; Wisconsin beat Central Michigan 61-0, Ohio State crushed Cincinnati 42-0, and Iowa opened the conference schedule 30-0 over Rutgers. Lowlights included 23-point favorite Michigan barely surviving with a three-point, double-overtime win against Army.
The Maryland Terrapins opened the season with a 79-0 trouncing of Howard, and everyone wrote it off to an early season mismatch. This week, Maryland took on #21 ranked Syracuse and hung 63 on them in a resounding 63-20 victory. Maryland is far exceeding all preseason predictions and replaced Syracuse in the polls at #21.This week, the Terrapins take on Temple in what could be a third straight 60+ point explosion.
Michigan, Northwestern and Rutgers have bye weeks. Michigan better pull it together or they will be looking at yet another season that "might have been" under coach Jim Harbaugh.
Big Ten Bad Beat of the Week
Nebraska had a 17-0 lead over Colorado with two minutes to go in the third quarter. But, when Colorado finally got on the board, it was a sign of big things to come. The fourth quarter saw a combined 38 points between the two teams. The highlight was a trick play, 96-yard touchdown pass by Colorado from their own end zone. When the dust cleared, it was 31-31 and the game went to overtime. Colorado scored first with a field goal and when Nebraska saw their tying field goal try go wide, Colorado had a come from behind shocker 34-31.
Big Ten Football: Week 3 Schedule
---
Saturday, September 14
Eastern Michigan @ Illinois -8
#21 Maryland -8 @ Temple
Pittsburgh @ #13 Penn State -17
#6 Ohio State -15 @ Indiana
Georgia Southern @ Minnesota -15.5
UNLV @ Northwestern -19
#19 Iowa @ #26 Iowa State -1.5
Arizona State @ #18 Michigan State -12
TCU @ Purdue -2
Northern Illinois @ Nebraska -14
---
Game of the Week: Iowa vs. Iowa State (-3)
A full league schedule begins next Saturday, which leaves Week 3 of the season open for one more non-conference tune-up or a big rivalry game like Saturday's Iowa – Iowa State matchup. Iowa is ranked #19, but on the road, they're a point-and-a-half underdog. Iowa has won the last four annual matchups and seven of the last 10. Two of those games have been 44-41 overtime victories, one to each school.
A national ranking has been a perfect predictor of the outcome between these two schools. Iowa has entered the game ranked 10 times, and won them all. Iowa State was ranked once in 1978, and won that game. This year, Iowa is ranked (#19), but Iowa State fell out of the top 25. Technically, the Cyclones are ranked #26. History tells us to take the Hawkeyes and the points, but this is a really close call.