James Harden opted out of a $47.4 million final year in his contract with the Philadelphia 76ers, and signed a two-year deal worth $68 million which reflects a $15 million pay cut to help Joel Embiid and the Sixers win a title.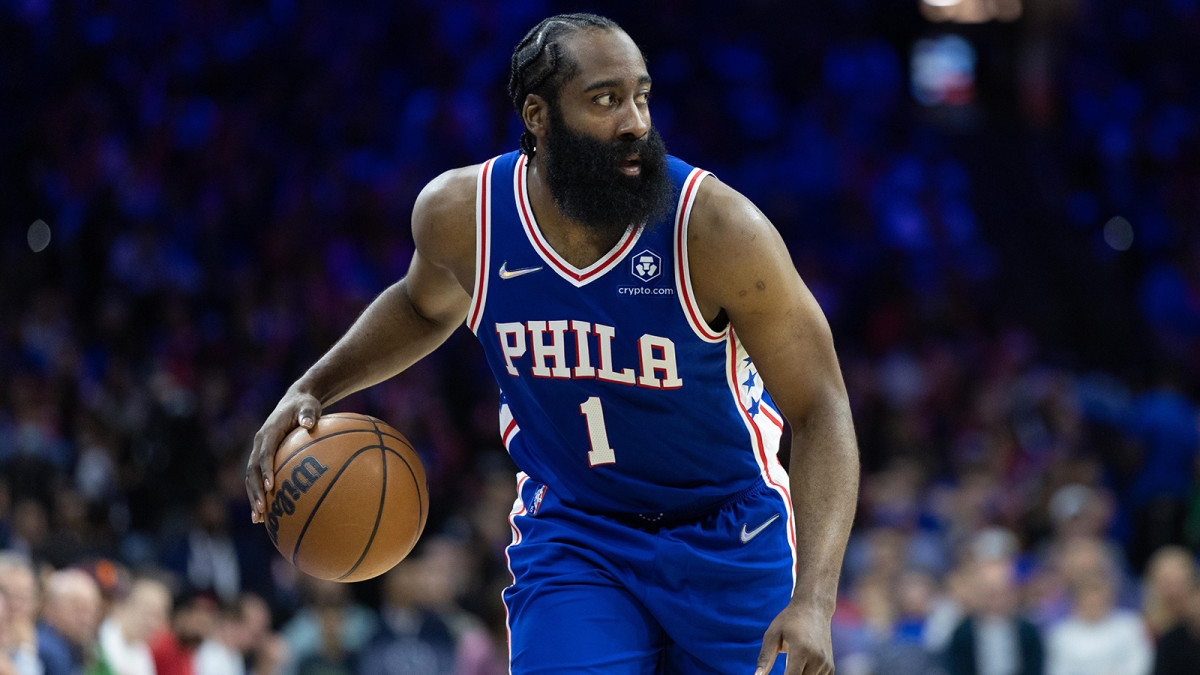 Harden, 32, was the biggest available free agent on the market, but it was expected he'd return to the 76ers. He signed a 1+1 deal with a player option in his second season. Harden is slated to earn $32.7 million this season with his new contract, and $35.5 million if he opts in next season in 2023-24.
Last season with the Brooklyn Nets ad 76ers, Harden averaged 22 points, 10.3 assists, and 7.7 rebounds per game. The Nets dealt him to the 76ers prior to the deadline in exchange for a disgruntled Ben Simmons.
Harden is essentially betting on himself and the 76ers. If he has an outstanding season, he has a chance at securing bigger payday in the immediate future. If the 76ers win a title this season, he'll finally get the ring he's been chasing and then can enjoy the rest of his career.
The 76ers are +1200 odds to win the 2023 NBA championship, and +550 odds to win the Eastern Conference Finals.
Harden Morey Discount
Harden and general manager Daryl Morey have history during their time with the Houston Rockets. Moray has been adding several of Harden's ex-teammates and locals joked that it's now the Philly Rockets after the addition of PJ Tucker (with a 3-year contract) and Daniel House. Tucker provides the 76ers with a 3-and-D veteran and stopped, which they lacked last postseason. The 76ers also acquired De'Anthony Melton in a trade with the Memphis Grizzlies after they parted ways with Danny Green and the #23 pick in the draft.
Harden took a significant pay cut in order to give the 76ers wiggle room to sign free agents. Sometimes NBA players get dubbed selfish, but in this case Harden seems all-in on winning a title. For Philly fans, it's good to see that Harden is taking next season very seriously especially with his training. Perhaps the comments from Joel Embiid lit a fire under his ass after the 76ers were eliminated from the playoffs in the Eastern Conference Semifinals.
"Obviously, since we got him, everybody expected the Houston James Harden, but that's not who he is anymore," said Embiid. "He's more of a playmaker."
"I'll be here," Harden told Philly beat reports after their playoff elimination. "Whatever allows us to continue to grow and get better and do the things necessary to win and compete at a high level."
Harden began offseason workouts two weeks earlier than usual under the supervision of 76ers assistant coach Sam Cassel. Harden enjoys Dionysian pleasures, so he's no stranger to the after-dark lifestyle including nightclubs and strip clubs. He often got guff for being a few pounds overweight with more emphasis on his off-the-court activities.