NFL kickers don't get a lot of respect from teammates or coaches, but Baltimore kicker Justin Tucker is feeling the love. The 29-year-old signed a five-year extension making him the highest paid kicker in the history of the NFL.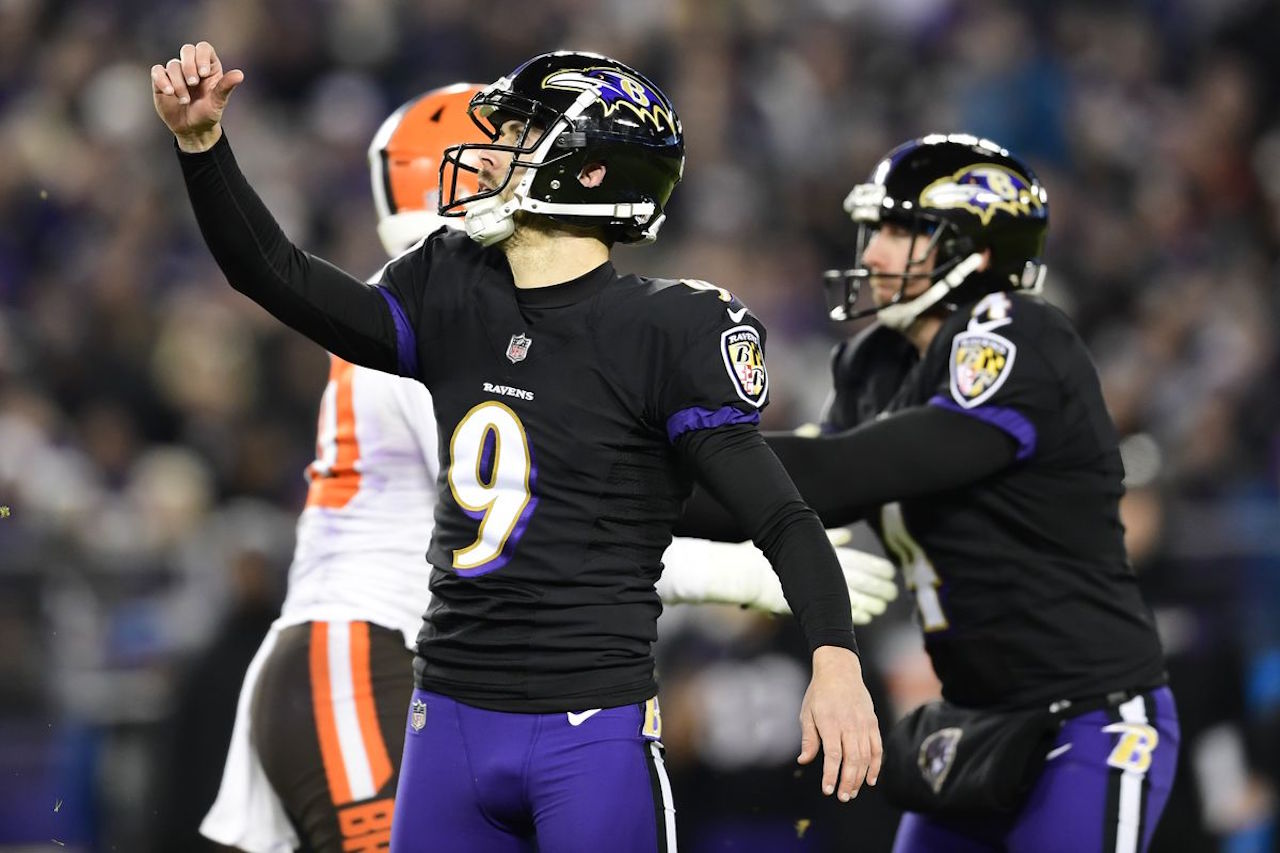 The deal is reportedly worth $23.05 million, with half of it guaranteed. General manager Eric DeCosta wouldn't disclose exact numbers, but said he was pleased with the deal.
"I'll just be honest, he's the best kicker in the league," DeCosta said. "If you agree to that, it's pretty easy to get a deal done."
GOAT Kicker
A case can be made that Tucker is not only the best kicker still playing, but of all time. The numbers give that argument credibility. Tucker has the best accuracy mark in NFL history at 90.1 percent, the only one with a stat above 90 percent. San Francisco 49ers' Robbie Gould is second at 87.7 percent.
Tucker is 237-for-263 on field-goal attempts, including 131-for-133 from inside 40 yards. Excluding blocked kicks, he hasn't missed a field-goal attempt from inside 50 yards since 2015. Last year, he became the first kicker in league history to make at least 30 field goals in six seasons.
"As soon as you put some concrete number out there, you're held to that," Tucker said. "So what I would say is, I'm going to take it one kick at a time, and try to take that 90% number to 91, and then hopefully 91 to 92, and along the way, win a lot of games."
While Tucker was appreciative of the deal, he was quick to point out that he is just part of a bigger picture with Baltimore.
I think we're trending in the right direction as a team, and I'm just incredibly excited to be a part of it," Tucker said. "We're trying to build not a house, we're trying to build a skyscraper. We're trying to do amazing things, and the only way you do that is just by working."
Undrafted to All Pro
Tucker went undrafted coming out of Texas in 2012, and got a few offers to try out from teams. Special teams coordinator Jerry Rosburg invited Tucker to come out and try to unseat starter Billy Cundiff. Head coach John Harbaugh was instantly impressed.
"For me, it was like, 'Wow, he's pretty good. Where'd we find this guy?' Really, the rest is history, and I think it's a credit to Justin, an amazing family man and amazing family," Harbaugh said. "I think his best kicking – believe it or not – his best kicking is in front of us still."
He has been named an All Pro team twice, and is a four-time All-Pro selection, but not all has been great in Tucker's career.
Last year Tucker missed an extra point that turned out to be the difference in the team's loss to New Orleans. Tucker got the ball and displays it on his trophy case as a reminder.
"That's a part of my story, and I want to be able to look at that and realize that was a learning moment," he said. "It was perhaps a pivotal moment for me as a professional."