Baltimore-Pittsburgh is one of the NFL's stronger rival games, but when the two teams face each other on Sunday, it will be with different quarterbacks than usual. The Ravens are favored by 3.5 points, and the over/under is set at 44 points.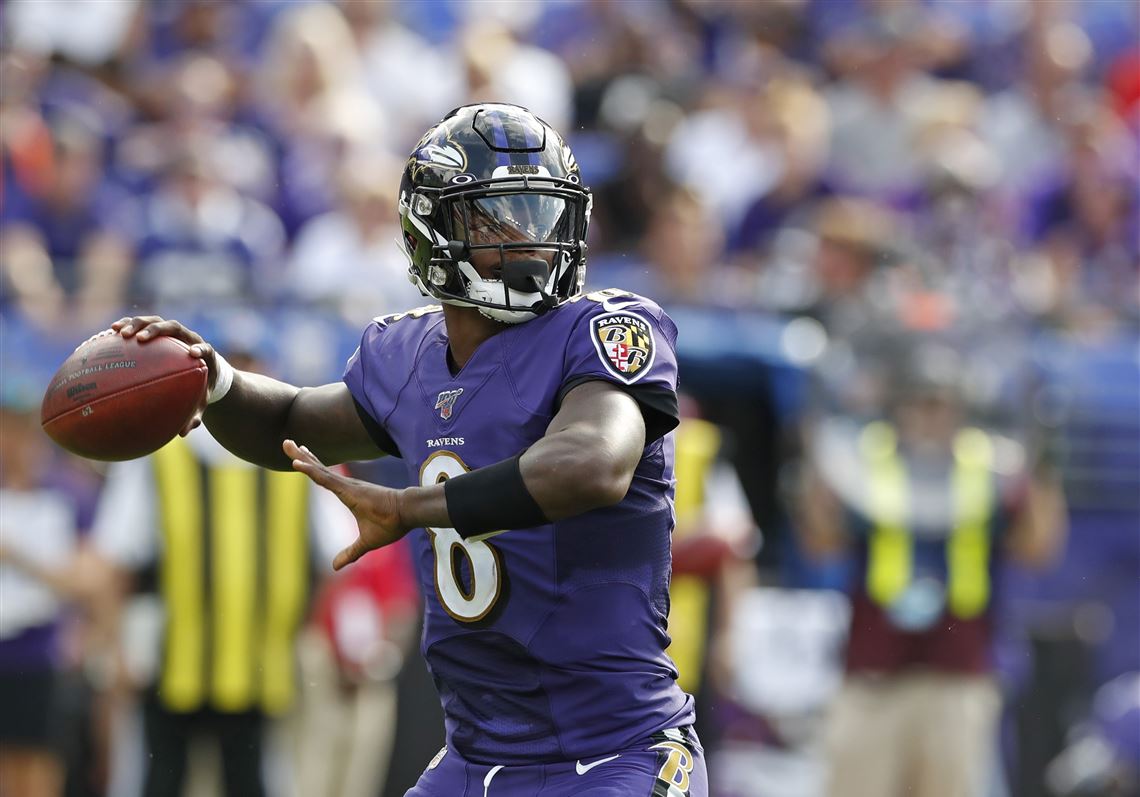 Baltimore's new quarterback was determined last year. Lamar Jackson took over for Joe Flacco, who had been behind center for the Ravens since 2008. Jackson's first game as the permanent starter came after the Ravens got beat by the Steelers in Week 9, so he has yet to start against Pittsburgh. He is relishing that opportunity now, telling reporters at his weekly interview session that he'll be ready.
"I know it's gonna be crazy," Jackson said. "Steelers Nation is gonna be pumped for the game. We're gonna have our Flock Nation in the building. It's gonna be a good rivalry game. I'm ready."
Jackson Passing on Running More
Despite what Baltimore coach John Harbaugh said in training camp, Jackson is throwing more, and running less. Not that he can't run when he needs to. Jackson had 120 rushing yards in the team's victory over Arizona.
Jackson proved to his doubters that he's more than just a running quarterback. The second-year signal caller has 10 touchdowns in four games against just two interceptions. He has amassed 1,110 passing yards in those four games.
Two games into the season, Harbaugh was complimentary of Jackson's arm and legs.
"I thought he was just tremendous," Harbaugh said. "Both getting to the sticks by throwing the ball, and then when they had people covered and the offensive line did a good job sustaining the protection, by getting out and running to the sticks. He did it both ways. That's all you can ever ask for from a quarterback to do that. Keeps a lot of pressure on the defense."
Rudolph Ready for Baltimore-Pittsburgh Rivalry
When Pittsburgh quarterback Ben Roethlisberger suffered a season-ending elbow injury in Week 2, back-up Mason Rudolph stepped in. On Monday, he led the Steelers to their first victory of the season.
Watching and cheering was Roethlisberger, who told reporters after Pittsburgh's 27-3 win over Cincinnati, that he was happy for his back up.
"I thought he was awesome," Roethlisberger said. "He didn't just manage the game. He went out and won the game."
While Roethlisberger recuperates from his surgery and plans his comeback for next year, he told Rudolph that he will help him anyway he wants, including in the Baltimore-Pittsburgh game.
"I told him before the game, 'I'll do as much or as little as you want. I'm here.' We talked during the game," Roethlisberger said. "He grabbed me when we came into the locker room after the game and told me, 'Thanks for your help. I appreciate you being there.' I just told him, 'Any way I can help.' I don't want to do too much, if he doesn't want me to, but I'll do as much as he wants."