NFL No. 1 draft pick Baker Mayfield hasn't been making much news on the field for the Cleveland Browns, but he is making up for it off of it.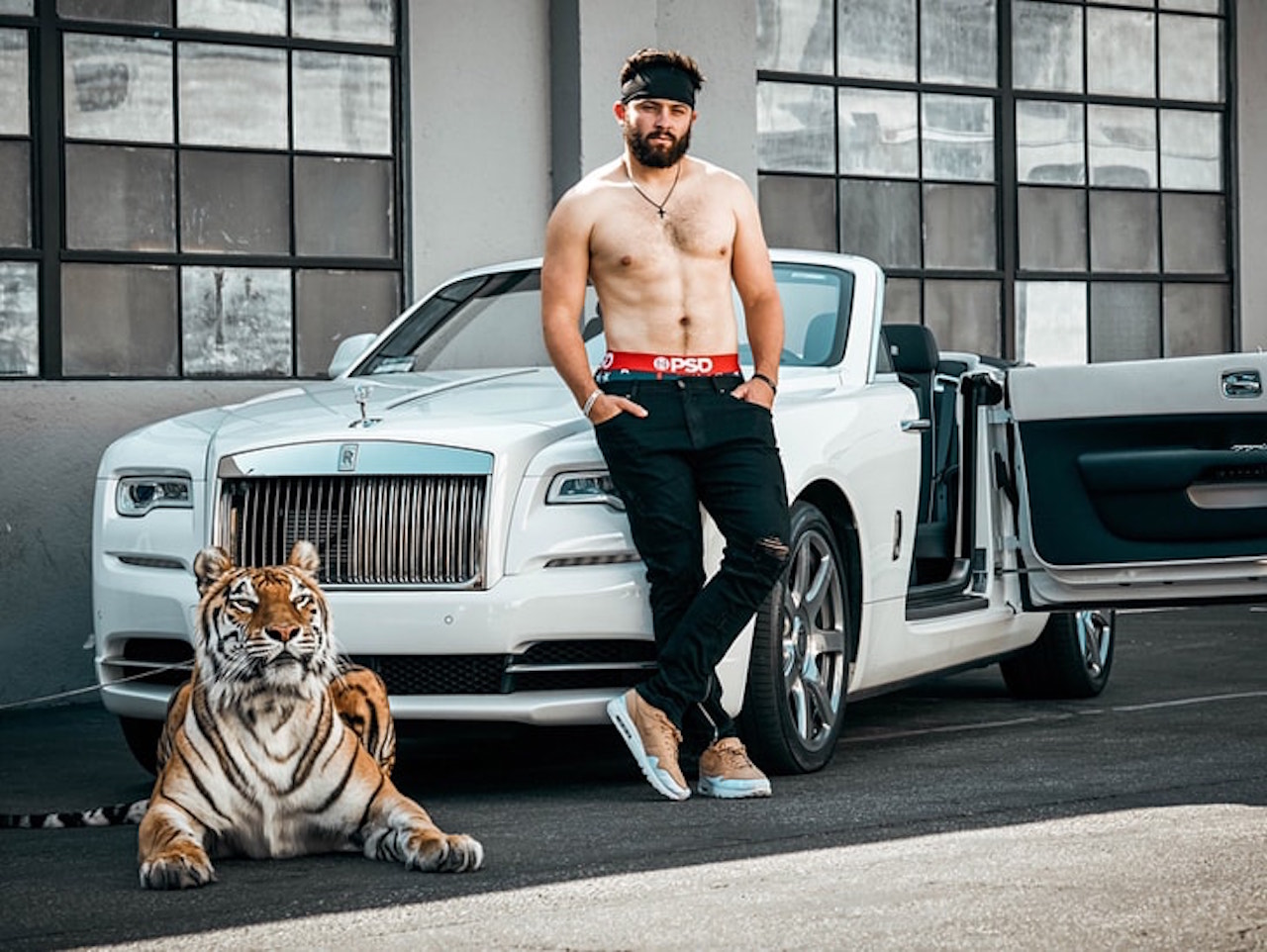 The rookie has been upgrading quarterback RVs, making a parody video of one of his bosses, and signing an endorsement deal with an underwear company.
While such antics off the field have been gaining attention, his play on the field has been almost pedestrian. He has been solely with the second and third teams, and unlike his fellow first-year signal callers, Sam Darnold and Josh Allen, isn't challenging for the starting job.
In his first NFL action, the 23-year-old faced the Giants and threw for an eye-popping 212 yards and two touchdowns. But it was in relief of starter Tyrod Taylor and not against first-team defenses.
Coach Hue Jackson, who at one point was listed by betting sites as the favorite to be the first coach fired this season, said he believes the lowly Browns are ready to change a culture of losing and his two quarterbacks are a big reason for that.
"Forget the past, it's going to be the catalyst to us having the opportunity to change the narrative that's been here," Jackson said. "I think we have some guys that can do that."
Getting Comfortable as Backup
But Jackson did say that his prized draft pick has no chance of taking the job away from Taylor, who signed with the team after being the Buffalo Bills' starter last season.
"No, no, no, no, no," Jackson said. "Everybody's asked me that a ton of times. Why? I'm going to tell you the reason why. We are learning a new system, and I think Tyrod needs every rep that he can get with the ones.
"I have not changed. I'm not going to change," Jackson said earlier this summer. "Tyrod Taylor's the starting quarterback here, and Baker's the future of our organization."
In fact, the real competition might be between Mayfield and Drew Stanton for the backup job. Currently the two have been taking snaps in practice with the second string. In the second preseason game, Mayfield again got a lion's share of the snaps, mostly in a mop up role, but finished 7-13 for 75 yards.
Extracurricular Activities
So while Mayfield bides his time and waits for his opportunity, he has found other ways to amuse himself while he holds a clipboard. The first has to do with a little rookie hazing. The team's quarterbacks have an RV to use during training camp, and Stanton thought it needed some upgrading. He also thought the new player who just signed a four-year deal worth $32.68 million should pay for a new ride.
"I asked him if he was serious and realized he was dead serious," Mayfield said.
He can pay for the RV with the endorsement deal he just signed with PSD. He introduced his own line of underwear Tuesday that comes in Browns stripes, or Sooners crimson. He posed shirtless next to a Rolls Royce and live tiger on his Twitter page to make the announcement.
He also felt confident enough about his status with the Browns to poke a little fun at the man who drafted him. He posted a video of him impersonating general manager John Dorsey, which has been a hit with his teammates and was posted by team on its official Twitter page.