Stefanos Tsitsipas rallied from two sets down to defeat Rafael Nadal on Wednesday in their quarterfinal match at the Australian Open.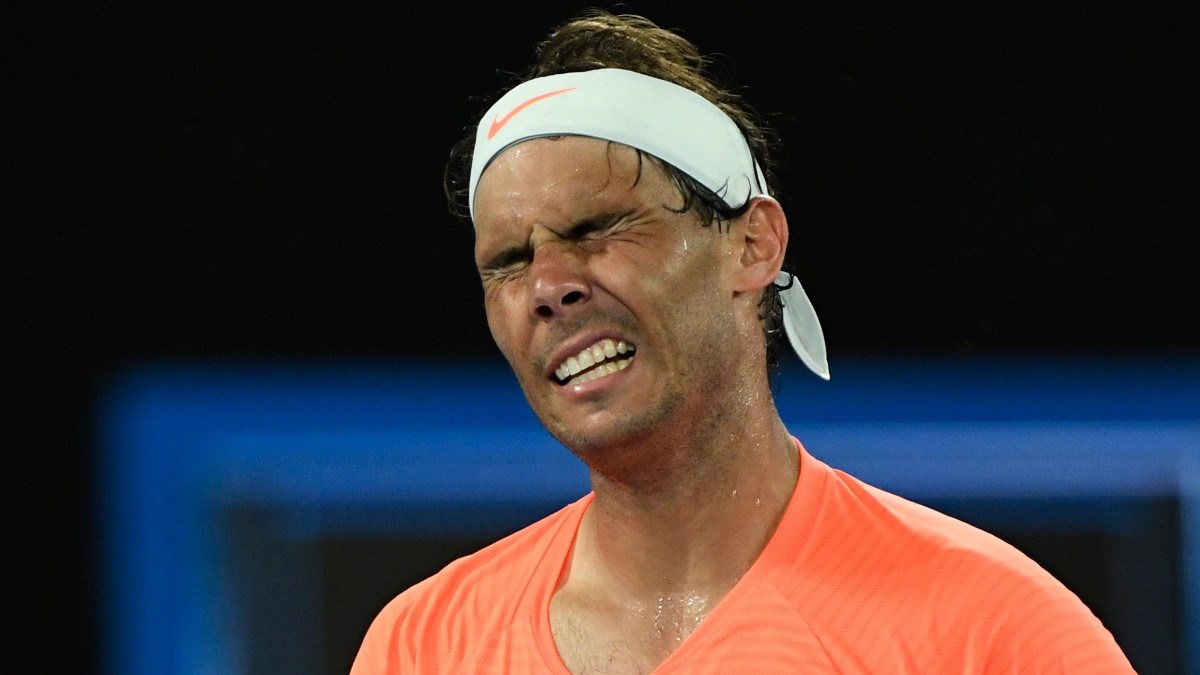 Tsitsipas ended Nadal's run for a 21st Grand Slam title, coming from behind to win 3-6, 2-6, 7-6 (7-4), 6-4, 7-5.
Tsitsipas Experiences 'Nirvana' in Comeback Win
The 34-year-old Nadal easily won the first two sets and then reached a tiebreaker in the third with a chance to close out the match early. But after Tsitsipas took advantage of some mistakes to win the tiebreaker, he then turned his game up to another level to take control of the match.
"The thing is that I wasn't really thinking about a lot of things," Tsitsipas told reporters afterward. "Nothing was going through my head. I was so much – how would I describe myself? Nirvana. Just, like, there. Playing, not thinking."
The only other time Nadal lost a Grand Slam match after taking a two-set lead occurred at the 2015 US Open against Fabio Fognini. After Wednesday's loss, Nadal said he regretted missing his opportunities in the tiebreaker, but gave credit to Tsitsipas for closing out the match after that.
"I think Stefanos played a great fourth and fifth set," Nadal said. "I was there. I played a couple of bad games. Just well done for him."
Tsitsipas' win was one of two major upsets on Wednesday. The other came at the hands of No. 25 seed Karolina Muchova who eliminated top-seeded Ashleigh Barty from the Australian Open, beating the local favorite 1-6, 6-3, 6-2.
Barty Comes Up Short in Australian Open Bid
Early in the second set, Muchova took an injury timeout in an effort to regain her composure, saying her head "was spinning" at the time. That proved to be a turning point in the match, though Barty didn't blame the break for her loss.
"She's within her rights to take that time," Barty said afterward. "That shouldn't be a massive turning point in the match. I'm disappointed I let that be a turning point."
---
Australian Open Odds – Semifinals (via PointsBet)
No. 3 Naomi Osaka: -165
No. 10 Serena Williams: +130
No. 25 Karolina Muchova: +150
No. 22: Jennifer Brady: -190
No. 1 Novak Djokovic: -1500
Aslan Karatsev: +725
No. 4 Daniil Mededev: -240
No. 5 Stefanos Tsitsipas: +185
---
Qualifier Aslan Karatsev continued his incredible run through the Australian Open on Tuesday, beating No. 18 Grigor Dimitrov 2-6, 6-4, 6-1, 6-2.
"It's an unbelievable feeling," Karatsev said after defeating Dimitrov. "First time in main draw, first time semis. It's incredible."
Karatsev now gets to enjoy a date against Novak Djokovic in the semifinals. Djokovic got past Alexander Zverev 6-7 (8-6), 6-2, 6-4, 7-6 (8-6), winning despite trailing 3-0 in both the third and fourth sets.
PointsBet sees Djokovic as a massive -1500 favorite over Karatsev (+725). If Karatsev can pull off another incredible upset, however, he'll have a decent chance of creating an all-Russian final at the Australian Open. Daniil Mededev (-240) comes in as the favorite over Tsitsipas (+185) in the other semifinal.
On the women's side of the draw, Naomi Osaka (-165) faces off against Serena Williams (+130) in a highly anticipated match after the two stars both advanced easily in their quarterfinal matchups. Jennifer Brady (-190) comes in as a favorite over Muchova (+150) on the other side of the draw.