Rafael Nadal went into Friday knowing he needed to win and get some help in order to reach the semifinal round of the Nitto ATP Finals. Nadal held up his end of the bargain, but unfortunately for the Spaniard, that wasn't enough to help him advance.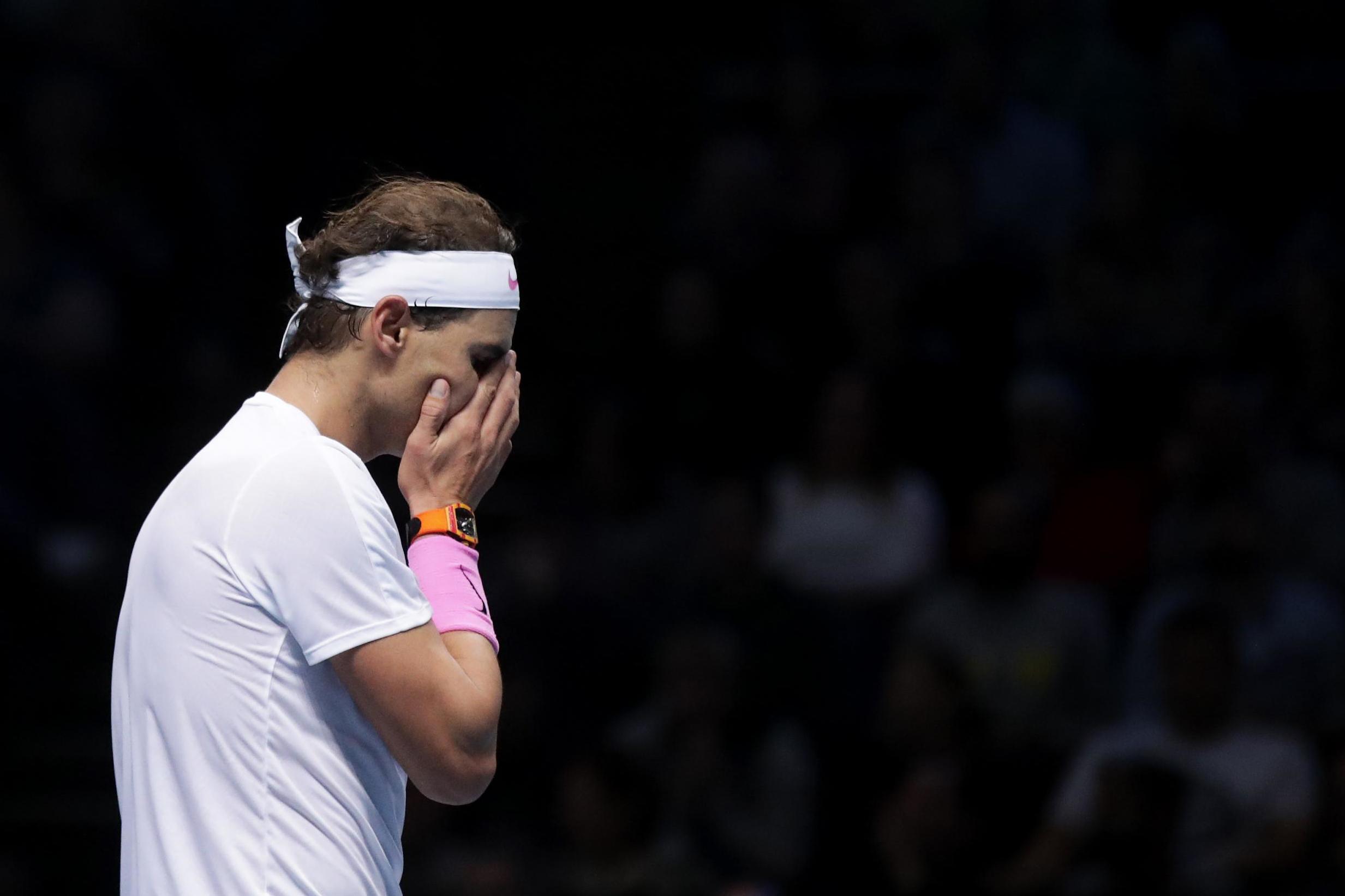 Nadal stayed alive in the first match of Friday's play, beating previously undefeated Stefanos Tsitsipas 6-7 (7-4), 6-4, 7-5 in a three-set thriller.
Nadal Loses Out on Tiebreaker
That brought Nadal's record to 2-1, leaving him tied with Tsitsipas for first place. He still had to wait to see how the later match played out before his fate was decided.
"I did all the things I could today," Nadal told the crowd after the match. "If I am able to play in front of you tomorrow against Roger, it will be a huge honor. And if not, I really hope to see you next year. So many thanks. Thank you very much everyone."
The waiting game would depend on the result of the match between Alexander Zverev and Daniil Medvedev. While Medvedev was already eliminated with an 0-2 record, a win by the Russian would drop Zverev to 1-2, leaving Nadal in first place in the group, and ahead of Tsitsipas due to their head-to-head result.
Instead, it was Zverev who would come out on top. The 22-year-old German, who is the defending ATP Finals champion, scored a 6-4, 7-6 (7-4) victory that left everyone but Medvedev tied at 2-1 in Group Andre Agassi.
"He had nothing to lose. For me, it was a must win situation to go through," Zverev said in an on-court interview after the match. "He's probably been the best player in the world over the summer. I played two great matches. I still got to improve. It doesn't get easier now."
---
ATP Finals Group Tables
Group Andre Agassi 
Stefanos Tsitsipas (2-1, 5-2 Set Record)
Alexander Zverev (2-1, 4-2)
Rafael Nadal (2-1, 4-4)
Daniil Medvedev (0-3)
Group Bjorn Borg
Dominic Thiem (2-1)
Roger Federer (2-1)
Novak Djokovic (1-2)
Matteo Berrettini (1-2)
Players in BOLD qualified for semifinals
---
That set the ATP Finals tiebreakers in motion. With head-to-head records no longer working to break the deadlock, it came down to each player's set record. With Tsitsipas at 5-2, and Zverev at 4-2, it was Nadal (4-4) who was the odd man out.
Federer Has Clear Path to ATP Finals Title
That also means that, as the group winner, Tsitsipas will play Roger Federer – the runner up from Group Bjorn Borg – in the semifinals on Saturday. That match will be followed by the second semifinal between Dominic Thiem and Alexander Zverev, with the two winners facing off for the ATP Finals crown on Sunday.
Federer is now the last of the big three standing, as both Nadal and Novak Djokovic failed to reach the semifinals. That means the door is open for Federer to improve upon his record and claim a seventh, career ATP Finals championship, though he'll have to contend with three of the best young players in tennis to do so.
Oddsmakers think he has an excellent chance to walk away with the title, though it is far from a sure thing. Betway now has Federer as the 11/10 favorite in the tournament, ahead of Thiem (11/4), Zverev (4/1), and Tsitsipas (5/1).