Even with one 'd,' The Ridler was named after the Batman villain, courtesy of a birthmark in the shape of a backwards question mark on his face. Given what The Ridler did on Day 3 at Royal Ascot, question marks are appropriate.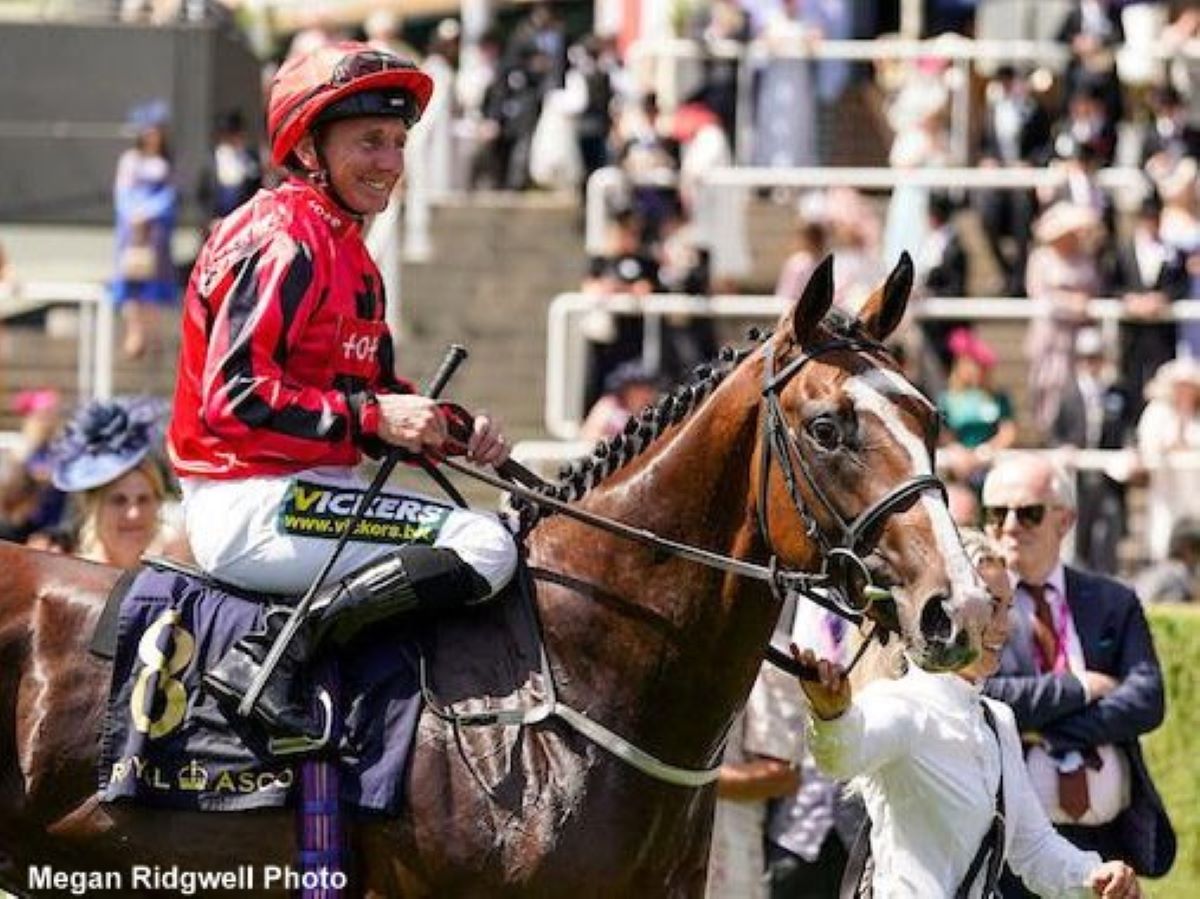 Leaving the Group 2 Norfolk Stakes starting gate at 50/1, The Ridler pulled off the largest upset in Norfolk Stakes history. He captured the five-furlong turf sprint by 1 3/4 lengths over favorite Walbank, then survived a stewards' inquiry. Starting the widest out in the 10-horse field, The Ridler veered left out of the gate.
That move impeded Crispy Cat and Brave Nation, who finished third and fourth, respectively. He also crossed in front of Walbank. After the stewards sorted out the inquiry, they deemed The Ridler didn't improve his placing by that move and let the result stand.
"It's a worry when you hear the stewards' inquiry klaxon (bell) go, but I thought he won so well, and pulling up the other lads said I was well clear," jockey Paul Hanagan said about the inquiry.
For his part, the 41-year-old Hanagan earned a 10-day suspension from the stewards for the ride.
Can The Ridler make Breeders' Cup mischief?
Not only did The Ridler execute the biggest upset in Norfolk Stakes history, but he earned a berth in the Breeders' Cup Juvenile Turf Sprint. The Norfolk was a "Win and You're In" Challenge Series race.
Speaking of question marks, trainer Richard Fahey remained puzzled he had his second Norfolk Stakes winner in as many Royal Ascot meets. Fahey and Hanagan won the 2021 Norfolk with Perfect Power.
"I have to say this is a bit of a surprise," Fahey said. "I would have been happy with a place. He's a good hardy horse and you need a good six-furlong horse to win this."
Reasons why The Ridler rides with only one 'd'
Those wondering why The Ridler has only one 'd' in his name, owner Steve Bradley has your reason.
"As soon as he was born, it was a no-brainer," Bradley said. "Weatherbys (the English racing administrators) didn't like the name with two 'ds,' I think for copyright reasons, so we settled for one. The fact we bred him as well, you can't describe what this is like."
Elsewhere Thursday, 13/8 favorite Kyprios broke Stradivarius' Gold Cup hammerlock, winning the prestigious two-plus mile stayers' race by a half-length over Mojo Star.
O'Brien makes it eight Gold Cups
The victory gave trainer Aidan O'Brien his record eighth Gold Cup. It also signaled a changing of the guard from the 8-year-old Stradivarius to 4-year-old Irish-bred Kyprios.
"Ryan (Moore) gave Kyprios a great ride. He saved him, held him, and controlled the race," O'Brien said.
Running for his fourth Gold Cup, Stradivarius finished third as the 2/1 second choice. His bid to join four-time winner Yeats (2006-09) ended when the standout stayer couldn't get past a wall of traffic in front of him.
Just not enough in those old legs
Jockey Frankie Dettori had to send Stradivarius outside and the 8-year-old had nothing left for a final push.
"The younger horses had more legs than me at the end," Dettori said. "I had every chance to get them, but they were stronger than me … I had to pull out wide and the only place I could go was the outside, and everything was getting tight. When I've pulled him out plenty of times, usually he's got the electric turn of foot. But he's not four anymore. He's eight. I labored a bit at the end and I was never going to get them."
Two American horses run on Royal Ascot's penultimate day Friday. Celebrity chef and restaurateur Bobby Flay sends out Pizza Bianca in the Group 1 Coronation Stakes while Wesley Ward saddles filly Ruthin against the boys in the Palace of Holyroodhouse.