The Houston Astros won their third straight game in Washington, beating the Nationals 7-1 in Game 5 of the World Series on Sunday night to take a 3-2 lead in the Fall Classic.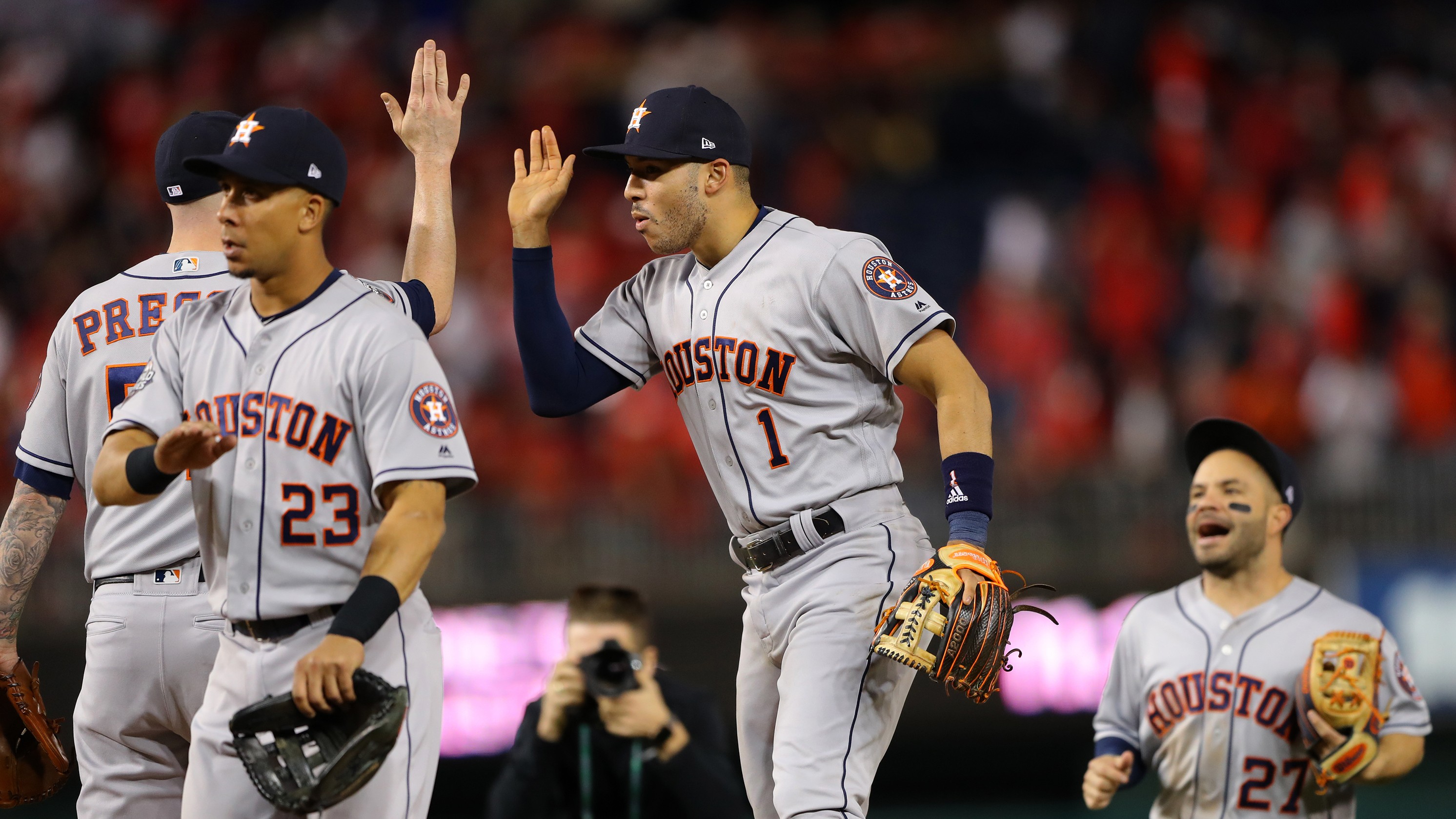 The Nationals were forced to scramble to find a starter for Game 5 after Max Scherzer was ruled out with spasms in his neck and upper back.
Scherzer Unable to Take the Mound
Scherzer first reported having spasms on Saturday, then woke up on Sunday to find they had only gotten worse after treatment.
"Moment I [woke up], I couldn't get out of bed, Scherzer told reporters. "I basically just fell out of bed. Picked myself up with my left arm, and I was moving around, just couldn't even move my arm. I just knew at that point I was in a really bad spot."
Joe Ross took the start for the Nationals on short notice, and performed admirably in a difficult situation. Ross allowed two, two-run homers to both Yordan Alvarez and Carlos Correa, and left the game after allowing four runs on five hits over five innings of work.
That was never going to be enough to get Washington a win, considering that the Astros were throwing Gerrit Cole for the pivotal game. After losing earlier in the series, Cole was back in dominant form for Game 5, pitching seven innings and allowing just one run on three hits while striking out nine.
"He was unbelievable," Houston outfielder George Springer said about Cole after the game. "He showed up today and it was business from the time he got here until the time he came out of the game. He was lights-out. He threw all of his stuff for strikes and it was special to watch."
For the Nationals, the hope is that Scherzer could be available for Game 7. The pitcher received a cortisone shot, which is expected to take about 48 hours to alleviate Scherzer's pain and discomfort.
"That's what the doctors believe with this nerve irritation," Scherzer told reporters. "I'm just hoping that doctors are right and that something can be possible for Game 7."
Astros Shut Down Nationals Offense
Even if the Nationals can get excellent pitching for Games 6 and 7, they'll still need their offense to wake up in order to have any hope whatsoever of winning the World Series. After an explosive start in the first two games of the series, Washington hit just .179 over their three home games, scoring just one run in each game in an anemic effort.
Still, the Nationals believe they can go back to Houston and find a way to win two games, just as they have battled back from the brink of elimination so many times this season.
"We're all big boys that have played for a long time. We got to turn the page," Ryan Zimmerman told reporters. "We've got to go out and win two ball games. We've won two games in a row plenty of times."
The Astros are slated to start Justin Verlander at home against Stephen Strasburg in Game 6 on Tuesday. FanDuel Sportsbook has Houston as a -180 favorite over Washington (+156) in what is a must-win contest for the Nationals. Overall, the Astros are now -900 favorites to win the World Series.