Royal Ascot's 11-horse American invasion hit the Newmarket stables on Wednesday, six days before the five-day meet opens next Tuesday.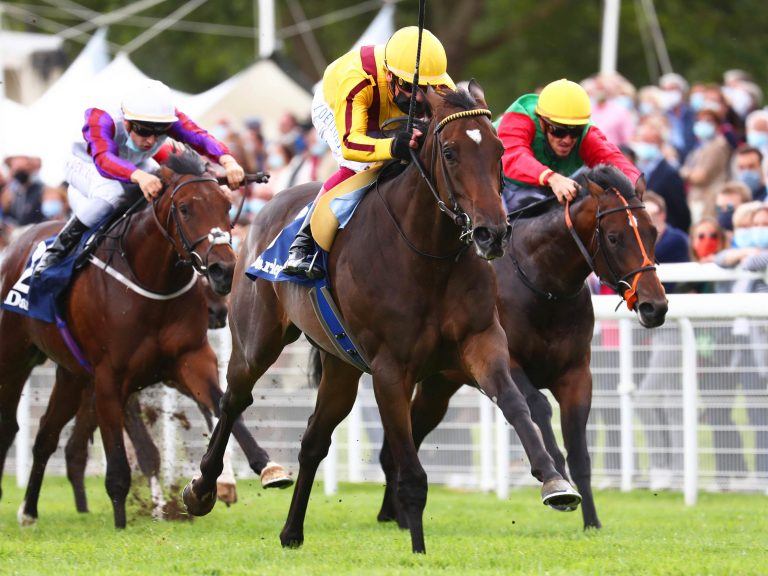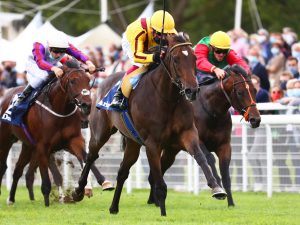 Nine of those horses come from Wesley Ward's barn, which shouldn't be surprising since Ward is the usual American invader to Ascot's premier meet. Dating to his first victory in 2009 – Strike The Tiger in the Windsor Stakes — Ward owns 11 of North America's 12 Royal Ascot winners.
Seven of Ward's nine Royal Ascot contenders are 2-year-olds, which again, isn't surprising for one of the preeminent juvenile trainers in North America. His Royal Ascot contingent begins with the one 4-year-old of the group, Maven. The American Pharoah gelding is one of two American entries into the Group 1 King's Stand Stakes. That five-furlong race is one of three Group 1s on Tuesday's opening day.
It won't be easy for him, nor Brendan Walsh's Extravagant Kid. Not with Europe's top sprinter, Battaash, awaiting in the gates. Battaash won this race decisively last year.
Maven ran his way across the Atlantic
"When Maven ran in an allowance race at Keeneland in April, we felt he was a bit short fitness-wise," Ward told Ascot. "On the day he bounced out in front and when they came to him, I thought he was going to surrender, but he just took off again. I was delighted and then once I saw the numbers, it inspired me to put him on the team for Royal Ascot. He will have to move forward from that again to be in the mix for the King's Stand Stakes, but I think he is entitled to do so."
Ward's lone 3-year-old, Campanelle, opens her sophomore season in the Group 1 Commonwealth Cup, where she'll run six furlongs against males. The filly is 3-for-4, including a victory in last year's Group 2 Queen Mary Stakes. The lone blemish came in her last race, the Breeders' Cup Juvenile Fillies Turf, where she finished fourth. Ward said the lack of a prep race is no issue to him because his sprinters fire better coming off a layoff.
"The goal for Campanelle since the Breeders' Cup has always been the Commonwealth Cup," Ward said, noting her breezes since wintering in Florida "were eye-opening."
This Kaufymaker comes with a kick
Of Ward's seven juveniles, the one drawing the most attention is Kaufymaker. Ward is throwing her into the deep end of the Royal Ascot pool, entering her in the six-furlong Group 2 Coventry Stakes, where she'll take on the colts. She'll do this after one race — a maiden special weight at Keeneland in April.
"She's won on the dirt at Keeneland and then when we worked her on the grass. She took to it like a duck to water," Ward said. "Of all the workers I have had on the grass coming into the meeting, she has risen to the top. That is why I'm giving her the biggest assignment. The Coventry Stakes is a race I have been dying to have a real big chance in, and I think she is going to give me it. She is the best I have and that is why I'm putting her in here."
Ward will put Napa Spirit in either the Coventry or the Windsor Castle Stakes. He too, won his Keeneland maiden special weight debut, albeit with a 77 Equibase Speed Figure that was 13 points below Kaufymaker's 90 in her debut.
Workout partners, racing rivals
Ward repeatedly worked out Nakatomi and Lucci together, so it makes sense to run them together. They're both dialed in for the Group 2 Norfolk Stakes. Nakatomi won his Keeneland maiden special weight debut with a 103 Equibase. Lucci won his at Belmont Park in May with an 89.
Ward has fillies Twilight Gleaming and Ruthin set for either the Queen Mary or the Windsor Castle. As he evaluates their work, Ward will run the stronger of the two in the Queen Mary. "Sometimes you have to readjust because of what you see from them in their workouts once they're over here," he said.
Rooting for rain
Ward has already evaluated Golden Bell's work and loves the filly in the Group 2 Albany. She won her Keeneland debut by 5 ¼ lengths, albeit at 4 ½ furlongs.
"She is actually one I would not mind a bit of dig in the ground for, which is not something you would usually hear me say," Ward said. "The night before she worked at Keeneland, we had quite heavy rain, and she just flew through the ground. With her and Campanelle, I might have to do a little rain dance the night before."
Walsh's Extravagant Kid and Artos round out the American Royal Ascot contingent. Extravagant Kid was claimed out of a Gulfstream Park race 3 ½ years ago. The 8-year-old gelding validated that claim. Since March 2019, Extravagant Kid won seven times and finished second eight other times in 19 races. He hasn't missed the exacta in four races this year.
'Quirky old horse' finds ways to hit the board
"Extravagant Kid is a quirky old horse and wasn't really finishing off his races until recently," James Bredin, the racing manager for owner DARRS Inc. said. "He ran a super race at the Breeders' Cup (Turf Sprint) to finish fourth from the widest draw when he was never able to save any ground."
Artos is the first Royal Ascot runner for trainer Rusty Arnold, who put the 2-year-old in the Queen Mary. The filly has a win and a second in two races, but hasn't cracked better than a 72 Equibase in either.