The Arizona Cardinals extended the contracts for general manager Steve Keim and head coach Kliff Kingsbury, who will be with the team through the end of the 2027 season. The next move for the Cardinals is to work out a contract extension with quarterback Kyler Murray.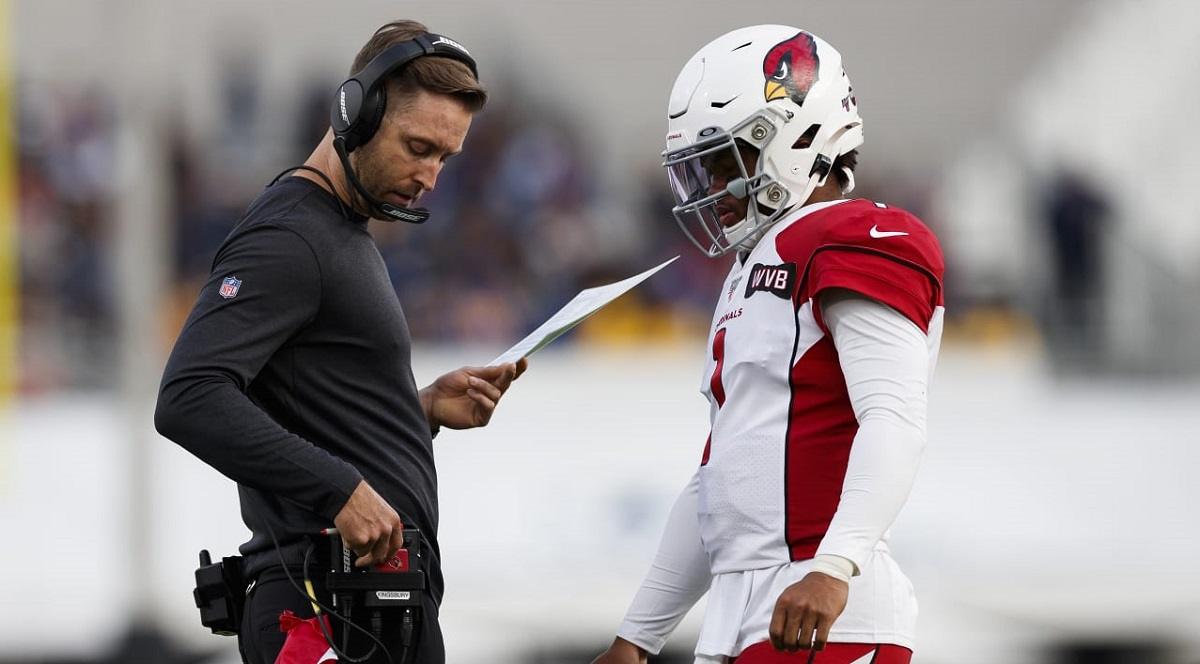 The Cardinals started the 2021 season with a 7-0 record. They were the last undefeated team remaining in the NFL. After a 10-2 start, the Cardinals struggled in December with three consecutive losses. They finished the season with a 11-6 record.
The Cardinals were one of three teams of the stacked NFC West to advance to the playoffs. They were knocked out of the opening round during Super Wild Card Weekend after they were dismantled 34-11 by the LA Rams, who eventually went on to win Super Bowl 56.
Heading into next season, the Cardinals are +2500 odds to win Super Bowl 57.
Kingsbury: Gradual Improvement in AZ
The Arizona Cardinals hired Kingsbury from Texas Tech despite not having any coaching experience in the NFL. He struggled in his first season in the NFL with a 3-13 record in 2018. The Cardinals drafted Kyler Murray with the #1 pick in the 2018 NFL Draft with hopes he would become a franchise quarterback. The Cardinals improved but still had a losing record of 5-10-1 in Murray's rookie season, but he definitely show glimpses of being a future star.
In 2020, the Cardinals went 8-8 but missed a shot at the NFC Wild Card. In 2021, the Cardinals secured a postseason berth, but they were eliminated in the first round.
"The leadership of both Steve and Kliff have been key factors in the team's turnaround over the last three seasons," said Cardinals owner Michael Bidwill. "We are all looking forward to continuing that progress and recognize these two individuals will be a big part of achieving our long-term goals as an organization."
Now that the Cardinals made sure to keep the tandem of Keim and Kingsbury in place, the next goal for the team will be to win a NFC West division crown, win a postseason game, and eventually make a trip to the Super Bowl. That's entirely possible so long as they keep Murray happy with a lucrative contract extension.
Murray: Wipes Instagram
If you're over 40-years old, then you probably don't quite understand the significance of what Murray did with his Instagram account. He removed all evidence or link to the Arizona Cardinals. That's the type of drastic behavior that jilted lovers often do, but the message was very clear to anyone who is social media savvy: Murray put the Cardinals on notice.
Murray's agent Erik Burkhardt released a statement informing the public that Murray sent a detailed contract proposal to the Cardinals, including Keim and Kingsbury.
"I have not talked to them in a few days, but there's always been current dialogue," said Keim. "The one thing I'll say is in regards to the statement, I know everybody's seen that, I think it's an agent doing his job. I have a lot of respect for Eric Burkhardt and, obviously, Kyler Murray. From my standpoint, like it's always been moving forward, any kind of speculation, any negotiations, any conversations and dialogue will be certainly held confidential between the three of us."
As the saying goes, the ball is now in the Cardinals' court.
Last season in 14 games, Murray completed 69.2% of his passes for3,787 yards and 24 touchdowns. He threw only 10 interceptions. He missed three games with an ankle injury, but still managed to add five rushing touchdowns.
Murray played every game in his first two seasons. He tossed 20 touchdowns and 12 interceptions as a rookie, and added four rushing touchdowns. In his second season, Murray threw a career-high 26 touchdowns and 12 picks. He also rushed for 819 yards and 11 touchdowns.
A statement from Cardinals' QB Kyler Murray's agent, @ErikBurkhardt: pic.twitter.com/qsWGZIZ0jB

— Adam Schefter (@AdamSchefter) February 28, 2022
Will Murray Sit Out 2022?
There had been no indication of any friction between Kingsbury and Murray, even though there have been well-documented spats between some of the league's premier quarterbacks and their head coach (e.g. Aaron Rodgers and Mike McCarthy). With Murray, it's a total business decision, which Kingsbury understands and respects.
"He understands that and he understands my view of him and how I feel about him," Kingsbury said. "And once again, I'm gonna refer back to the business side of things and that's not something that I deal with, but it's all part of the business right now and things that we'll continue to work through."
Murray doesn't strike me as the type of self-centered player who would dishonor his current contract and sit out the season, like other players have done. However, Murray and his agent feel as though Murray's contract extension by the Cardinals should fall in line along with the other elite young quarterbacks in the league including Patrick Mahomes and Josh Allen.
Murray excelled in both football and baseball at Oklahoma. He had a promising baseball career ahead of him and could've joined the Oakland A's organization, but it takes baseball prospects a much longer time to reach the MLB and earn a decent paycheck. By heading to the NFL, Murray got paid immediately, especially as a #1 draft pick, but he's still playing on his initial rookie contract that was worth $35 million over four seasons. His actual salary will be less than $1 million for the upcoming season, but he'll also earn a signing bonus worth $5.9 million and $4.5 million roster bonus.