After serving time as a New York State COVID vaccination center, Aqueduct Racetrack reverts back to its traditional duties as the state's winter home for racing on Thursday. The track opens to fans on Veteran's Day for its 18-day fall meet.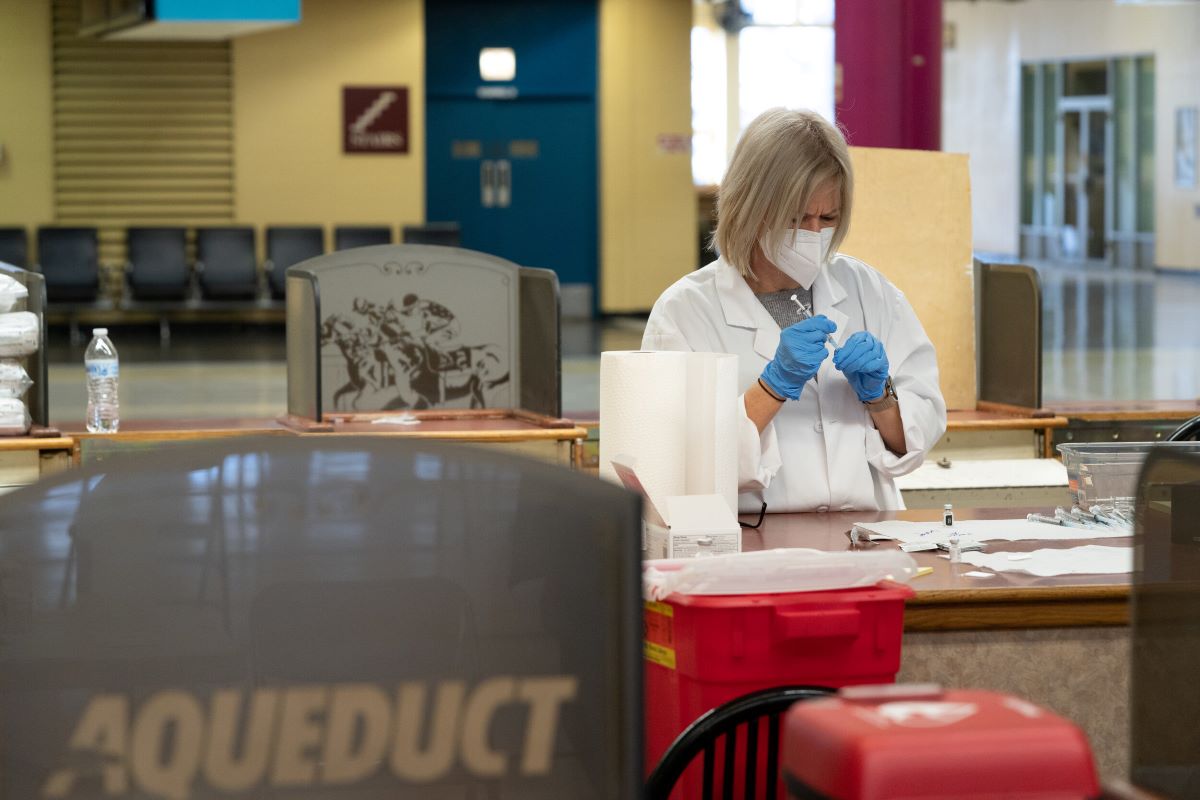 That meet runs through Sunday, Dec. 5 with a Thursday-Sunday schedule. Headlining the fall meet is the only Grade 1 race on the schedule, the Cigar Mile. That race for 3-year-olds and up runs on Dec. 4 and is one of the last significant East Coast Grade 1 events of the year.
Aqueduct's fall stakes begin with the Grade 2 Red Smith on Nov. 20. Following that 1 3/8-mile turf trek are a pair of Grade 3s on Thanksgiving weekend, with Saturday's 1 1/8-mile Discovery for 3-year-olds, and the Long Island for 3-and-up fillies and mares going 1 ½ miles on the turf. The Thanksgiving weekend stakes conclude with the Grade 3 Fall Highweight Handicap for 3-year-old sprinters going six furlongs.
---
Aqueduct Fall Meet Key Races
Date
Race
Grade
Purse
Restrictions
Surface
Distance
Nov. 20
Red Smith
2
$200K
3+
Turf
1 3/8
Nov. 27
Discovery
3
$150K
3+
Dirt
1 1/8
Nov. 27
Long Island
3
$400K
3+ Fillies & Mares
Turf
1 1/2
Nov. 28
Fall Highweight Handicap
3
$200K
3+
Dirt
6 Furlongs
Dec. 4
Cigar Mile Handicap
1
$750K
3+
Dirt
1 Mile
---
The Aqueduct Winter Meet begins on Thursday, Dec. 9 and runs through Sunday, March 27. The 56-day meet offers 46 stakes worth nearly $6 million in purses. The first stakes of consequence — the $150,000 Jerome Stakes — goes off on New Year's Day 2022. That one-mile race is the first of three Kentucky Derby trail races offering 10-4-2-1 points to its top four finishers.
Aqueduct Derby preps aren't typically high profile
The other two Derby preps are the $250,000 Grade 3 Withers on Feb. 5 and the $300,000 Grade 3 Gotham on March 5. The nine-furlong Withers offers 10-4-2-1 points while the one-mile Gotham puts 50-20-10-5 points on its table. While all three Derby preps offer convenient point-grabbing stops on the Derby trail, they often aren't a stop for A-list Derby hopefuls.
---
Aqueduct Winter Meet Key Races
Date
Race
Grade
Purse
Restrictions
Surface
Distance
Jan. 1
Jerome
$150K
3+
Dirt
1 Mile
Jan. 23
Busanda
$100K
3-Year-old Fillies
Dirt
1 Mile 1/8
Jan. 29
Toboggan
3
$150K
4+
Dirt
7 Furlongs
Feb. 5
Withers
3
$250K
3+
Dirt
1 Mile 1/8
March 5
Gotham
3
$300K
3
Dirt
1 Mile
March 5
Busher Invitational
3
$250K
3-Year-Old Fillies
Dirt
1 Mile
March 5
Tom Fool Handicap
3
$200K
4+
Dirt
6 Furlongs
---
Kentucky Oaks hopefuls get their shot in the $100,000 Busanda on Jan. 23. That 3-year-old fillies race offers 10-4-2-1 points toward the Oaks. Also on the March 5 Gotham card is the $250,000 Grade 3 Busher Invitational, which offers 50-20-10-5 Oaks qualifying points.
Grade 3s figure prominently in this meet
Opening Aqueduct's graded stakes slate is the $150,000 Grade 3 Toboggan on Jan. 29, which sends its 4-year-old and up horses seven furlongs. The other graded stakes race of note is the $200,000 Grade 3 Tom Fool Handicap, also on Gotham Day. That six-furlong race is for 4-year-olds and up.
The meet's March 25-27 final weekend cards offer 10 stakes, mainly for New York-breds. For the complete stakes schedule, visit here.