After a seven-week lobbying effort that, only a day ago seemed in jeopardy, Santa Anita Park received approval from the Los Angeles County Health Department to resume spectator-free racing this Friday.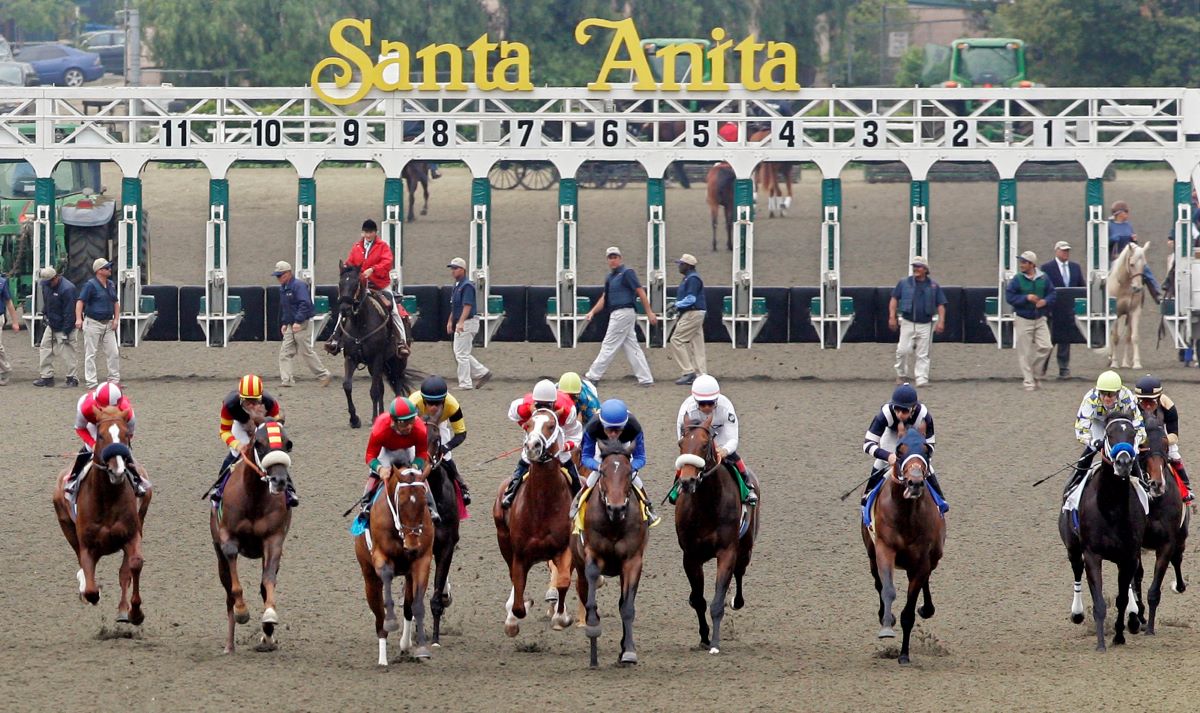 The approval came one day after county health officials extended the "safer-at-home" directive that seemed to put the track's reopening plan in jeopardy. That plan, however, underwent revisions allowing certain businesses and facilities, including beaches, parks, golf courses, trails, and California's biggest racetrack, to reopen.
"We are very grateful for the open and continuous communication with both the Health Department and Supervisor Kathryn Barger's office," Aidan Butler, executive director of California racing operations for The Stronach Group said in a Wednesday afternoon statement. "Supervisor Barger in particular, understood the importance of live racing to support thousands of individuals, and that we are able to accomplish it safely under these protocols."
Jockeys Now Have A Real Colony
The well-chronicled protocols are extensive and include everything from mandatory facemasks and daily health screenings with temperature checks, to mandatory social distancing while on the property. They also include a Restricted Zone – the new home for jockeys, valets, and other essential racing personnel. All must have a negative COVID test to enter.
Safety protocols also include revised saddling and pre-race measures taken to increase physical distancing inside and outside the jockey's room.
County health department officials shut down Santa Anita on March 27, less than 30 minutes before first-post, deeming the track a non-essential business. Immediately, track officials began building a case to reopen, citing the economic and humane factors inherent in more than 750 backstretch workers caring for more than 1,700 horses.
Track Officials Left Nothing to Chance
Butler and other officials submitted a 12-page plan to Barger – whose district includes Santa Anita – on April 16. That plan laid out the safety protocols and emphasized that racing would be conducted without fans. The track released a revised condition book and stakes schedule on April 30, contingent on getting the green-light to resume racing on May 15. That was the day the county's "safer-at-home" order was due to expire.
Santa Anita will resume its current Friday through Sunday schedule through June 25, with a special guest cameo racing card on Memorial Day. The biggest day on the card is June 6, featuring the Grade 1 Santa Anita Derby, the Grade 1 Gold Cup at Santa Anita, and the Grade 2 Santa Anita Oaks.
Friday's schedule is more modest, with nine maiden, claiming, and allowance races on the card. A robust 94 horses are entered, illustrating the pent-up demand for Southern California racing, and giving Santa Anita a well-needed boost in its sagging fields.
The stakes will literally be raised on Saturday, courtesy of the first stakes race on the revised card, the $150,000 Evening Jewel Stakes for 3-year-old fillies.