Hoping to succeed where others have failed, the American Alliance of Football made its debut last weekend, and has already had one impressive victory. The showcase game of the four contests outdrew the NBA in television viewership on Saturday night.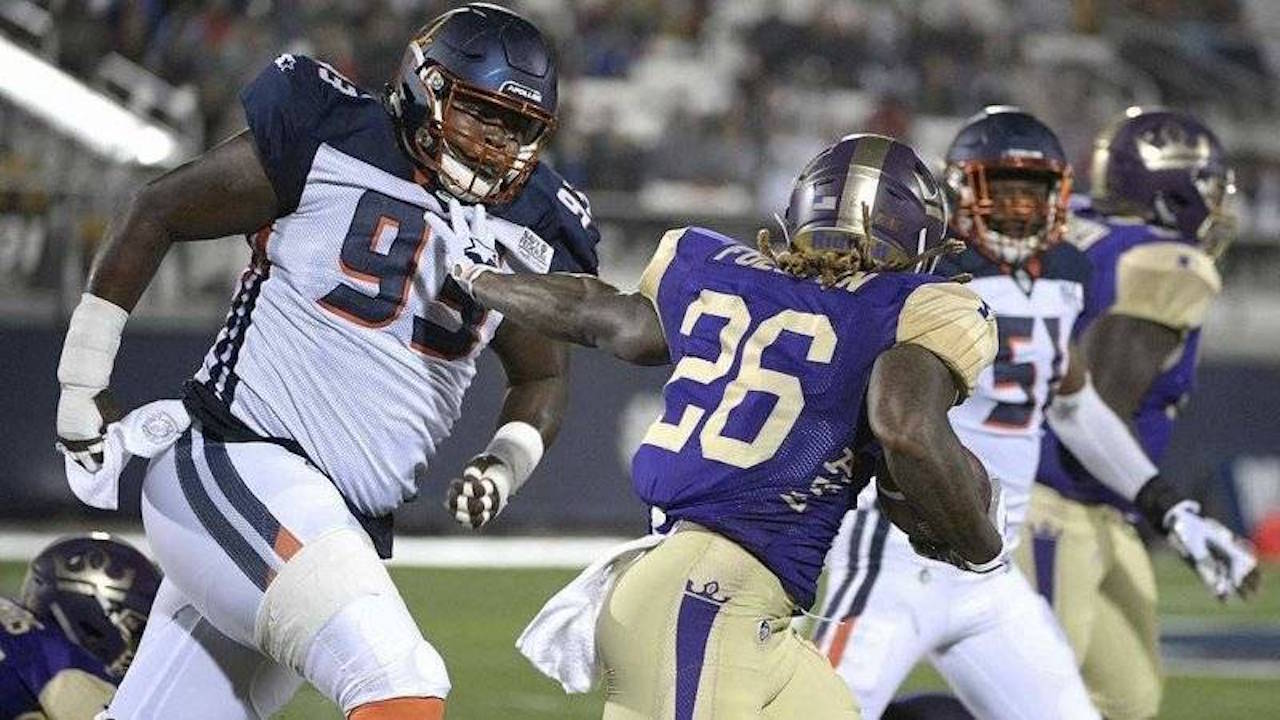 The AAF game featured a 2.1 overnight rating while a marquee NBA matchup between Houston and Oklahoma City did 2.0. According to Sports TV Ratings, the game, which was on CBS on Saturday night, averaged 2.91 million viewers, as opposed to the NBA game on ABC, which had 2.52 million viewers during that same 9-11 time slot.
The start up league, founded by filmmaker Charlie Ebersol and former NFL executive Bill Polian, believes they have a product that will flourish. The difference between failed leagues, such as the XFL and USFL, is that they want to complement the NFL, not compete with it.
Ebersol, who is the son of famed NBC sports executive Dick Ebersol, told Fox Business that they are taking a unique approach to the business model.
"Quality football is important, but football is not the engine," Ebersol said. "It's not the economic engine of this business year one. The long-term goal is to build a technology company that has a multi-billion-dollar valuation, and so we're going to invest heavily in putting good football on the field that mimics in the NFL in terms of the quality and the type of play, so that our technology can travel to not only the NFL, but other sports and other industries."
Star Power On, Off Field
To get good football the league has recruited the best talent that was available. They are angling the AAF as a place for professionals who didn't catch on with NFL teams, a chance to hone their skills, and maybe get back to the big stage.
Ebersol recently told a radio show, "The AAF is Designed for the Kurt Warner's of the World." Warner, who was an undrafted quarterback out of college, fought his way to the NFL, eventually winning two MVP awards and leading the then St. Louis Rams to a Super Bowl victory.
The eight-team league has some impressive talent. Former Alabama running back Trent Richardson, ex-New York Jet quarterback Christian Hackenberg, and wide receiver Charles Johnson, who has played with three NFL teams.
The head coaches are a strong group as well. College standouts Steve Spurrier, Mike Riley, and Dennis Erickson are at the helms of teams. So are Hall of Famer Mike Singletary and former NFL coach Mike Martz.
Former Piittsburgh Steelers players Troy Polamalu and Hines Ward are head of player relations and head of football development.
Unique Features Attempt to Lure Fans
If the league is going to catch on with viewers they need something different, and executives believe they can provide that. As part of the rules there are no kickoffs or extra points, with every touchdown having a two-point conversion attempts.
Other features are no television timeouts, a 35-second play clock, instead of the NFL's 40 second one, and coaches get two challenges per game. Also overtime features one play from the opponent's 10-yard line, no field goal attempts allowed.
One aspect that was on display on Saturday was in the Atlanta-Orlando game. The referees had ruled a pass play an incompletion, but a further review, from an official who was wearing a microphone, gave viewers an insight into the thought process officials go through.
Memphis team president Kosha Irby said technology will play a huge role in the league.
"The Alliance will do some special things in terms of on-field competition," Irby said. "Our digital overlay on top of that will then allow us to introduce a different way to consume the game to fans. The vision is there. There's a long-term play."