Alex Ovechkin of the Washington Capitals became the eighth player in NHL history to score 700 goals. Ovechkin, 34, became the second-fastest player in history to achieve the rare feat, trailing only Wayne Gretzky.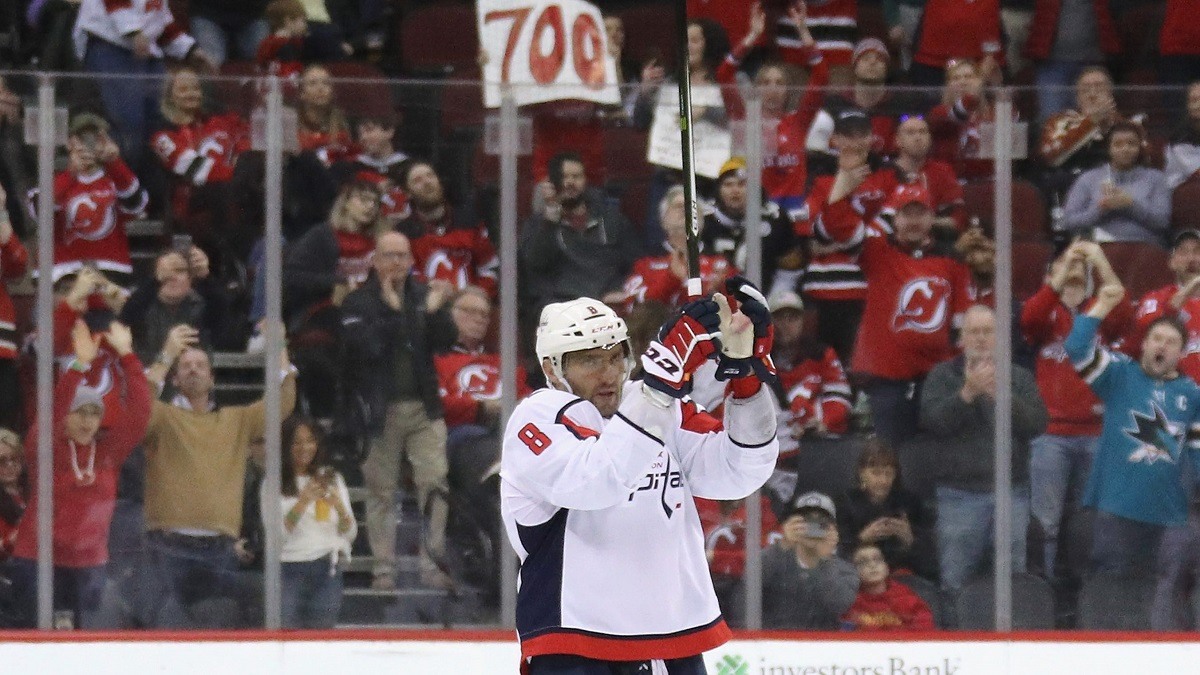 Now that Ovechkin reached the 700 goal milestone, the next question on everyone's mind is, "Can he catch Gretzky?" The Great One scored 894 goals in his illustrious, two-decade career.
"I'm a big believer that records are made to be broken," Gretzky told NHL.com. "What I accomplished, I'm very proud of. It's hard to do what I did, and it's really hard to do what he's doing now. But there's no question in my mind that he has a real legitimate chance of doing it."
NHL GOAL LEADERS
1. Wayne Gretzky (1979-99) 894
2. Gordie Howe (1946-80) 801
3. Jaromir Jagr (1990-18) 766
4. Brett Hull (1986-06) 741
5. Marcel Dionne (1971-89) 731
6. Phil Esposito (1963-81) 717
7. Mike Gartner (1979-98) 708
8. Alex Ovechkin (2005-20) 700
Ovechkin spent his entire career with the Washington Capitals and he's almost completed his 14th season with the Caps. In 61 games this season, Ovechkin scored 42 goals and tallied 17 assists. He has 59 points through 61 games, and is on pace to score 50 goals again.
Ovechkin scored 50 or more goals eight times in his first 14 seasons. In the 2007-08 season, Ovechkin scored a career-high 65 goals and 112 points.
Ovechkin is also only one of eight players in NHL history to score 40-plus goals in 10 seasons. He went over 100 points four times in his first five seasons in the NHL.
700 Goals
Ovechkin scored his 700th goal in a 3-2 loss to the New Jersey Devils. He tied the game at 2-2 with the third-period goal.
The Washington Capitals selected Russia's Ovechkin with the #1 pick in the 2004 NHL Draft. The Caps won their only title with Ovechkin back in 2018. He's won three MVP awards with the Caps.
Last February, Ovechkin became the all-time leading scorer from Russia when he passed Sergei Fedorov.
According to a recent update by William Hill, the Caps are 10/1 odds to win the 2020 Stanley Cup. Ovechkin seemed pleased with securing his 700th goal, but he'd rather win another Stanley Cup with the Caps.
"It's a special moment," said Ovechkin. "When you get closer you start thinking when it's going to happen. Finally, it's over so we don't have to talk about it anymore. We're going to move on."
If he doesn't hoist another Cup, then he can focus on catching Gretzky.
NUMBER 700 FOR THE GREAT 8! 🚨

The @Capitals mob Alex Ovechkin on the ice. #WSHvsNJD pic.twitter.com/nlLzbHefWN

— NHL on NBC (@NHLonNBCSports) February 22, 2020
Chasing the Great One
With 700 goals, Alex Ovechkin is only 195 goals away from breaking the all-time record of 894 goals. Gretzky retired at age 38. Ovechkin could snap the record within four seasons so long as he remains healthy and continues to score at least 45 goals per season.
"Ovi stays healthy and he can play four or five more years, it's reachable," said NHL veteran defenseman, Kimmo Timonen.
"Alex is going to score another probably 150 goals, maybe more, before he retires," said Hall of Famer Phil Esposito. "He's got a chance to catch Wayne. There's no doubt about that."
Ovechkin faded the injury bug during his 14-year career in the NHL. He's missed only 31 games spanning 15 seasons. If his good luck continues, Ovechkin has a legit shot at challenging Gretzky.
"The two things that you need; you've got to stay healthy, and he's proven that over his career. He plays hard and he stays healthy. And, secondly, you've got to be on a good team. And he plays on a good team," said Gretzky.
"It's always special to be in that category but I would say without my team, without my family, without the fans, the support that I have I would never reach that milestone," Ovechkin said. "We have to continue to create history."
Gretzky played 1,487 games over 20 seasons in the NHL. He played with the Edmonton Oilers, Los Angeles Kings, St. Louis Blues and New York Rangers.