The NBA suspended Grayson Allen from the Milwaukee Bucks for one game after a flagrant foul against Alex Caruso from the Chicago Bulls, which caused a serious wrist injury. Caruso broke his wrist, which requires surgery, and the injury will cause him to miss six to eight weeks of action with the Bulls.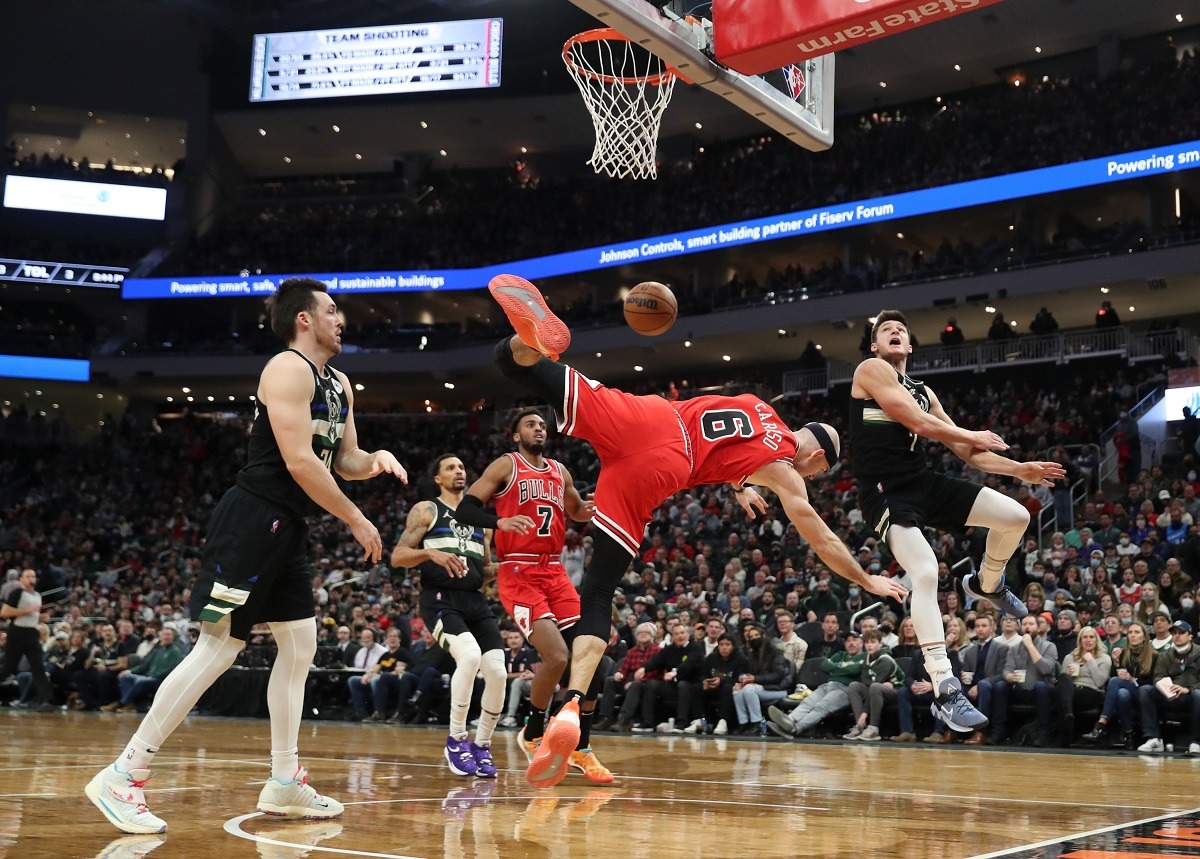 During a game on Friday night, Allen knocked down Caruso midway through the third quarter. Allen opted for a hard foul, but it was dirty as heck. Caruso crashed to the court on his right side, where he suffered a wrist injury.
"For Alex to be in the air like that and for Grayson Allen to take him down like that, he could have ended his career," said Chicago Bulls head coach Billy Donovan. "Grayson Allen has a history of this. That, to me, was really dangerous. I really hope the league takes a hard look at something like that because he could have really, really seriously hurt Alex."
Officials flagged Allen for a Flagrant 2 foul against Caruso, and they ejected him from the game. The Bucks held on to defeat the Bulls 94-90 in a chippy Central Division game.
On Sunday, the NBA announced a one-game suspension.
Grayson Allen draws a flagrant 2 for a HARD foul on Alex Caruso pic.twitter.com/NjCJEzo7zu

— Bulls Talk (@NBCSBulls) January 22, 2022
Chicago ER: Caruso down
The injury bad beats continue for the Chicago Bulls. They recently lost point guard Lonzo Ball for up to two months while he recovers from knee surgery. Meanwhile, Zach LaVine sprained his knee the other week and he's out for possibly another month.
The Bulls fought off a COVID-19 outbreak that caused three of their games to get postponed. They'll pay for that later in the season when those extra games will get squeezed into their schedule, so expect additional back-to-back games for the Bulls down the line.
Caruso joined the Bulls in the offseason when he signed a free-agent deal. He previously played on the Los Angeles Lakers and won a championship with LeBron James coming off the bench. Caruso started nine games with the Bulls this season, but was primarily part of their second unit. He averaged 8.4 points, 3.9 assists, and 3.09 rebounds off the bench this season with the Bulls.
The short-handed Bulls already have Coby White and rookie Ayo Dosunmu in the starting lineup, so it looks like Matt Thomas (4.8 ppg) will see a huge uptick in playing time. Thomas, a second-year player out of Iowa State, shot 44% from 3-point range in limited action this season.
Everyone hates Allen
The second that Allen put on a Duke uniform became the moment he was universally loathed by the sporting world. It's just a Duke thing. Everyone who pays for Duke becomes an instant target for college basketball fans and haters. Zion Williamson is probably the only player from Duke to ever avoid the deluge of ire, but he's the rare exception.
Allen didn't help his cause when he developed a reputation as a dirty player. He tripped and kicked numerous players, so he's been on everyone's radar. Toss in an uncanny resemblance to Senator Ted Cruz, and you can understand why Allen is a beacon of scorn.
Despite his brutish ways, the Bucks defended Allen and his hard foul on Caruso. He's the type of player you want on your team because you don't have to worry about dealing with his shady stuff.
"We disagree with the suspension," the Bucks said in an official statement. "We support Grayson and look forward to him rejoining our team for Friday's game vs. New York."
If it were up to Donovan, Allen should get more than just a one-game suspension.
"I feel bad for Alex that he's going to be out this long more so than anything else," said Donovan.
In an instance like Caruso missing up to two months to heal his wrist injury, there should be an eye-for-an-eye clause in the NBA handbook. According to harsher rules, Allen would serve a suspension as long as the damage he inflicted. In this case, he'd be on ice for six to eight weeks, like Caruso.
Billy Donovan goes off on Grayson Allen: "It could've ended his [Caruso's] career" pic.twitter.com/Mf2TJN0upn

— Bulls Talk (@NBCSBulls) January 22, 2022