Alex Bowman held off Kyle Larson to claim his first career NASCAR Cup Series victory, winning the Camping World 400 at Chicagoland Speedway on Sunday.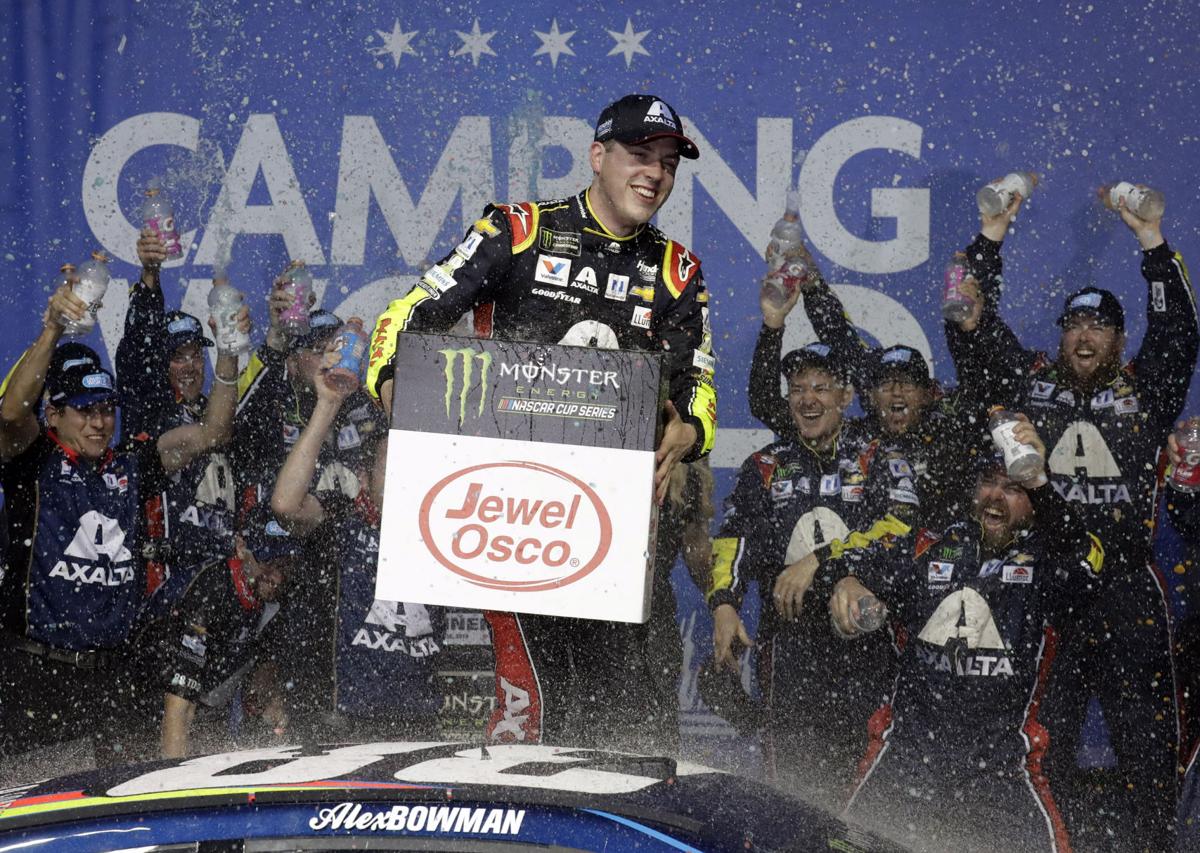 The 26-year-old finished just over a half-second ahead of Larson in a race that saw multiple lead changes in the final laps.
Larson, Bowman Trade Lead Late
The race came down to a duel between the two leaders, with Larson passing Bowman to take the lead with just seven laps left. But Bowman soon overtook Larson one last time, then carefully protected his advantage to capture the checkered flag.
For Bowman, the win was a long time coming, especially after he had already racked up three runner-up finishes this year.
"It's all I've wanted my whole life," Bowman said after the race. "I was just tired of running second. I don't want to do that anymore. I feel like this is the last box, aside from going and chasing a championship, that I needed personally for myself to validate my career."
Larson was looking for his first win since 2017, and is no stranger to second place himself. Since that last win, which came at Richmond two years ago, Larson has finished as the runner-up eight times, including twice in a row at Chicagoland.
"I was surprised I even got to him," Larson said of his duel with Bowman. "I thought when he came out about the same distance off pit road in front of me, I thought he was just going to check out. But like I said, he was struggling and we were able to get to him and get by him, but did a good job. He did a good job regrouping and figuring out how to make his car drive better and got the win."
Series Leaders Off the Pace on Sunday
Joey Logano finished in third place, with Jimmie Johnson and Brad Keselowski rounding out the top five. Also in the top 10 was Martin Truex Jr., who finished in ninth place after winning in Sonoma last weekend.
"Little bit of a tough day, but we soldiered home," Truex said afterwards. "When you have a tough weekend, that's a good day to get a top 10."
Logano now leads the NASCAR Cup Series driver standings by 18 points over Kyle Busch, who finished in 22nd place. That marked won of the lowest finishes of the season for Busch, who has only finished outside of the top 10 twice in 2019.
Denny Hamlin won Stage 1 of the race before finishing in 15th place. Kevin Harvick led a race-high 132 laps and captured the Stage 2 crown, but finished in 14th place, and is still searching for his first win on the year.
Busch remains the favorite to win the NASCAR Cup Series championship this year, with bookmaker SportPesa listing him at 5/2. Truex (92/) and Harvick (6/1) are also seen as top contenders, with Logano, Keselowski, and Chase Elliott all posted at 8/1 odds of winning the title.