The Houston Astros are one game away from reaching the ALCS after beating the Oakland Athletics 5-2 in Game 2 of their ALDS series on Tuesday.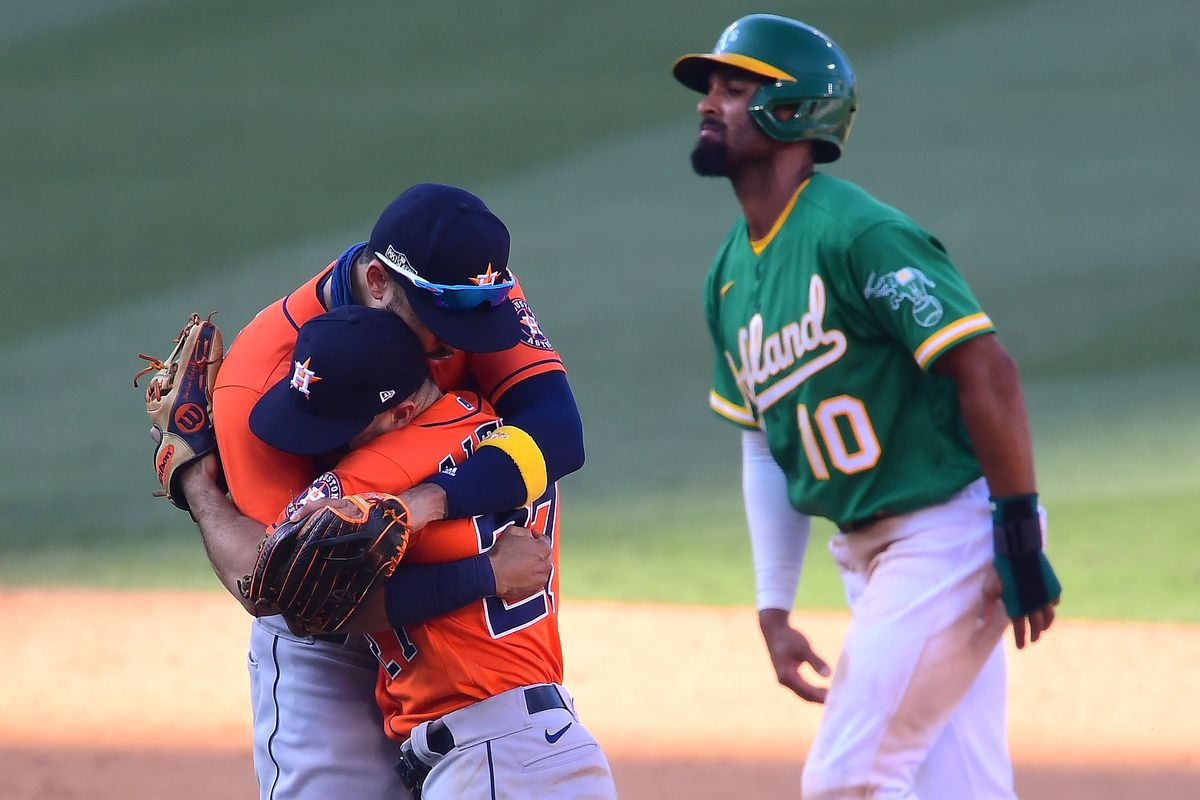 George Springer hit two home runs to lead the Astros attack and put Oakland on the brink of elimination.
Springer Continues Postseason Brilliance
Houston came into the series with a chip on its shoulder. The team bristled at mentions of the cheating scandal centered on its 2017 championship squad, especially after the Astros struggled to a 29-31 regular-season record.
"It's all about silencing the haters," Astros outfielder Josh Reddick said before the series began. "That is what this year is all about."
---
Athletics vs. Astros Game 3 ALDS Odds (via FanDuel Sportsbook)
Moneyline
Athletics (Luzardo): -112
Astros (Urquidy): -102
Run Line
Athletics (-1.5): +164
Astros (+1.5): -196
Total
Over 9: -114
Under 9: -106
Series Winner
Athletics: +550
Astros: -800
---
Springer has long been Houston's most reliable playoff contributor. In 54 career postseason games, he's hit 17 home runs and compiled a blistering .943 OPS.
"You come to expect it," Astros manager Dusty Baker said after the Game 2 win. "This guy's a tremendous ballplayer, a tremendous athlete, he's not missing pitches he should hit. And he's hitting them out."
The Astros will send out Jose Urquidy to pitch Game 3 of the ALDS. Houston originally planned to have Zack Greinke on the mound, but he remains unable to go due to arm soreness that seemed to impact his performance in September.
Oakland is countering with the inexperienced Jesus Luzardo who has started just nine regular-season games, all coming this year. He also took the mound for Game 1 of Oakland's wild-card series, going 3.1 innings and giving up three runs in a loss to the White Sox.
The Athletics enter as the slightest of favorites in this must-win game, with FanDuel Sportsbook listing them as a -112 pick against Houston (-102).
Rays Win Game 2, Knot ALDS at 1-1
In the other ALDS series, the Tampa Bay Rays are looking to ride their momentum after beating the New York Yankees 7-5 in Game 2 on Tuesday. Rays pitchers combined for 18 strikeouts on the night, while four different Tampa Bay players homered in the win.
---
Rays vs. Yankees Game 3 ALDS Odds (via FanDuel Sportsbook)
Moneyline
Rays (Morton): +116
Yankees (Tanaka): -136
Run Line
Rays (+1.5): -172
Yankees (-1.5): +144
Total
Over 9: +106
Under 9: -130
Series Winner
Rays: +116
Yankees: -136
---
The Yankees attempted some trickery when it came to their starting pitching on Tuesday. Deivi Garcia left that game after pitching just one inning, after which New York manager Aaron Boone brought in J.A. Happ. The plan was to exploit Tampa Bay's lefty-heavy lineup. Instead, the Rays scored four times in 2.2 innings off of Happ, who took the loss.
"You're playing a unique team that does a really good job of building their roster to create platoon advantages," Boone said after the game. "We were just trying to counter that a little bit and force their hand early in the game. Unfortunately, it didn't work."
The Yankees will try a more traditional approach in Game 3, starting Masahiro Tanaka. The veteran struggled against the Cleveland Indians in the wild-card round, but went 3-3 with a 3.56 ERA during the regular season. Rays starter Charlie Morton will get his first start of the playoffs for Tampa Bay.
New York will be counting on more heroics from Giancarlo Stanton who's hit home runs in four consecutive playoff games, including two in Tuesday night's loss.
FanDuel lists the Yankees and Tanaka as a -136 favorite for Game 3. The sportsbook gives New York an identical -136 advantage in the best-of-five ALDS as a whole.