The New York Yankees continue to score runs and hit homers at a record pace in the playoffs, something the Tampa Bay Rays must contend with if they hope to tie up their ALDS series on Tuesday.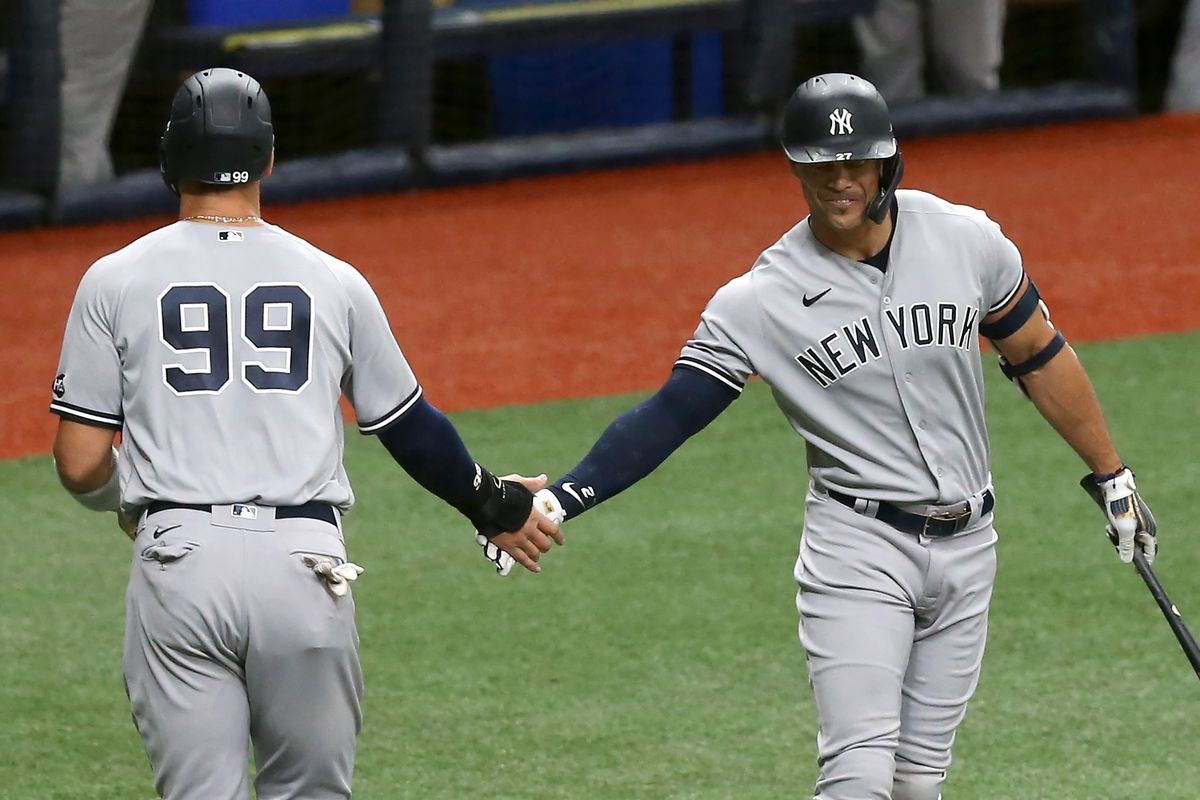 The Yankees overpowered Tampa Bay on Monday, breaking open a close game in the ninth inning to book a 9-3 win.
Bombs Away for Yankees in Game 1 Blowout
New York hit a record 11 home runs in its first three postseason games, scoring 31 runs over that span. Even opposing aces have largely been unable to slow them down, with Blake Snell giving up four runs over five innings in Game 1.
"They can hit, there's no secret in that," Tampa Bay manager Kevin Cash told reporters after Monday's loss. "They've just got some guys back that are healthier. There were a handful of players who didn't have consistent reps against us or throughout the 60-game season due to injuries. They looked healthy tonight."
That explosion provided a cushion for Yankees ace Gerrit Cole. The former Houston Astros star wasn't exactly dominant, but came away with a solid six-inning effort, giving up three runs to secure a win.
The offensive output is impacting betting behavior as well. BetMGM opened its total on Game 2 at eight runs, but bumped it up to 8.5, as more than 80% of tickets and 75% of the handle came in on the over.
---
Yankees vs. Rays Game 2 Odds (via BetMGM)
Moneyline
Yankees (Garcia): +115
Rays (Glasnow): -129
Run Line
Yankees (+1.5): -189
Rays (-1.5): +155
Total
Over 8.5: -110
Under 8.5: -110
Series Winner
Yankees: -264
Rays: +210
---
Tampa Bay right-hander Tyler Glasnow earned the unenviable task of trying to contain the Yankees on Tuesday. Glasnow went 5-1 with a 4.08 ERA for the Rays this year, including going 1-1 with a 3.77 ERA in three starts against the Yankees.
"We have the right guy on the mound with Tyler," Cash told reporters. "The guys are going to be ready to go, there's no doubt."
Rookie Garcia Gets the Ball for Game 2
Many fans excepted Masahiro Tanaka to take the mound for the Yankees in Game 2. Instead, manager Aaron Boone picked 21-year-old rookie Deivi Garcia, who will make his first postseason start.
"When they finally told me I was going to get the ball for Game 2, what can I say, just so excited about it," Garcia told reporters on Monday. "For me, it's been a journey of preparing myself and doing everything I can to improve as a player and keep improving every day. I was hoping for an opportunity to get a chance to get into a game like that at this level, especially now in the playoffs."
Garcia showed his potential during his rookie season, compiling a 3-2 record with a 4.98 ERA in six starts.
Oddsmakers give the edge to Tampa Bay on Tuesday. BetMGM lists the Rays as a slight -129 favorite to win Game 2, with the Yankees posted at +115. New York remains a -264 favorite to win the best-of-five series.