Alabama fans are about to see how resilient their football team is without its starting quarterback. Tua Tagovailoa is recovering from surgery after suffering a high-ankle sprain last week against Tennessee, and will miss the team's Saturday home game against Arkansas. The news caused the odds to drop from 35 to 32.5 points in Alabama's favor.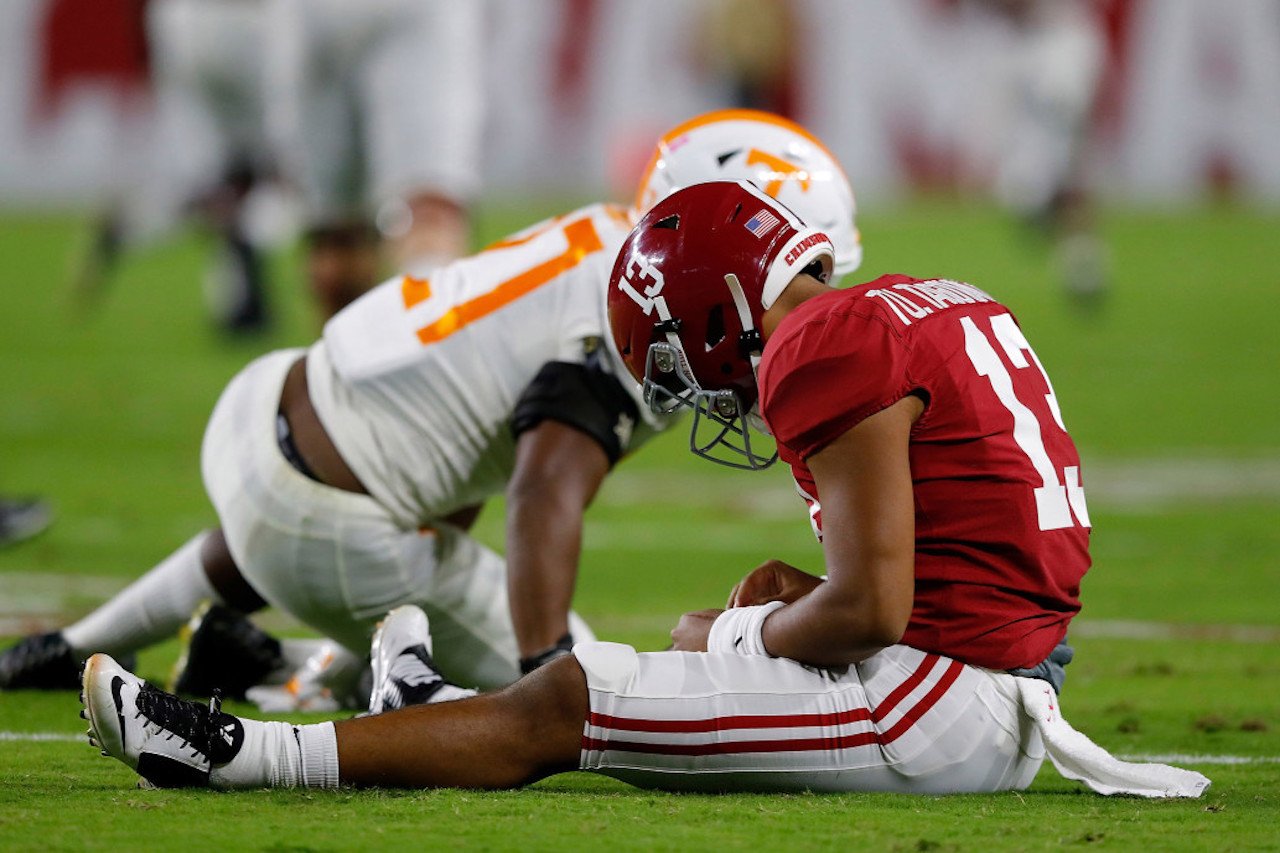 Mac Jones will replace Tagovailoa when the Tide take on the Razorbacks in Tuscaloosa. He relieved Tagovailoa after the junior left with six minutes remaining in the second quarter of the Tennessee game. Jones finished 6-of-11 passing for 72 yards. Coach Nick Saban told reporters that Jones is a capable backup.
"We've got a lot of confidence in Mac," Saban said Monday. "With a week of preparation, I think he'll do a lot better in this game.' "All in all, I thought he handled the situation really well. It's a difficult circumstance to get thrown into."
Tagovailoa's Return is Uncertain
Tagovailoa had surgery on his ankle on Sunday, and told his teammates that he would be back in time for the team's showdown with No. 2 LSU on Nov. 2. Saban said in a statement that his quarterback would return in a week, but changed that estimate on Monday.
"There's no real timetable for his return, but the expectation is he will be non-weight bearing for several days, and then he'll be able to come back as his rehab allows him," Saban said. "We're hopeful that in a 10-day period, he'll be back [to] being able to do active-type rehab, and we'll see how it goes from there. But these things are pretty unpredictable at this point."
The Arkansas game should be an easy victory for the No. 1 team in the country, and the Tagovailoa injury shouldn't be a factor.  The Razorbacks haven't beaten an SEC opponent this season, and were embarrassed in a non-conference game against San Jose. They were favored by 20.5 points over the Spartans, and lost outright, 31-27.
The Crimson Tide has a bye week after Arkansas, and then the showdown with LSU at home. Saban is hoping the team can survive Tagovailoa's injury, and he will be able to return for that game.
Ejected Clemson Player Punished with Bus Ride
When Clemson freshman cornerback, Andrew Booth, was ejected in the Tigers' victory over Louisville, Coach Dabo Swinney banned him from the plane, instead making him ride the team bus back to Clemson.
Booth got tangled up with a Louisville player and decided to throw a punch at him. Swinney told him he was taking the bus home. The ride was about seven hours.
Swinney said he talked to the team about the incident, and said the Clemson players learned from the ejection.
"I kind of let some of the seniors have a say, because they were not happy," Swinney said. "Team was really upset about it, especially the veterans because that's not who we are. Booth was really remorseful and upset about it. He'll learn from it."
Tennessee QB Goes Rogue
After Tennessee starting quarterback Brian Maurer suffered his second concussion in as many weeks, backup Jarrett Guarantano took over. He kept the game somewhat close against No. 1 Alabama until an ill-advised play midway through the fourth quarter.
The Volunteers were at Alabama's 1-yard line. It appeared a hand off to the running back had been called, but Guarantano took the ball himself and tried to dive into the end zone. He fumbled and Alabama's Trevon Diggs scooped up the loose ball, returning it 100 yards for a touchdown.
Guarantano came off the field and was met by a furious Jeremy Pruitt. The head coach screamed at Guarantano, and briefly grabbed his player's facemask. Pruitt told reporters on Sunday the two discussed what happened.
"We talked about it yesterday. It's pretty obvious what happened. It's over with and we've moved on," Pruitt said. "There's lots of mistakes that were made in that game and I made more than anybody on our sideline. We've got to do a better job as coaches and players where we don't make mistakes."