There's good news for those fans interested in the health of Alabama quarterback, Tua Tagovailoa. Coach Nick Saban says the field captain's high-ankle sprain is responding to treatment, and Tagovailoa could play on Saturday against LSU. The Crimson Tide's starting QB suffered the injury in a game against Tennessee on October 19, and had surgery the next day.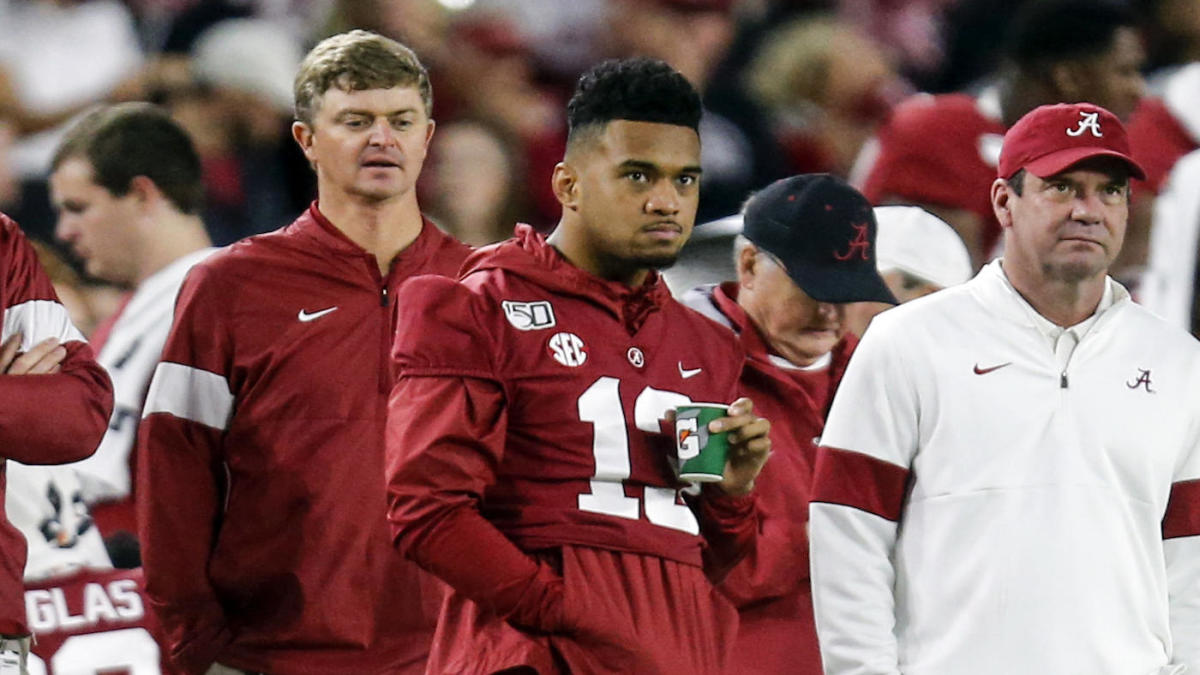 Oddsmakers set the opening line at 7 points in Alabama's favor, not knowing whether Tagovailoa would be back. Money came in on LSU, and the line is currently 6.5 points.
The junior signal caller pledged he would be back for the meeting with No. 1-ranked LSU. Alabama is currently ranked No. 2. So far, it appears Tagovailoa will be keeping his word. He's practiced over the last four days, and Saban told ESPN that he is optimistic about Tagovailoa's return. Even so, he says it will still come down to a game-time decision.
"It's still day-to-day, and you don't know what's going to happen tomorrow or the next day, but he's moving around well and throwing the ball with confidence," Saban said. "His mobility will be the big question, but every day that's improved dramatically."
Same Injury, Different Ankle Last Year
Tagovailoa had the same tight-rope procedure on his left ankle last season, and required more time to return. Saban said this time, the procedure wasn't as intrusive, which seems to helping to shorten the healing process.
"He knows what to expect now, and you could tell with his rehab," Saban said. "Sometimes, the first time a guy gets hurt, they're even afraid in rehab and are asking, 'Am I doing too much? Am I doing enough? It hurts, should I keep doing this?' But even in rehab, Tua was so much more aggressive because he knew the outcome. He already had it before, and his body also knew what to expect. It's a lot like if you never had a stent before in your heart, you'd be scared to death the first time they did it. But if you had to do it a second time, you'd probably be a lot more at ease."
LSU Loses Defensive Standout
The news isn't as good in Baton Rouge, where LSU linebacker Michael Divinity told coach Ed Orgeron that he is leaving the team for personal reasons. Orgeron made the announcement at Monday's press conference, telling reporters that he won't divulge what the personal matter is.
Divinity, who was the team's leader in quarterback sacks in 2018, said on his Instagram page that he is "attending to a personal matter," but did not explain further.
"My goal is to get myself back 100% in time to graduate in December, and be back on the field fighting with my brothers soon," Divinity wrote. "This is an incredibly difficult time for me, and it means so much to me that so many people have reached out — knowing you all have my back will make the next short while a lot easier. Thank you all."
Orgeron hinted that Divinity could return to the team by the end of December. He said they would, "not close the door" on Divinity.