Alabama enjoyed being the No. 1 ranked team since the college football season began, but with its 26-14 loss to SEC rival Auburn on Saturday the Crimson Tide find themselves in danger of missing the postseason. It would be the first time since the four-team playoff began in 2014 that they wouldn't be in it.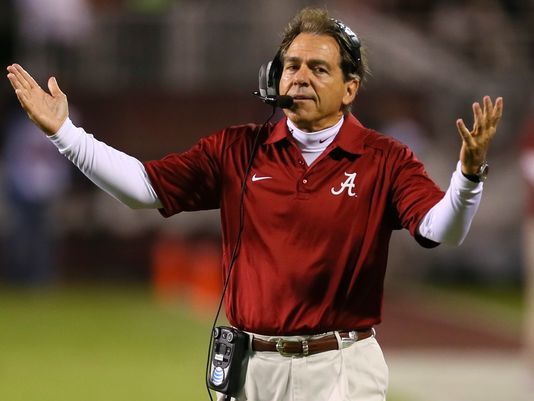 But it is becoming a distinct possibility. Alabama slipped to No. 5 in the Associated Press Top 25 poll and could find themselves in that same spot when the college football playoff rankings are announced Tuesday evening.
Clemson and Oklahoma will occupy the top two spots and undefeated Wisconsin and Auburn should take the next two. The Crimson Tide and Georgia are the two teams needing some help to get back in the picture.
Coach Nick Saban still believes that his program deserves to be in regardless of what happens the last week of the season.
"I think this team deserves the opportunity to get in the playoff by what they've been able to accomplish and what they've been able to do," he said after the Auburn loss.
Alabama Mere Spectator
It is a helpless position the team finds itself in this weekend. They did not make the SEC Championship game and will be sitting at home watching the television hoping for at least one upset.
One favorite they will want to win is the team they lost to last week. Auburn probably needs to defeat Georgia in Saturday's SEC title game. If the Bulldogs win they could leapfrog over Alabama. The Tigers soundly defeated Georgia earlier in the season, 40-17 and are a 2 ½-point underdog in the rematch.
Even if Auburn wins it might not help Alabama's cause. They would likely need another of the top four teams to lose to have a chance. Clemson is playing Miami in the ACC Championship game and if they lost they could drop below the Crimson Tide, but Miami probably wouldn't overtake Alabama. That doesn't seem likely, however, since they are a 9 ½-point pick to win.
Other Outcomes Could Help Crimson Tide
Wisconsin is the most likely to lose on Saturday. They are playing Ohio State in the Big 10 Championship and are a 6 ½-point underdog. The Badgers have not lost this season but also have played much weaker opponents. If they lose they could fall several spots like Miami did when it lost to Pitt a week ago.
Oklahoma is the other team that if they lost would help Alabama's cause. The Sooners are facing Texas Christian University and are 7-point picks to defeat the Horned Frogs. Oklahoma has the advantage of beating TCU earlier this season, 38-20 at home.
If all four of the favorites win, however, Alabama could be out of the playoffs. If that happens look for the NCAA to seriously consider expanding the current format from four to eight teams.