Last summer, Ricardo Santana Jr. piloted Stellar Tap to a Saratoga allowance victory that made trainer Steve Asmussen the winningest trainer in North American history. That Santana was the jockey for Asmussen's record-breaking race made perfect sense.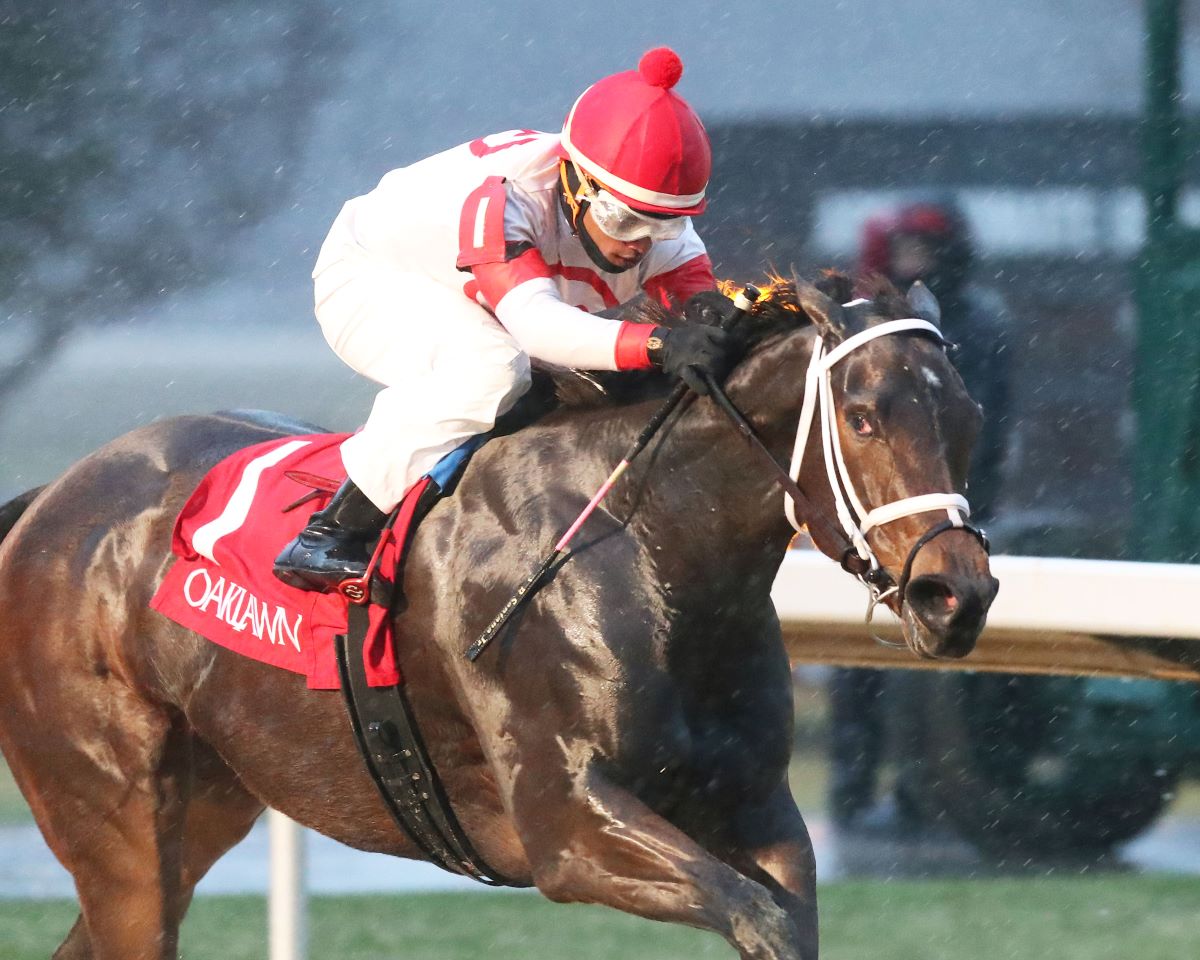 As Asmussen's go-to rider, he was enjoying a breakout Saratoga meet, winning 35 races, racking up more than $4.1 million in purse earnings, and winning five stakes races – all personal bests at the Spa. All five stakes victories came in Grade 1s and four of those were for Asmussen, including aboard standout filly Echo Zulu in the Spinaway.
This, after Santana broke his own Oaklawn Park purse earnings mark ($5,642,523) and won his eighth Oaklawn riding title. Much of that coming with Asmussen. Through last Sunday, the pair combined for 313 Oaklawn victories and more than $20.6 million in purse earnings. This was one of the best jockey-trainer combos in the country.
Until it wasn't. After Santana piloted Echo Zulu to the Oct. 3 Grade 1 Frizette title at Belmont Park, he descended into a monster slump. He went 0-for-81 at Keeneland's fall meet, prompting Asmussen to take him off Echo Zulu for the Breeders' Cup Juvenile Fillies.
Santana's confidence shattered on two fronts
It's not like Asmussen enjoyed a stellar Keeneland meet. He went 1-for-57. But Asmussen is in the elite club of trainers who get front-rank horses. Losing go-to status with a barn like Asmussen's can send a rider's career spiraling.
Not surprisingly, this not only sacked Santana's confidence, it sacked his pocketbook. Jockeys typically get 10% of a purse. First prize for the Breeders' Cup Juvenile was $1,040,000, meaning that, even with the 15% agent's cut, Santana watched new rider Joel Rosario take an $88,400 payday.
Santana managed only 42 mounts at Churchill Downs' fall meet. He went 2-for-42 as Asmussen won the meet title with 20 victories.
Compounding this was the October death of one of Santana's best friends, fellow rider Miguel Mena, who was killed after being struck by a vehicle crossing Interstate 64 in Louisville, Kentucky. Santana honored his friend by wearing his helmet covers – complete with "MM" stitched on the back.
Tragedy took Santana's focus away
"A lot of people don't know, but that affected me a lot when one of my best friends, Miguel, passed away," Santana told Oaklawn Park's Robert Yates. "I even talked to my agent (Ruben Munoz) and said I didn't want to ride many at Churchill. I was with him 24/7. I even ate dinner with him every time we came from Keeneland. I always loved him like my brother. That hit me really hard, like he was my company 24/7. When I did something wrong, he was the first one to call me. I was pretty heartbroken."
Trainer Ron Moquett, who brought Santana to Oaklawn and gave him mounts as an apprentice, saw how gutted Santana was by the twin body blows.
"I thought that his confidence would be shaken a little bit," Moquett said. "I think at first, for sure, it was, I think the thing that got him was the Breeders' Cup a little bit. But that's how it goes. That's how this business is. I've seen since he got back here, I've seen the old Ricardo start to emerge again."
Regaining the riding lead — even with Rosario present
The old Ricardo is re-emerging. He currently shares the victory lead with Francisco Arrieta at 20 wins through Oaklawn's first 18 days. He leads the Oaklawn jockey colony with $1,207,239 in earnings. And he's doing this with Rosario, the favorite to win the 2021 Eclipse Award as Champion Jockey, in the same jockey's room.
"Thank God, now I feel I'm back. I feel my confidence is back," Santana said.
Interestingly, Santana's 20 wins came from 10 different trainers. More interestingly, 30% of those – six – came from Asmussen. When Santana won the 2021 Oaklawn riding title, 19 of his first 20 wins came from Asmussen. Earlier this month, Santana surpassed $100 million in career earnings worldwide.
"I thank all the trainers for the opportunity," Santana said earlier this month. "Thank you to Moquett. He was the one who brought me here to Arkansas when I was 17 years old. Thank you to Mr. Steve, that's the main barn. He's given me a lot of great opportunities. I'm really blessed to be a part of ethe Oaklawn team. Everywhere I go, everyone knows me because of Oaklawn. I'm really blessed with al lthe success I've had at 29 years old."