Israel Adesanya will attempt to defend his middleweight championship for the fifth time on Saturday night when he faces off against Jared Cannonier in the main event of UFC 276 in Las Vegas.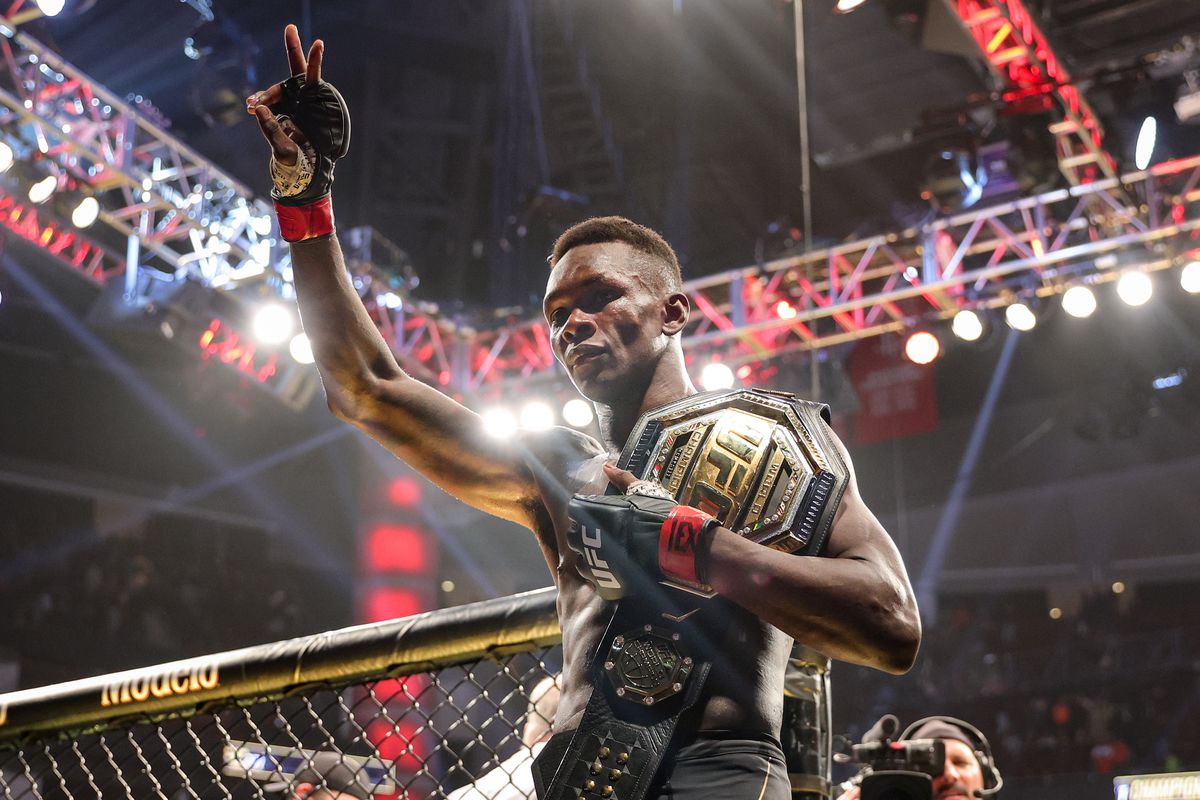 Adesanya enters the fight as a substantial favorite, with DraftKings Sportsbook listing "The Last Stylebender" as a -475 pick against Cannonier (+380).
Adesanya predicts 'easy work' against Cannonier
It's likely that Adesanya (22-1) would be a heavy favorite against anyone in the middleweight division. He's never lost a fight at 185 pounds, with his only defeat coming in a light heavyweight title challenge against Jan Blachowicz last March. Few have truly challenged Adesanya in his own weight class, and he says he will put on another show Saturday.
"I think he's mature and can handle a spotlight, but not like me," Adesanya said of Cannonier. "I'm going to make you [look like] easy work."
To be fair, Adesanya has also said he thinks a lot of Cannonier, at least to a point. He says he knew Cannonier was special the first time they met at a show back in 2018 at UFC 230.
"His fighting spirit and his essence," Adesanya told reporters about what makes Cannonier special. "I recognize that because I'm an empath myself. I can kind of feel the energy from a great man and a great fighter."
Cannonier (15-5) nearly got a shot at Adesanya's title back in 2020, but a loss to Robert Whittaker dashed those hopes. Since then, he's won two straight against tough competition, beating Kelvin Gastelum by unanimous decision, then knocking out Derek Brunson in the second round at UFC 271.
Challenger sees 'tall order' at UFC 276
Reporters asked Cannonier about earlier Adesanya comments, in which he put on a "spectacular" performance at UFC 276, reminiscent of Anderson Silva's win over Forrest Griffin at UFC 101. The challenger didn't take the bait, however.
"I don't really think about what other people say, so I don't have any thoughts on what he said," Cannonier told reporters. "My thoughts are only on what he's going to attempt to do Saturday night and what I'm going to do Saturday night."
Cannonier did concede that dealing with Adesanya presents many challenges for any fighter.
"It could be a clean fight if one can control that torrential ocean of techniques that he's throwing at you," Cannonier said. "That's a tall order right there. That's a tall task to do. But it's possible."
Both men should be content to keep this fight on its feet, so this might turn into a tactical kickboxing match. Adesanya is clearly the more skilled fighter and the favorite in that sort of battle.
The conventional wisdom is that Cannonier has a path to victory via his power, either through a knockout or by simply getting a decision by landing heavier shots. Yet Adesanya says that's no more of a worry than against any other opponent.
"I feel like he poses a danger the same way all my past opponents pose dangerous threats," Adesanya told reporters. "They keep talking about, 'Power, power, power.' Have you ever heard that before when someone fights me? 'Power this. Power that.' It's the same old song."