The final season of Game of Thrones is nearly complete, and Sunday's penultimate episode was one of the most impactful and epic yet. It also held a special treat for sports fans, as Green Bay Packers quarterback Aaron Rodgers apparently appeared in the episode – somewhere.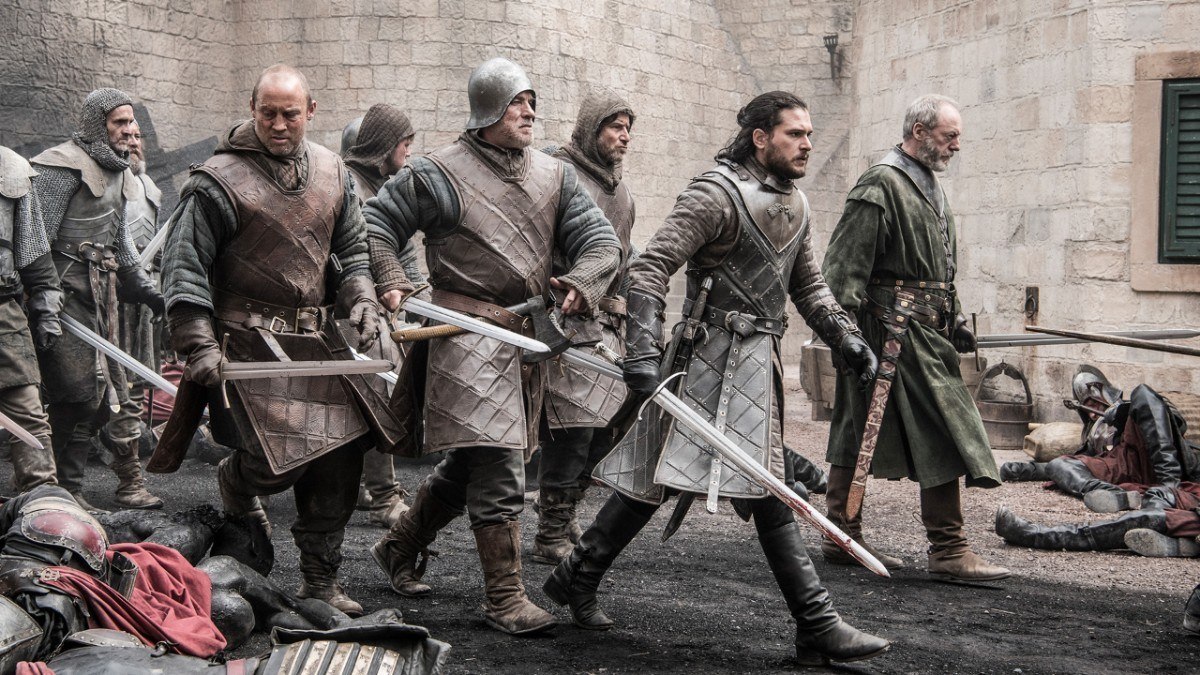 There had been several reports that Rodgers would appear in the fifth episode of season eight, titled "The Bells." But fans who looked for the quarterback couldn't seem to agree on exactly where he appeared in the episode.
Fans Scour Footage for Sign of Rodgers
Rodgers himself confirmed on Instagram after the fact that he did indeed appear on the HBO program, saying that his appearance was "just for a few seconds."
Normally, that would be enough information for everyone to agree on the character he played in the 80-minute long episode. That's been the case in the past: last season, when Mets starting pitcher Noah Syndergaard appeared on the show, he was highly visible as a Lannister soldier throwing a spear.
But there hasn't yet been confirmation of exactly where Rodgers shows up during the fiery battle in King's Landing. Initially, many believed he was a Lannister archer mounted on the city walls. But when Rodgers made his Instagram post, it was clear that his wardrobe didn't match that role at all.
That led people to look at other extras, particularly among the many civilians who were fleeing the carnage throughout the city. There was a man who dies in a hail of dragon fire, but that man also didn't seem to match the outfit worn by Rodgers.
Another extra on the show posted a shot of his own appearance, noting that he appeared in a particular scene with Rodgers along with Arya Stark (Maisie Williams). Rodgers himself said in a behind-the-scenes video that his character helped a woman who was hurt, then ran away, suggesting that he well could have appeared alongside Arya, who ran into many groups of citizens fleeing the battle throughout the second half of the episode.
So far, Rodgers hasn't actually confirmed where he appeared, and there doesn't seem to be a consensus on which of the suspects was actually the two-time NFL MVP.
Packers, Daenarys Longshots for Respective Crowns
Packers fans will hope that Rodgers makes a bit more of an impression in the 2019 NFL season: they'll need another Pro Bowl campaign from the 35-year-old quarterback if Green Bay wants to improve on its 6-9-1 record from last season, their worst record since 2008, Rodgers' first year as the starting quarterback. The Packers are considered an outside contender for the Super Bowl, with FanDuel Sportsbook listing Green Bay at +1800 to win a championship next season.
With only one episode remaining in Game of Thrones, the ending of the series is starting to come into focus. However, there's still plenty of doubt over who will ultimately rule Westeros at the end of the season, and some bookmakers are still taking odds on who will reign as king or queen. At Bovada, Bran Stark (+130) remains the favorite, followed by Sansa Stark (+225), Jon Snow (+500), Tyrion Lannister (+500), and Daenarys Targaryen (+700).