The oddsmakers in Las Vegas think that Yankees right fielder Aaron Judge will hit less than 40 home runs this upcoming season, but if you ask fans in the Bronx, they will tell you that Judge will make a run at records held by Yankees greats like Babe Ruth and Mickey Mantle.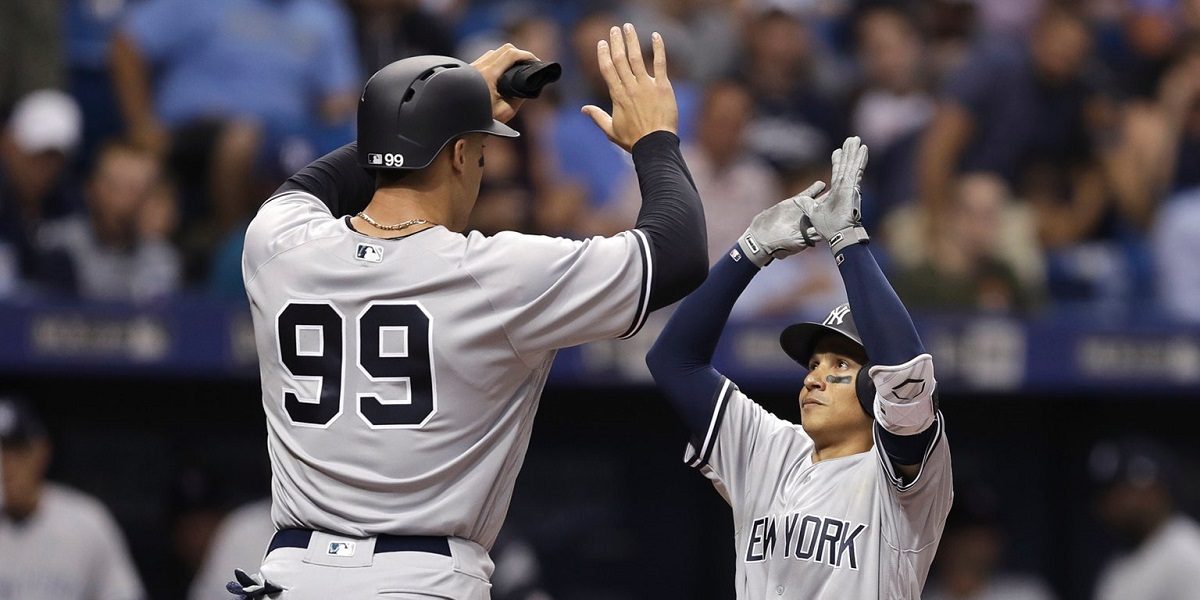 Aaron Judge hit a home run in his first at bat in his major league debut for the Yankees in 2016. Since then, he's bashed 83 home runs including 52 in his rookie season.
Judge hit only 27 home runs last year after he missed two months with a broken hand. He's expected to bounce back this season, but can he pull off another 50 this season?
According to the Westgate SuperBook in Las Vegas the over/under home run total for Aaron Judge is 39.5. He is the second highest on the board behind his teammate Giancarolo Stanton. The bookies listed Stanton's total at 40.5 home runs.
Khris Davis from the Oakland A's led the majors in home runs last season with 48. Davis has a home run total of 38.5 this season.
111 to 80 Home Runs
In 2017, Stanton and Judge combined for 111 home runs. Stanton led the National League with 59 dingers for the Miami Marlins. Judge crushed 52 in his rookie season, which set a MLB record.
Before the 2018 season, the Yankees and Marlins made a trade for Stanton that many fans in Miami are still miffed about. In his first year in the Bronx, Stanton hit only 28 home runs in 158 game.
This season, the bookies estimate that Judge and Stanton to hit approximately 80 combined homers. Last season, the Yankees set a MLB record for most home runs in a single season. The Yanks broke the record with an off year from both Judge, Stanton, and catcher Gary Sanchez.
Sophomore Fracture
Aaron Judge hit 52 homers in 152 games in his rookie season. He did not suffer a typical sophomore slump that plagues many second-year players. Judge got off to a good start, but he only played in 112 games due to a freak injury. Judge fractured his hand at the end of July and missed almost two months of action. He finished the 2018 season with 27 home runs and 67 RBIs.
Judge returned to action late in the season, but looked tentative at the plate. It wasn't until the postseason rolled around that Judge resembled his old self. Judge hit .421 in the postseason and crushed three home runs. The Yankees lost to the Boston Red Sox in the ALDS.
In his first postseason in 2017, Judge hit four home runs, including three in the ALCS against the inevitable champion Houston Astros.
Chasing the Ghosts of Babe Ruth, Mickey, Etc.
Judge set a major league record by becoming the fastest player to reach 60 home runs. It took him only 197 games to achieve that feat. Judge looks like a giant in real life, but he's chasing records set by giants of the game.
Could Judge ever put together a season to rival Ruth, Mantle, and Maris? If Judge plays a full season he could have a shot at 60 home runs, but he needs to stay healthy.
Mickey Mantle hit 54 homers in 1961. That same year, Roger Maris set the record with 61 home runs. Maris beat the Whammer's record by one.
Ruth broke his own record with 60 home runs in 1927. He previously set the record in 1921 with 59 home runs. Ruth hit 50-plus homers four times in his career and 60 only once.
Mantle only hit 50-plus twice. He battled injuries and booze most of his career, which is why he only hit 536 home runs.
Lou Gehrig hit 493 homers with the Yankees, but he never hit 50 home runs in a season. However, he hit 40-lus five times including 49 dingers on two different occasions.
YANKEES MOST HOME RUNS IN SEASON
Roger Maris 61 (1961)
Babe Ruth 60 (1927)
Babe Ruth 59 (1921)
Mickey Mantle 54 (1961)
A-Rod 54 (2007)
Aaron Judge 52 (2017)
Joe DiMaggio hit only 361 home runs, but he missed three seasons during WWII. Joe D sacrificed three golden years of his career to serve his country in the military. It took him a full season to return to his old form. Joe D hit a career-best 46 homers in 1937.
Reggie Jackson only hit 40-plus homers twice in his career. However, Mr. October only went yard 41 times in pinstripes during his time in the Bronx in the 1970s. A-Rod hit 50-plus in his career thrice, but only once with the Yankees. Rodriguez hit 54 home runs in 2007.
The Yankees are the 9/2 favorites to win the 2019 World Series according to the South Point Casino and Sports Book in Las Vegas.