It only took four games before Jimmy G went down with an injury. San Francisco 49ers quarterback Jimmy Garoppolo suffered a calf injury in the first series against the Seattle Seahawks and was replaced by rookie backup quarterback Trey Lance in the second half.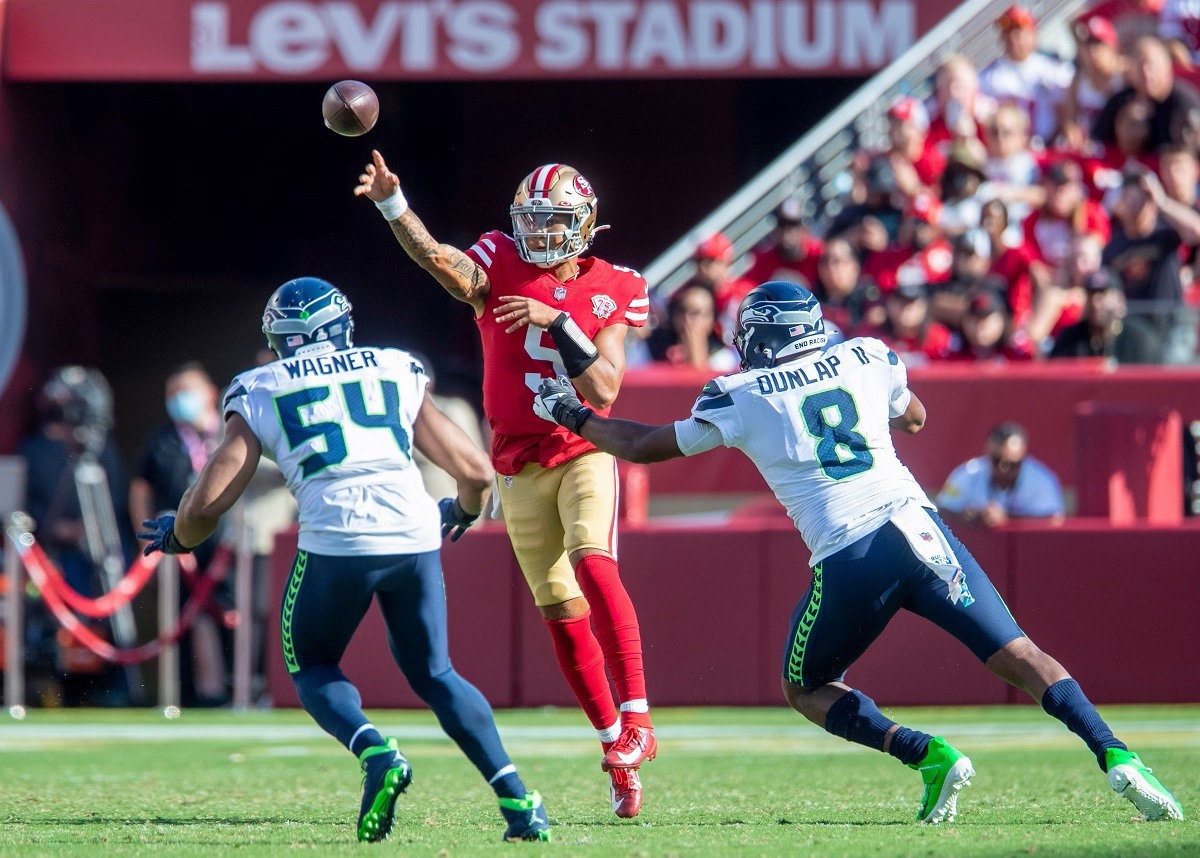 The 49ers jumped out to an early 7-0 lead, but the Seahawks tied the game by halftime. The Seahawks scored three touchdowns in the second half to win 28-21.
In the first half, Garoppolo went 14-for-23 for 165 yards with one touchdown and one interception. In the second half, Lance took over the offense. He completed 9-of-18 passes for 157 yards and two touchdowns with no interceptions. He also rushed seven times for 41 yards.
With the loss, the 49ers slipped to 2-2 on the season and the Seahawks improved to 2-2.
The future is Lance
The 49ers leveraged the franchise's future by making a big trade with the Miami Dolphins to move up in the 2021 NFL Draft. They gave up three future first-round picks for the opportunity to move up and grab the #3 pick, which they used to select Lance.
After making a heavy investment in Lance, the 49ers didn't want to rush him into action until he was ready to take over. That's why the front office didn't trade Garoppolo, despite some interest in his services from other teams. The plan for this season included Garoppolo as the starter and to ease Lance into the system to take over at a later date.
"Hopefully, Jimmy is better, and not as bad as we think, but Trey is here for a reason, said San Francisco head coach Kyle Shanahan. " You want to give him time, you want him to be fully ready, but you don't always have that luxury."
The big elephant in the room had always been Garoppolo's durability. The 49ers just hoped he could play for as long as possible while Lance learned Shanahan's intricate offense. Jimmy G played only three games in 2018 before an ACL injury cut his season short. He appeared in only six games in 2020 after suffering a high-ankle sprain.
Garoppolo will undergo an MRI on Monday to determine the severity of the calf injury. If he can't play in Week 5 against the Arizona Cardinals, then Lance will be a popular waiver wire pick-up.