The top story of the 2022 Masters – virtually the only story this week – is undoubtedly Tiger Woods' return to competitive golf after a serious car accident and 14 months off. But despite how much bettors want to back him, Woods isn't one of the favorites to win at Augusta this weekend.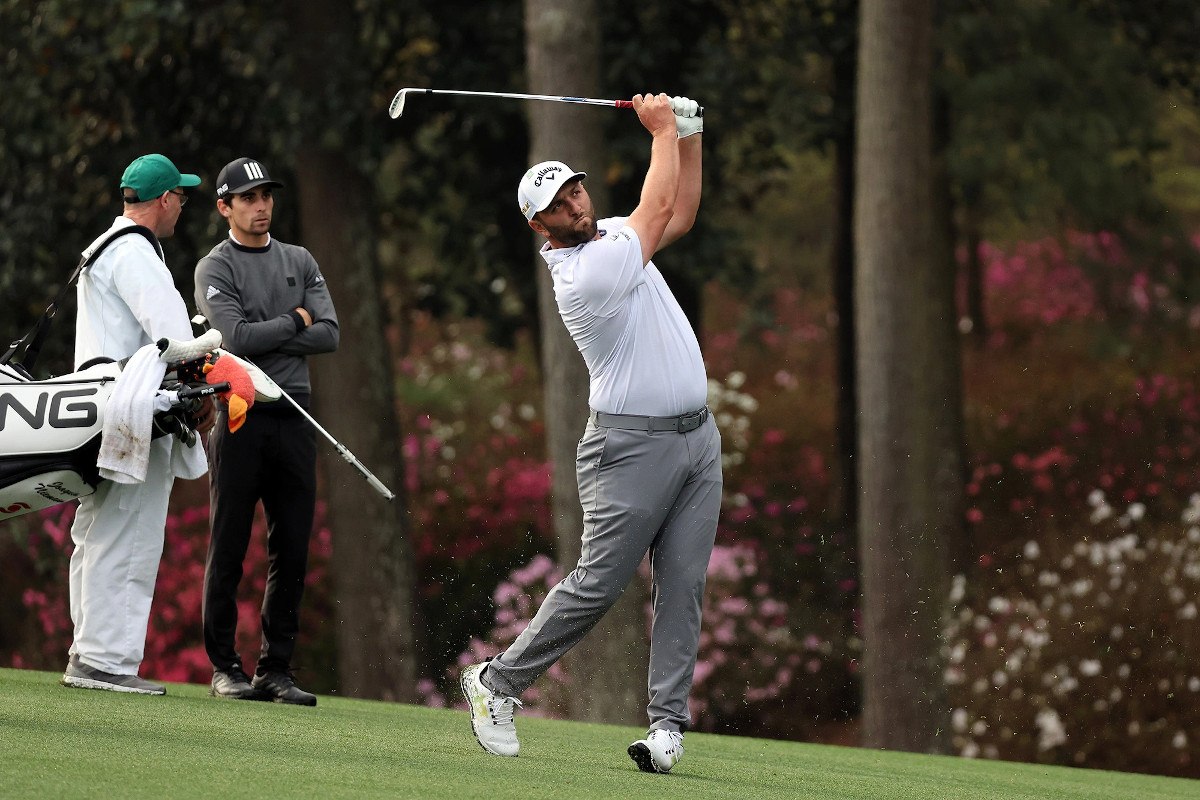 Instead, it's world No. 2 Jon Rahm who comes into the Masters as the +1000 favorite to take the green jacket, according to DraftKings.
Tiger gives Masters advice to one contender
Rahm held the No. 1 ranking in the world until recently when Scottie Scheffler surpassed him. The Spaniard isn't enjoying his best year on tour so far: in nine starts, he's missed two cuts and doesn't have a win, though he has finished in the top 10 on four occasions.
Still, nobody will dare count Rahm out at Augusta. He's finished as high as fourth at the Masters and expects to be in the mix this year as well. Rahm says there's one person who won't really be helping him much this weekend, however: Woods, who already owns five green jackets.
"I think there's only one man in this field that hears advice from Tiger because I've asked before and I get nothing," Rahm joked with reporters. "So, you might need to ask Justin Thomas."
Speaking of Thomas, he comes in as the +1200 second choice at the 2022 Masters. Like Rahm, Thomas is also seeking his first career win at Augusta. In fact, Thomas holds only one major title – the 2017 PGA Championship – a haul that feels underwhelming for an otherwise highly accomplished golfer.
"I have not even close to performed well in my entire career in majors," Thomas told reporters. "I feel like I've learned, but I've just put too much pressure on myself in the past, and maybe, put the tournament on too much of a pedestal and tried to just overdo things, when in reality I should have faith in my game and the things that I can do on the course, with the golf ball. I just need to get a little bit better at kind of getting in my own world and just going to play golf."
No. 1 Scheffler among top picks to win
As always, the Masters field is filled with golfers who could easily win the title. Scheffler (+1200) has three tour wins in the past two months, including a victory at the WGC-Dell Technologies Match Play.  He may be the hottest player in the field, even if he's never won a major title.
Other top contenders include Cameron Smith (+1300), Dustin Johnson (+1700), and Brooks Koepka (+1800). Rory McIlroy (+2000) needs a Masters title to complete his career Grand Slam while Bryson DeChambeau (+4500) will try to turn around his fortunes at Augusta despite playing at what he says is around 80%.
---
2022 Masters Odds (via DraftKings Sportsbook)
Jon Rahm: +1000
Justin Thomas: +1200
Scottie Scheffler: +1200
Cameron Smith: +1300
Dustin Johnson: +1700
Brooks Koepka: +1800
Xander Schauffele: +2000
Viktor Hovland: +2000
Collin Morikawa: +2000
Rory McIlroy: +2000
---
Then there's Woods (+4000), who says he's at the Masters to win. But even if he can't contend, he could still impact the outcome if he stays in Thomas' ear. Thomas gave a quiet answer when reporters asked about the best Masters advice he gets from the legend.
"To be perfectly honest, what I value most I'm not going to tell you because I don't really want any of the other competitors knowing it," Thomas said.