Brent Sass was the first musher to reach the checkpoint in Cripple, Alaska which is 425 miles into the 975-mile course at the 2022 Iditarod. Defending champion Dallas Seavey arrived three hours behind Sass, but he's down to 12 dogs and holds down second place in the Iditarod standings.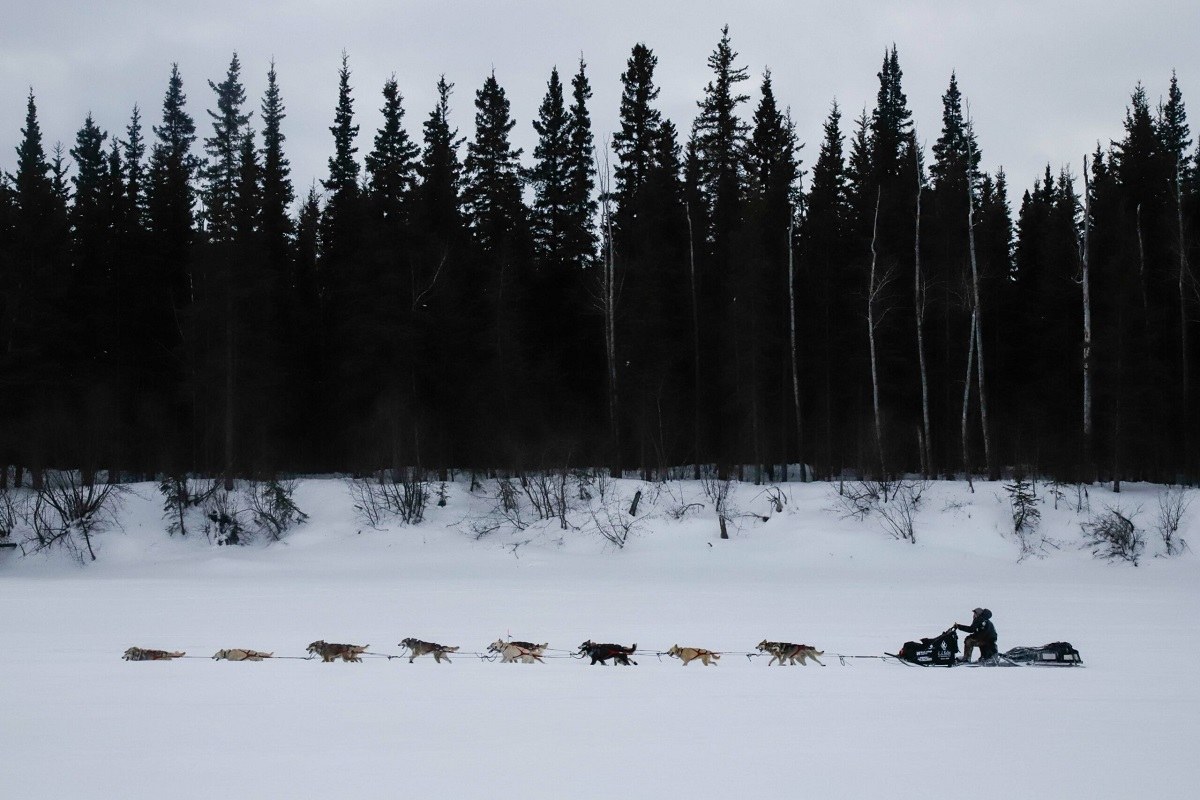 Sass led most of the 2021 Iditarod before Seavey took over the lead late in the course and went on to win his fifth title. The 2022 Iditarod looks very similar to how last year's race ended up, but there's still plenty of ground to cover.
| | | |
| --- | --- | --- |
| MUSHER | CHECKPOINT | SLED DOGS |
|  1. Brent Sass | Cripple | 13 |
|  2. Dallas Seavey | Cripple | 12 |
|  3. Hugh Neff | Cripple | 12 |
|  4. Ryan Redington | Cripple | 13 |
|  5. Mitch Seavey | Cripple | 12 |
|  6. Richie Diehl | Ophir | 12 |
|  7. Aaron Burmeister | Ophir | 11 |
|  8. Mille Porsild | Ophir | 13 |
|  9. Travis Beals | Ophir | 13 |
|  10. Jessie Holmes | Ophir | 14 |
---
The top five mushers have yet to take their mandatory 24-hour rest break, but it looks like they're doing that right now in Cripple. Cripple is the ninth checkpoint and the mushers still have over 550 more miles to reach Nome.
Moose Chase
This year's course had a couple of difficult runs early in the 2022 Iditarod. Skwentna to Finger Lake was a 40 mile uphill climb. Mushers were challenged during the next 30 miles from Finger Lake to Rainy Pass through the steep Happy River Steps.
"The potentially poor trail conditions they warned us about didn't seem to be there," said Dan Kaduce. "Little bit warm during the day running."
On Day 2, Ryan Reddington was out in front thanks to a moose that wandering over to the trail. His dogs were thrilled to chase the moose for a bit, but Reddington did not want to lead during the harshest part of the trail from Rohn to Nikolai.
On Day 3, the mushers headed toward the Alaskan Range. The ride to the Nikolai checkpoint was super bumpy and also included the treacherous Dalzell Gorge.
"The ride from Rohn sucked pretty bad," said Paige Drobny. "It was like two foot swells in the ocean for 24 hours. My body is hurting pretty bad. It was awful."
"The bumps were the worst," said 2018 champion Joar Leifseth Ulsom. "Just impossible to get the dogs running. Just constant bang-bang-bang!"
Aaron Burmeister and his 13 dogs were the first team to reach Nikolai.
Sass and his 14 dogs in harness did not rest at Nikolai. Sass dropped off one of his dogs and they continued through with 13 dogs. Without a break, Sass took over the lead and opted for a quick rest later along the trail to the McGrath checkpoint.
Rest Break at Cripple for Iditarod Leaders
Burmeister passed Sass on the trail and became the first musher to reach McGrath with Redington and Richie Diehl in hot pursuit. Several mushers opted for a long rest at McGrath, which was the seventh checkpoint.
Sass regained the lead and was the first musher to reach the Ophir checkpoint, followed by Diehl, and Mille Porsild.
Seavey was the fourth team to reach Ophir, but he shrugged off sleep deprivation and pressed on with 12 dogs in harness.
"Sometimes it's hard if you don't have years of experience to ignore what other people are doing," said Seavey. "I made my plan to head to Cripple long ago, and we'll stick to hit."
By the time he reached Cripple, Seavey was in second place behind Sass, followed by Hugh Neff in third. Seavey planned on taking his mandatory 24-hour break in Cripple to finally get some much-needed sleep and let his dogs recuperate before the head out for the second half of the Iditarod.
Mitch Seavey, Dallas' father and three-time Iditarod champion, moved into fifth place after reaching Cripple shortly after Redington arrived in fourth place overall.