Dustin Johnson, the reigning Masters champion, comes into the 2021 Masters as the favorite to win at +700 odds, according to a recent update by DraftKings. Meanwhile, Tiger Woods is a long shot to win the Masters this year at +3300 odds.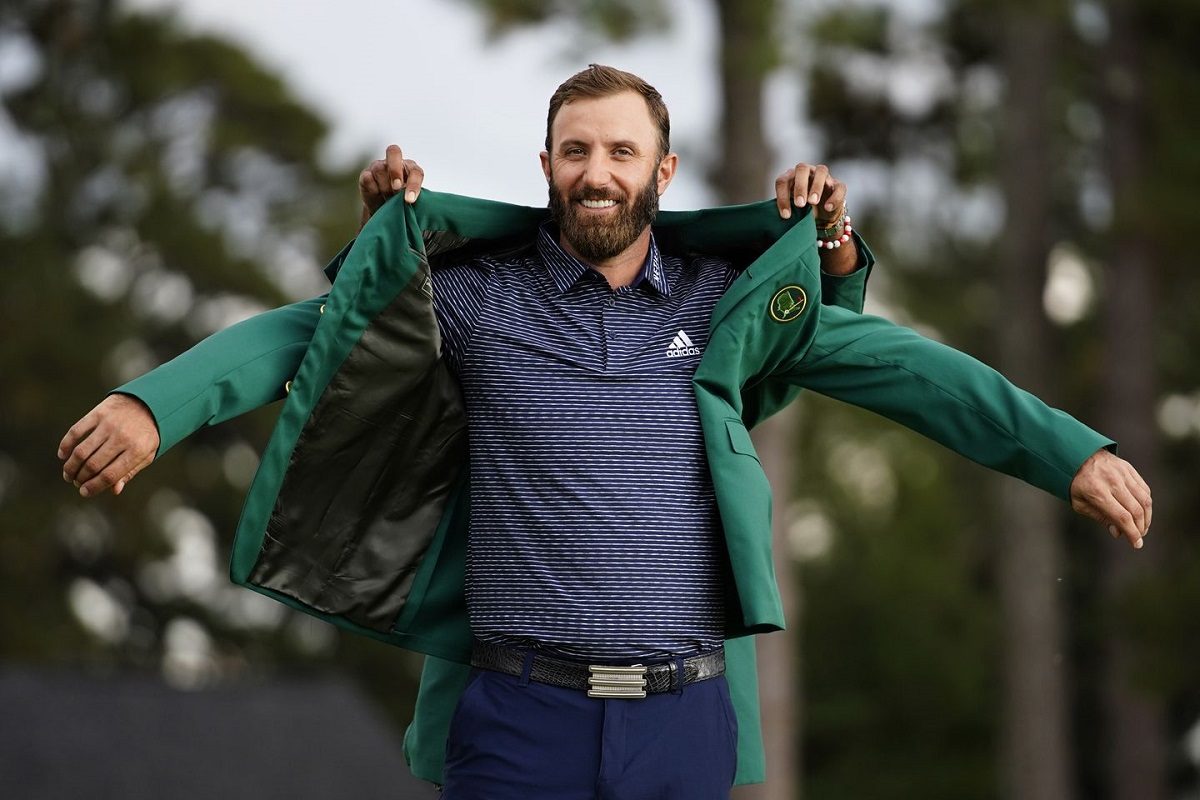 For now, the 2021 Masters will take place at Augusta National on its originally scheduled date in early April. The 2020 Masters became a casualty of the COVID-19 outbreak. Officials postponed the Masters until November.
Dustin Johnson won the "November" version of the Masters just 10 weeks ago when he posted the lowest score in the tournament's history at 20 strokes under par.
---
Dustin Johnson +700
Bryson DeChambeau +800
Rory McIlroy +900
Jon Rahm +1000
Justin Thomas +1000
Brooks Koepka +1400
Xavier Schauffele +1800
Patrick Cantlay +2500
Tyrell Hatton +2500
Patrick Reed +2500
Collin Morikawa +2800
Tony Finau +3300
Tiger Woods +3300
Bubba Watson +3300
Jason Day +4000
Daniel Berger +4000
Tommy Fleetwood +4000
Jordan Spieth +5000
Sergio Garcia +6600
Rickie Fowler +6600
Phil Mickelson +8000
---
HBO recently aired a two-part documentary on Tiger Woods. The first part covered Tiger's rise as a golf prodigy. The second part covered his fall from grace due to his infidelities and his secret life as a Lothario.
Woods recently underwent successful back surgery. He's expected to make a full recovery. His odds didn't change when news broke about the surgery. He was already a long shot at +3300 odds to win the 2021 Masters.
Lefty is a long shot as well, but not quite a Cinderella story. Phil Mickelson fans can back him at +8000 odds to win his fourth green jacket at the Masters.
Johnson Back-to-Back?
The Masters is one of the most difficult tournaments to win once; it's even more difficult to win in back-to-back years. That epic feat has only been achieved three times by Tiger, Nick Faldo, and Jack Nicklaus.
Woods is the last golfer to win the Masters in consecutive years, achieving that feat in 2001 and 2002. Woods won the Masters in 2019 during his "comeback," but he failed to go back-to-back last year.
Faldo won the Masters twice in a row in 1989 and 1990. Nicklaus became the first golfer to win back-to-back Masters, which the Golden Bear did back in 1965 and 1966.
Johnson will attempt to fade history in April. If he wins the 2021 Masters, then he'd win the major twice within a five-month period.
Skip-Year Winner: Tiger in 2021?
Golfers who win majors tend to lock in for a couple of years where they're performing at the apex of their abilities. There's a small group of Masters champions who failed to win back-to-back green jackets, yet still won the Masters again two years later. Horton Smith won the first-ever Masters in 1934, then won it again in 1936. He was the first golfer to become a "skip" winner with two green jackets within a three-year stretch.
Ben Hogan and Sam Snead rotated green jackets at the start of the 1950s. Hogan won in 1951 and again in 1953, while Snead won in 1952 and 1954.
Between 1958 and 1964, Arnold Palmer was the master of the skip by missing out on the green jacket in odd years. Palmer won the Masters in 1958, 1960, 1962, and 1964.
Nicklaus last won a "skip" in 1963 and 1965, and then won again in 1966. Mickelson pulled off a "skip" with victories at Augusta National in 2004 and 2006.
Bubba Watson won the Masters in 2012 and again in 2014. He was the last "skip" winner with two wins inside three years.
Woods, who last won in 2019, could pull off a skip victory this year to win his sixth green jacket.
Check out OG's complete list of Masters champions.