Through two games of the NBA Finals, Golden State has cruised past Cleveland and that is pleasing Warrior fans, but frustrating gamblers. With the domination by Steph Curry and company, there isn't much appealing at the sportsbooks.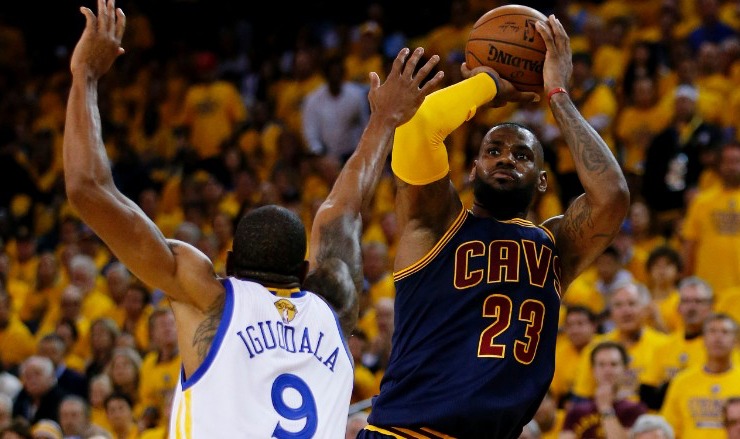 The line has been moving up against the favorite since the beginning of the series and is now at minus-2000, meaning you would have to bet $2,000 to win $100.
It hardly seems worth it to risk that much money for a minimal payout, though some are visiting online wagering sites and plunking down cash for the strong odds.
Early Betting Key
Buffalo Bills running back, LeSean McCoy managed to get a wager down before the best of seven series started when there wasn't such a doubt the Cavaliers would be competitive. He placed $200,000 to win $62,500, visiting Planet Hollywood in Las Vegas to make the transaction.
With the first two games at Oracle Arena, the Bay Area team enjoyed home court advantage, blowing out the defending NBA Champions in both games. The first game,which was last Thursday, the Warriors won by 22 points, 113-91. The second game was Sunday and Golden State won, 132-113, a deficit of 19 points.
With the series going to Cleveland, the contests are expected to be closer. The line for Wednesday's game is 3.5 points. Many believe that might be too low of a number and are taking the Cavaliers.
Search for Value Bets
With the contests so one-sided, finding an edge can be difficult, but there are some bets that might make sense. The first one that pops out is the over and under for tonight's game.
The over and under line is set at 226.5 and that might favor the over. The total points for the first game was 204, but the total for Game 2 was 245. The conventional thinking is that the third game is going to be more of a wide-open affair and players that have not performed as well as they should, such as Tristan Thompson, might increase their point total.
But an equally compelling argument can be made for the under. Golden State won't be at home, thus might not be as comfortable on the court. That, coupled with a strategy of Cleveland being more physical with Curry and Kevin Durant, might make this a low-scoring competition.
LeBron James is about a 2-1 pick to be the high scorer in Game 3. James scored 28 and 29 points in the first two games. Durant was the high scorer in both contests with 38 points and 33 in the second. If Cleveland decides to clamp down on him, James might wind up with the most points.