It was a relationship that lasted far longer than many marriages and in some ways was just as personal, but it came to an end this week when PGA Tour golfer Phil Mickelson announced he and caddie, Jim "Bones" Mackay were parting ways after 25 years. The two announced the split in an email and said it was amicable.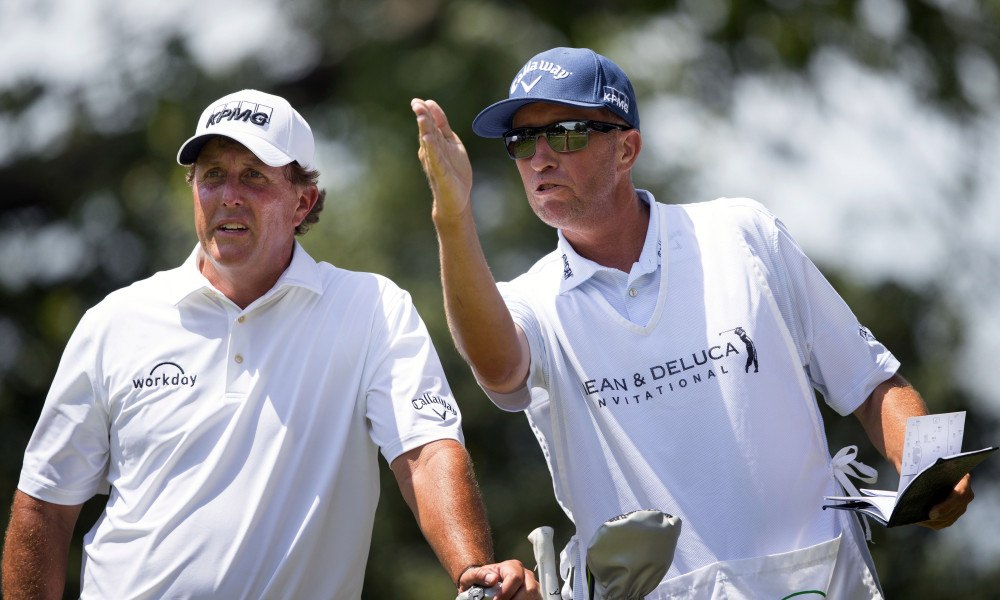 He has stated that his younger brother, Tim, will be on the bag for the rest of the year. The sibling does not have any experience being a caddie, and with Mickelson's long and successful career, he probably doesn't need any. At this point in the 47-year-old's career, his need for a veteran looper is minimal.
"Player-caddie relationships don't often last that long," Mackay said. "I will always be grateful that I was around to witness so much of Phil's career. When Phil hired me in 1992, I had one dream: to caddie in a Ryder Cup. Last year, at Hazeltine, Phil played in his 11th straight Ryder Cup. It was cool to have a front-row seat."
But it was still a shock when the two declared they were dissolving their partnerships. It was one of professional golf's longest employer-employee tenures and now that it's over, one thought is how does this affect the left-handed athlete's chances in future tournaments.
Odds Might Change
Mickelson might be placed lower on the board by oddsmakers handicapping big tournaments. The line so far has stayed steady for the Open Championship, where he is a 33-1 selection, but the event at Royal Birkdale in the United Kingdom is a month away.
If his odds drop, it could be a direct correlation on how valuable they believe Mackay was to his success. He was on the bag for the pro's five majors and 36 other tour victories.
Mickelson's success in Britain is mixed. He won the tournament in 2013 after 20 attempts and last year was second behind Henrik Stenson. His previous two times at this golf course he finished 19th in 2008 and 79th in 1998. He was also 73rd in 1991 as an amateur.
Speculation Over Split
What people are trying to figure out is why did the two leave each other after so many years together? Was there a rift, or a malaise since Mickelson hadn't won since 2013? In the only major he has played this year, he finished tied for 22nd at the Masters.
The two are downplaying the break up, saying it was just the right time to make the change and they still consider each other friends.
"Bones is one of the most knowledgeable and dedicated caddies in the world," Mickelson said. "He is always prepared and has the ability to make decisions in pressure packed situations. Bones is without a doubt one of the most thoughtful people that I have ever known. The next player to work with him will obviously be very lucky."
Mackay has not indicated that he will continue to caddie, but if he does he will be a sought-after man. He is generally considered one of the best the game has ever seen.