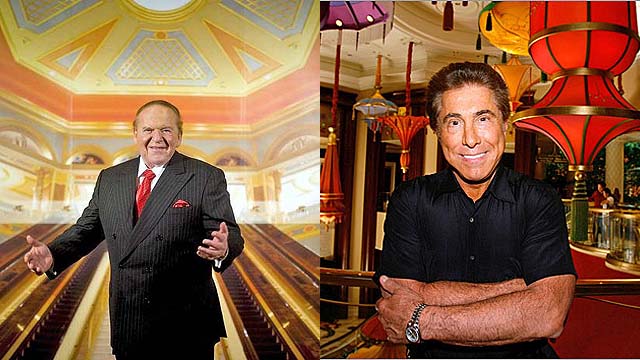 Steve Wynn, the founder and CEO of the resort company that bares his name, and MGM CEO Jim Murren, are expressing their public support for Las Vegas Sands billionaire Sheldon Adelson's attempts at bringing professional football to the Strip.
The move is surprising to some who were under the impression that the two casino heavyweights might be against using public tax money to support Adelson's vision.
Murren specifically was thought to be against the $1.9 billion stadium, as it would compete for similar concerts and events that might be otherwise hosted at MGM's T-Mobile Arena. But during a special session of the Nevada Legislature this week, Murren opined that Vegas "can't afford to lose this opportunity."
"This is an exciting time," Murren told lawmakers. "To bring an NFL team, how cool is that?"
Adelson has pledged $650 million of his own money to compliment Davis' own $500 million investment.
Examining the Odds
The Southern Nevada Tourism Infrastructure Committee (SNTIC) voted unanimously in September to recommend to the state that it use $750 million in hotel occupancy revenue generated in Las Vegas to help Adelson build the 65,000-seat stadium. The money would come from raising the occupancy tax by 0.88 percent on nightly stays.
Wynn stressed the importance of the legislature approving the SNTIC suggestion.
"I personally believe if we lose this opportunity it will be one of the most heartbreaking mistakes we can ever make," Wynn declared.
The big four professional sports leagues, the NFL, MLB, NBA, and NHL, have avoided Las Vegas for decades due to the city's legalized sports betting market. But that changed in 2016 when the NHL approved an expansion team in Sin City.
Other sports commissioners are slowly warming to the idea of playing in the Mojave Desert. Before the Raiders could move to Vegas, 24 of the league's 32 owners would be to approve the relocation.
"My friend Jerry Jones (Dallas Cowboys owner) and Robert Kraft (New England Patriots owner) and others with whom I have a personal relationship have told me the NFL is ready to do it if Nevada steps up in Las Vegas with a stadium," Wynn revealed.
Public Service or Lip Service?
The most shocking revelation during the stadium public forum was Wynn and Murren's assertion that Adelson wants to build the venue out of the kindness of his heart.
"This is a legacy project for him," Murren explained. "He's investing hundreds of millions of dollars. It's a poor return on investment. This is a legacy project for him."
Wynn went even farther, calling Adelson's motives "public service."
"The return on his investment is minuscule," Wynn said. "I don't need to throw bouquets at Sheldon. This is an act of public service. This is not a billionaire getting a break."
But those opposing the SNTIC position pointed to the need of education funding. One speaker during today's public comment period linked the casino bosses uniting to Vegas' crony days of the past.
"I just believe that $750 million of our taxpayer money can fund our education, help our seniors," a resident told the Las Vegas Review-Journal.