The New York Yankees and Tampa Bay Rays showed just how much they hate each other during the regular season. Now, a meeting in the ALDS promises to bring that rivalry to a whole new level.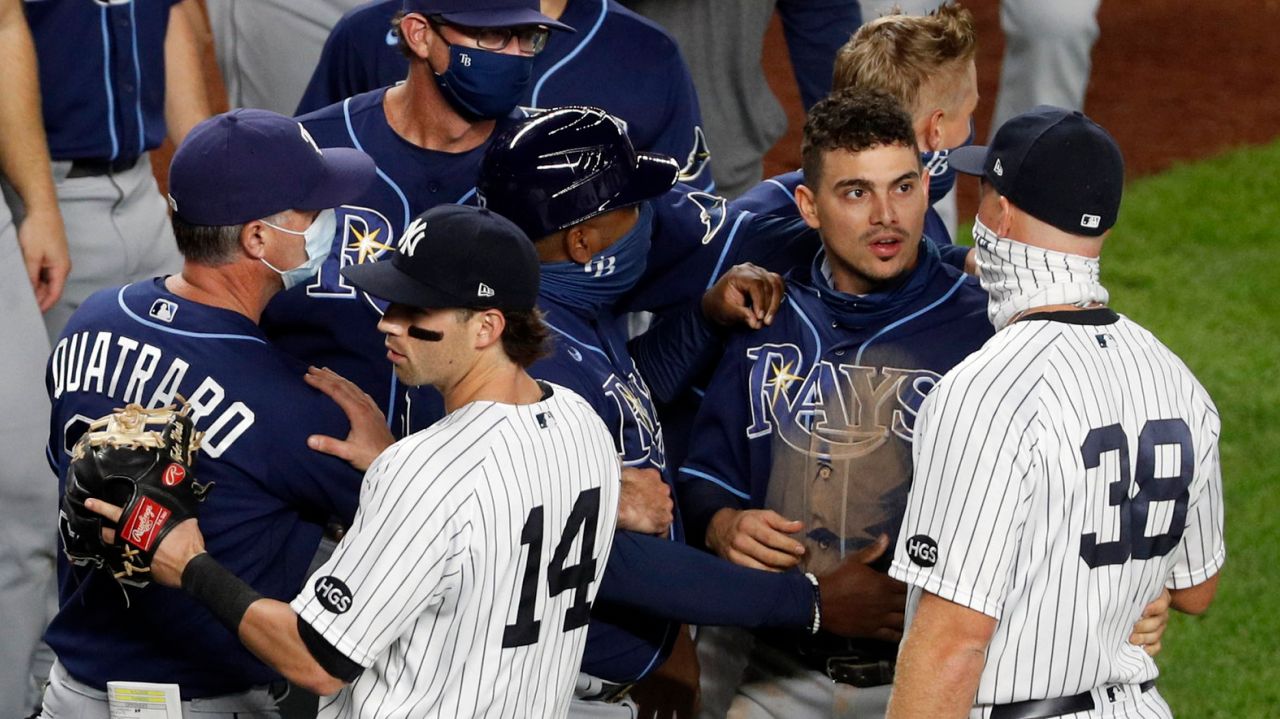 The Yankees and Rays square off in Game 1 of their best-of-five series on Monday, with aces Gerrit Cole and Blake Snell taking the hill for the critical opener.
Tensions Mount for Divisional Rivals
Tampa Bay enjoys home-field advantage, for what that's worth considering they are playing in a San Diego bubble, by virtue of posting a 40-20 record in the regular season, putting themselves seven games ahead of the Yankees in the AL East. The Rays created that disparity in large part by beating New York in eight of their 10 games this season.
Tensions mounted on Sept. 1, when Yankees closer Aroldis Chapman fired a 101-mph fastball near Tampa Bay infielder Michael Brosseau's head, an incident that nearly led to a brawl.
---
Yankees vs. Rays Odds (Via FanDuel Sportsbook)
Moneyline
Yankees (Cole): -148
Rays (Snell): +128
Run Line
Yankees (-1.5): +124
Rays (+1.5): -146
Total
Over 7: -106
Under 7: -114
Series Odds
Yankees: -128
Rays: +110
---
"Somebody's got to be accountable," Tampa Bay manager Kevin Cash said after that game. "And the last thing I'll say on it, I got a whole damn stable of guys that throw 98 mph. Period."
Suffice it to say that both teams are looking forward to this week's showdown.
"It will just be another reason, another notch in the belt or chip on your shoulder, whatever you want, just to make it that much sweeter to try to beat those guys," Rays outfielder Kevin Kiermaier told reporters on Friday. "And when you do it, it feels that much better."
The feeling is mutual, Yankees players say.
"They won the division. They've got that," Yankees slugger Giancarlo Stanton told reporters. "Now there's an opportunity to let them just have the division. The full bragging rights chance is here. So shirts and hats don't mean anything."
At Full Strength, Yankees Favored Over Rays
Despite Tampa Bay's regular-season success, the Yankees enter the series as the team to beat. FanDuel Sportsbook lists New York as a -148 favorite to win Game 1, and a slim -128 favorite to win the series.
That disconnect comes for a variety of reasons, from New York's strong play down the stretch to its perceived strength, despite what they might have accomplished – or not – over a limited sample size this year. But the biggest factor may be that Stanton, Aaron Judge, and DJ LeMahieu all missed significant portions of the season series against Tampa Bay, meaning the Rays haven't spent much time contending with the Yankees at full strength.
Both teams look red hot heading into their ALDS clash. The Yankees swept the Cleveland Indians on the road, while the Rays had no trouble finishing off the Toronto Blue Jays in two games.
One ray of hope for Tampa Bay comes in how the team performed against Cole this year. The Yankees ace started three times against the Rays during the regular season, allowing five home runs and posting just a 4.96 ERA over 16.1 innings. On the other hand, Cole dominated Tampa Bay during the 2019 ALDS, going 2-0 with a 0.57 ERA.
With no rest days scheduled for the ALDS, Cole might not get a second start, even if the series goes five games, though Yankees manager Aaron Boone said no decisions have been made yet.
"First things first; I can't wait for Gerrit to get the ball in Game 1 and, hopefully, set the tone for the series," Boone said. "We'll see where we're at as the days unfold with him."