At 7/1 under jockey Pablo Morales, Well Defined burst to the lead Saturday and never looked back to win the $250,000 Sam F. Davis Stakes, a major Kentucky Derby prep at Tampa Bay Downs.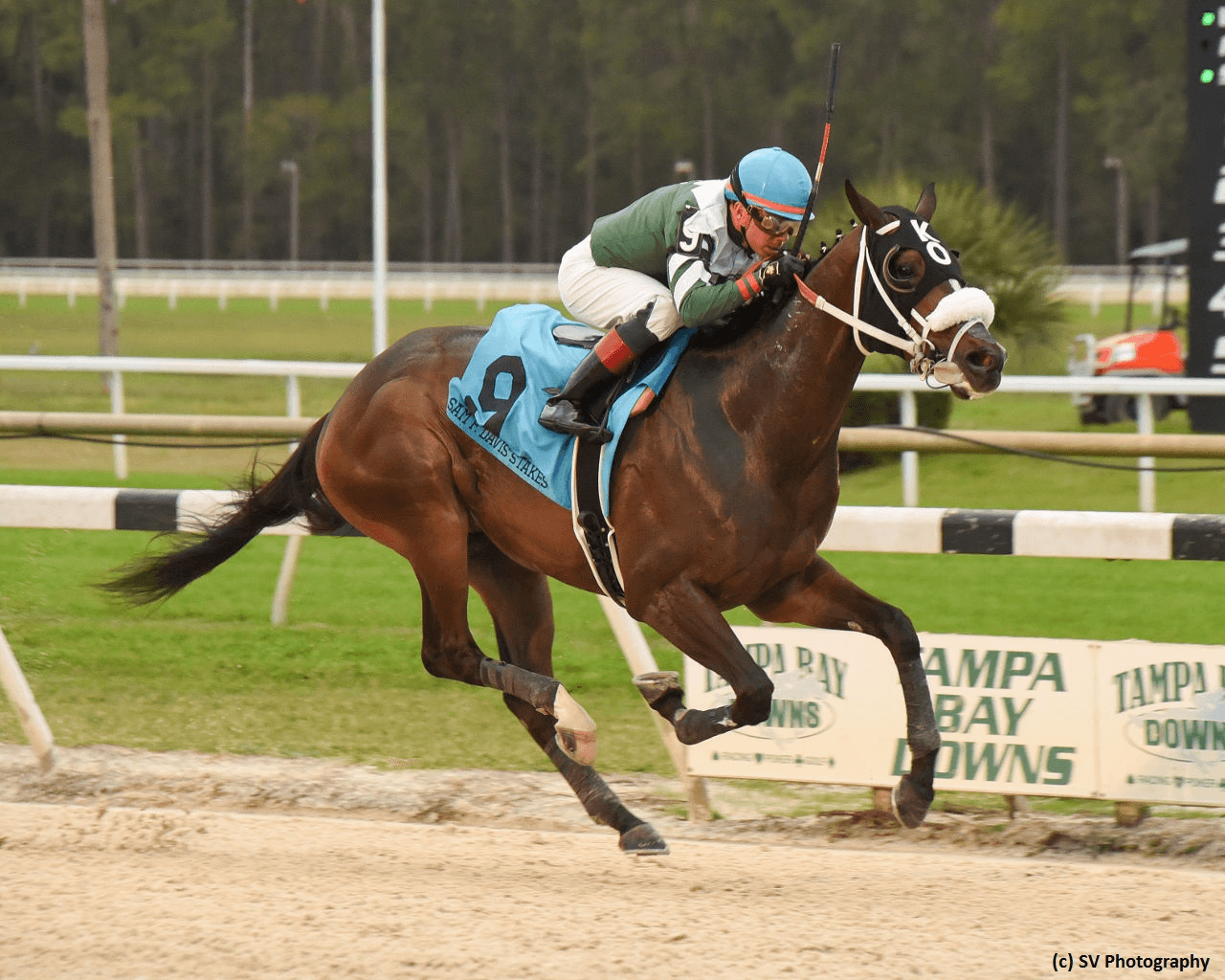 Veteran trainer Kathleen O'Connell made sure the Florida-bred, gelded son of With Distinction was forced to follow Baseball Hall-of Famer Leroy "Satchel" Paige's master maxim "Don't look back, something might be gaining on you" by adding blinkers for the first time.
The equipment addition helped produce a nearly three length, gate-to-wire victory in 1:36.41 for the 1 1/16 mile race.
Tampa Bay Derby Next
Well Defined – $16.00-$7.60-$4.60 – may be seen next on the Derby trail in the $400,000 Tampa Bay Derby on March 9, according to O'Connell. The Davis is worth 10 points to the winner on the points schedule that decides which 20 hopefuls have first call to enter the starting gate on May 4. The 1 1/4 mile Kentucky Derby is restricted to no more than 20 starters.
The win now puts Well Defined in eighth position in the points standings. For the complete current standings click here.
Davis favorite Knicks Go at just less than 2/1, chased Well Defined to the top of the stretch before weakening to finish a well-beaten fifth. Kentucky Wildcat the betting public's second choice at odds of just less than 3/1, made a wide, sweeping move from off the pace to finish second. However, he never seriously threatened the winner. Kentucky Wildcat was injured during the race, removing him from Kentucky Derby consideration. The injury is not believed to be life threatening.
Trainer O'Connell Making Her Mark
O'Connell, a local mainstay, first arrived at Tampa Bay Downs in the mid 1970's  as a gallop person when women were not always accepted on the backside. She formed her own stable in 1981.
She told reporters Sunday, "Yesterday was special because it was at Tampa and I've been at this track every year since 1976." She began her racetrack career at Detroit Race Course in 1970. O'Connell, who also operates out of South Florida, near Gulfstream Park, says Well Defined came out of the race in good shape and will soon be on his way back to his stall at Gulfstream Park West, the former Calder Race Course, in suburban Miami.
"He's a little on the immature side, and I had even thought about blinkers before he ran his first race just to try to get him focused," O'Connell said. "I figured (the Sam F. Davis) was time, and I think the blinkers and Pablo getting him out of the gate and in good position were big factors."
If Well Defined makes the Kentucky Derby, he'll join Watch Me Go as O'Connell's lone Kentucky Derby. Watch Me Go won the Tampa Bay Derby in 2011 but was 18thin a field of 19 in that year's Kentucky Derby, won by longshot Animal Kingdom.
The Tampa Bay Derby is a 50-20-10-5 Kentucky Derby points race for the first four finishers. Quip — $40.20 — won the race last year by a length over Flameaway. Street Sense in 2007 is the lone Tampa Bay Derby winner to reach the winner's circle at Churchill Downs the first Saturday in May.