Trainer Bob Baffert's Roadster was the most impressive Thoroughbred in a trio of key Kentucky Derby prep races Saturday, each worth 100 points to the winner, guaranteeing an invitation to the US's most prestigious horserace, now just four weeks away.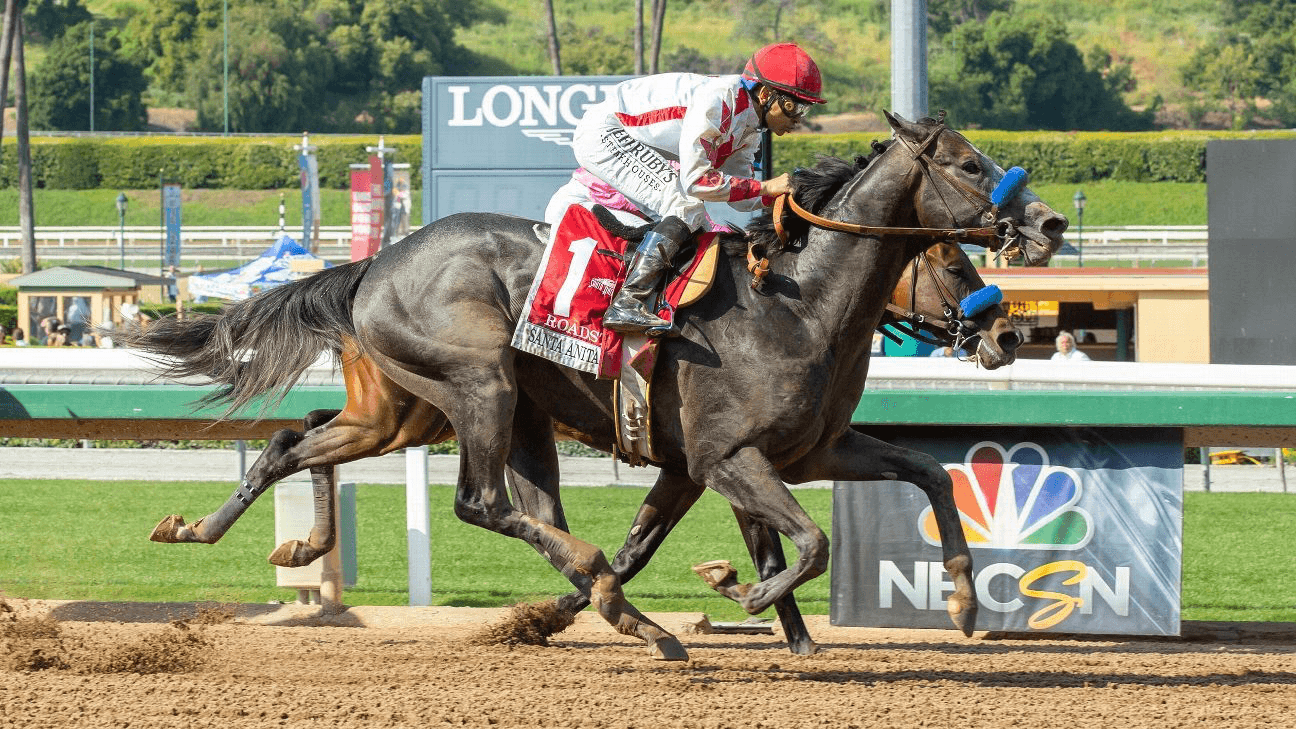 Kentucky Derby officials limit the field in the 1 1/4 mile May 4 event, with the top 20 points getters in prep races that began last fall and conclude April 13 qualifying for a spot at the starting gate.
Roadster's 100-point victory at the 1 1/8 mile $1 million Santa Anita Derby marks him as a serious contender in this year's Run for the Roses at Churchill Downs.
Roadster — $8.20-$3.00-$2.40 — completed the Santa Anita race in 1:51.28, edging out the 1/2 favorite and fellow Baffert stablemate Game Winner by just a half a length.
Game Winner, last year's two-year-old champion, finished second in both of his Derby prep races this year, including Santa Anita. He is currently 7th on the Derby points leaderboard (and tops in non-restricted stakes earnings, with $1.81 million) and will join Roadster in Louisville.
Santa Anita Show Goes on
The $1 million Santa Anita Derby race was the second stirring win of the year for Roadster, who earned the nickname "TMZ Horse" last year after a reporter for the Hollywood gossip site pressed Baffert about who he thought would win the 2019 Kentucky Derby, and the silver-maned Triple Crown conditioner gave Roadster the nod.
The Santa Anita Derby and six other important stakes races went post-ward Saturday despite recent calls for a complete shutdown of the historic track to investigate a series of equine fatalities. Twenty-three horses have been put down at the Los Angeles-area venue since the track began its Winter/Spring meeting on Dec. 26.
After a three-week suspension of racing to recondition the track surface and get approval for new medication rules, Santa Anita resumed racing on March 29. The California Horse Racing Board has scheduled a hearing for Friday to consider the possibility of relocating the remainder of the Santa Anita meeting to another venue while a complete investigation of the fatalities is conducted.
UPDATE (4/9/19): The CHRB has canceled the Friday meeting, moving the calendar issue to the agenda of the monthly Board meeting on April 18. You can listen to that meeting live here.
Possible All-Baffert Trifecta in Kentucky?
In addition to Roadster and Game Winner, a likely third Baffert horse headed to Kentucky is Improbable, who completes his preparations for the big race Saturday in the $1 million Arkansas Derby in Hot Springs at Oaklawn Park. Improbable hasn't yet cracked the top 20 in points, but he's likely to be co-favored this weekend with Omaha Beach, winner of a division of the Rebel Stakes in March.
Despite the predictably unpredictable nature of this year's prep season, it's once again apparent that 2019 Kentucky Derby runs through Baffert's powerful barn. This, despite all the problems at Santa Anita, his home base. All three horses have apparently adjusted to an altered training and racing schedule. Just how well they've adjusted will be on display May 4 at Churchill Downs.
If, as expected, Improbable impresses in Arkansas Saturday, Baffert students could be the top three Kentucky Derby favorites. For betting purposes, they are not racing as an entry in Louisville. Race fans could soon be seeing some Super Bowl-like propositions on whether Roadster, Game Winner, and Improbable might produce an unprecedented one-two-three finish on May 4 adding an additional layer of wagering excitement to the race.
Favorites Dominate at Keeneland, Aqueduct
But before Baffert fans see the legendary horse trainer's equine athletes sweep the top three spots, they'll have to contend with this weekend's other two big winners, Tacitus and Vekoma.
Clearly the best of 11 in the $750,000 Wood Memorial at Aqueduct in Queens, New York, Kentucky Derby points leader Tacitus did not disappoint his backers.
At odds of just less than 3/1, the Tampa Bay Derby winner shook off some bumping at the start and a wider than optimum journey to take home the Derby points and the winner's share of the purse.  Tacitus — $7.20-$4.70-$3.00 — comes from the barn of another Hall-of Famer, Bill Mott. He's named after the ancient Roman historian. History will now show that this royally bred son of Tapit out of another champion, Closed Hatches, covered his 1 1/8 mile in 1:1.23.
At Keeneland Racecourse in Lexington, just down the highway form Louisville, it was Vekoma, trained by George Weaver, earning his van ride to Churchill Downs. Gamblers showed that they liked his chances in the $1 million Blue Grass Stakes by making him a significant favorite, thus, producing somewhat paltry payoffs — $4.80-$3.30-$2.60.
But Vekoma broke cleanly, tracking the leaders to the head of the stretch, then drawing off for a nearly four length, emphatic triumph. He stopped the timer for the 1 1/8 mile at 1:50.93.
There's little doubt Vekoma is the best this full field of 14 had to offer. However, his unusual running style in which he awkwardly extends his left front leg will surely come under more scrutiny as Kentucky Derby day approaches.