Liverpool scored early to make it 2-0 in the first quarter of an hour of play, but Antoine Griezmann netted twice to level things up at the Wanda Metropolitano. The Frenchman got sent off in the second half for kicking Roberto Firmino in the face, then Mohammed Salah got his second in the 78th minute to give Liverpool the lead. Atletico was denied a penalty after VAR's intervention late in the game.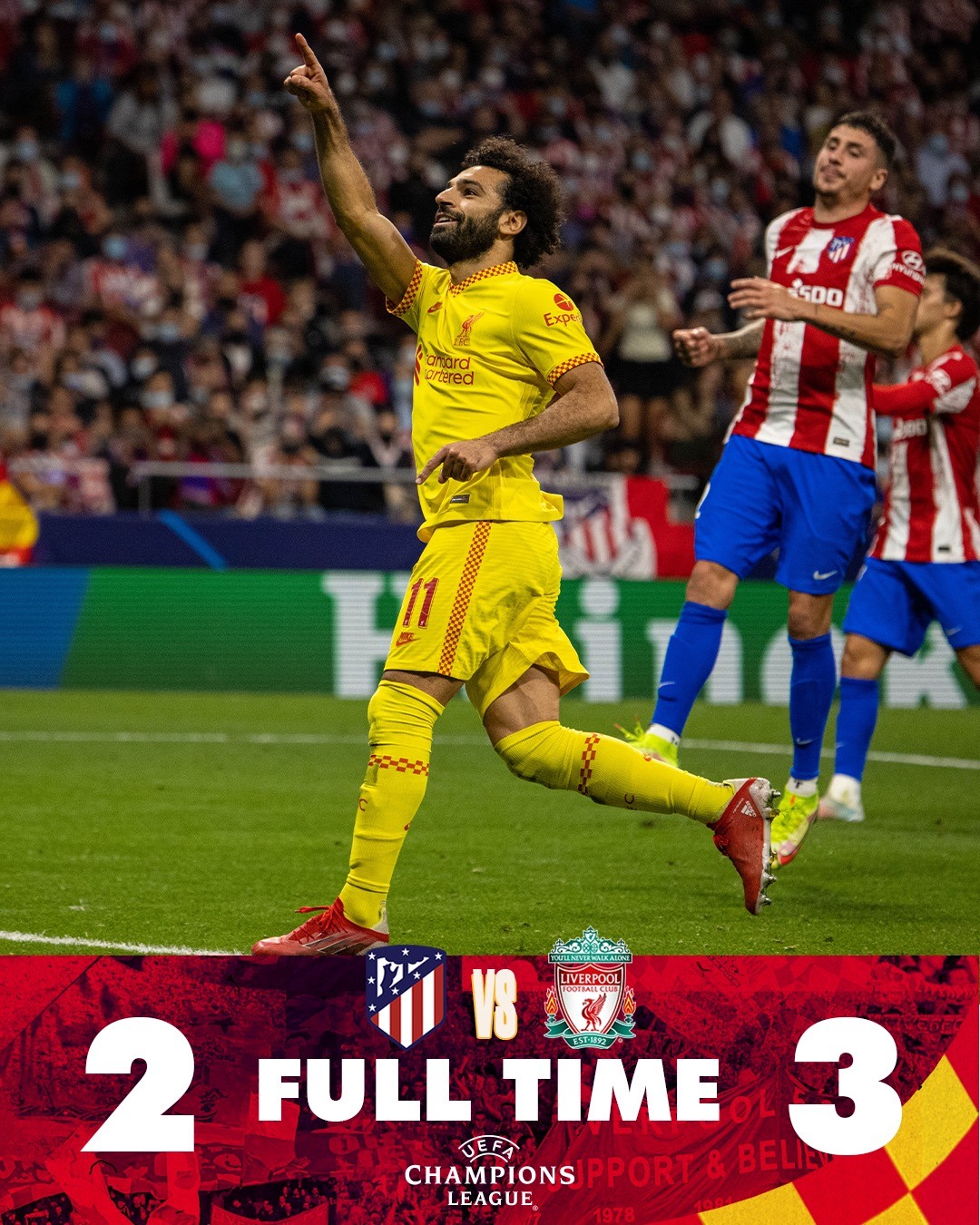 Salah confirmed the amazing run of form he's going through, deciding the game in Liverpool's favor. Salah has now scored in each of Liverpool's last nine games, totaling 11 goals in the interval.
In Madrid, things could have gone differently for Atletico had Griezmann not seen a red card after 52 minutes, seeing his team go down to 10 men for almost an entire half.
— Andres Agulla (@aagulla_espn) October 19, 2021
The La Liga champions could have equalized just before the conclusion of the encounter. German referee Daniel Siebert had a change of heart following a VAR review on a penalty he awarded and finally decided to invalidate his initial decision.
Salah scored his 12th goal this season, pushing Liverpool inches away from the Champions League knock-out stages with just three games played. Liverpool's three goals in Madrid against a side that only conceded twice at home since the start of the campaign (both goals coming vs Villarreal in the league, almost two months ago) show Jurgen Klopp's side have returned to their best-attacking potential. If they don't lose players to injury, Liverpool should be considered a serious contender for all of the trophies they're eligible for this season.
🔴 Liverpool beat 10-man Atlético in a thriller!

⏰⚽️0⃣8⃣ Salah
⏰⚽️1⃣3⃣ Keïta
⏰⚽️2⃣0⃣ Griezmann
⏰⚽️3⃣4⃣ Griezmann
⏰⚽️7⃣8⃣ Salah #UCL pic.twitter.com/m6iegTHQm6

— UEFA Champions League (@ChampionsLeague) October 19, 2021
Klopp left furious: No handshake from Simeone after the game
Atletico Madrid manager Diego Simeone stormed down the tunnel quickly after the final whistle, leaving Jurgen Klopp furious on the sidelines. The German was bothered that his opponent ignored him.
Asked for comment, Klopp described Simeone's reaction as "not so cool," but added that next time they meet they will "definitely" shake hands.
"We don't like that but yes the situation is clear. I want to shake his hand. His reaction for sure, like mine, was not so cool," Klopp said. "The next time we see each other we will shake hands definitely. It's nothing. He was obviously angry, not with me but with the game. There is nothing else," Liverpool's manager assured.
Liverpool leads Group B in the Champions League with the maximum number of points, nine after three games. Atletico Madrid and Porto are tied at four points, while AC Milan is at the bottom of the list. The Italians lost 1-0 in Porto on Tuesday night, a result leaving them with zero points in the group.