They call him Superman. After a sensational performance from Miguel Angel Lopez (Astana) in the Alps in Stage 17 of the Tour de France, it's no surprise how the Colombian cyclist earned the nickname. Lopez held off a late charge and fended off the current general classification leader, Primoz Roglic, to reach the summit finish at Meribel atop the brutalizing Col de La Loze that included steep inclines with 24% gradients.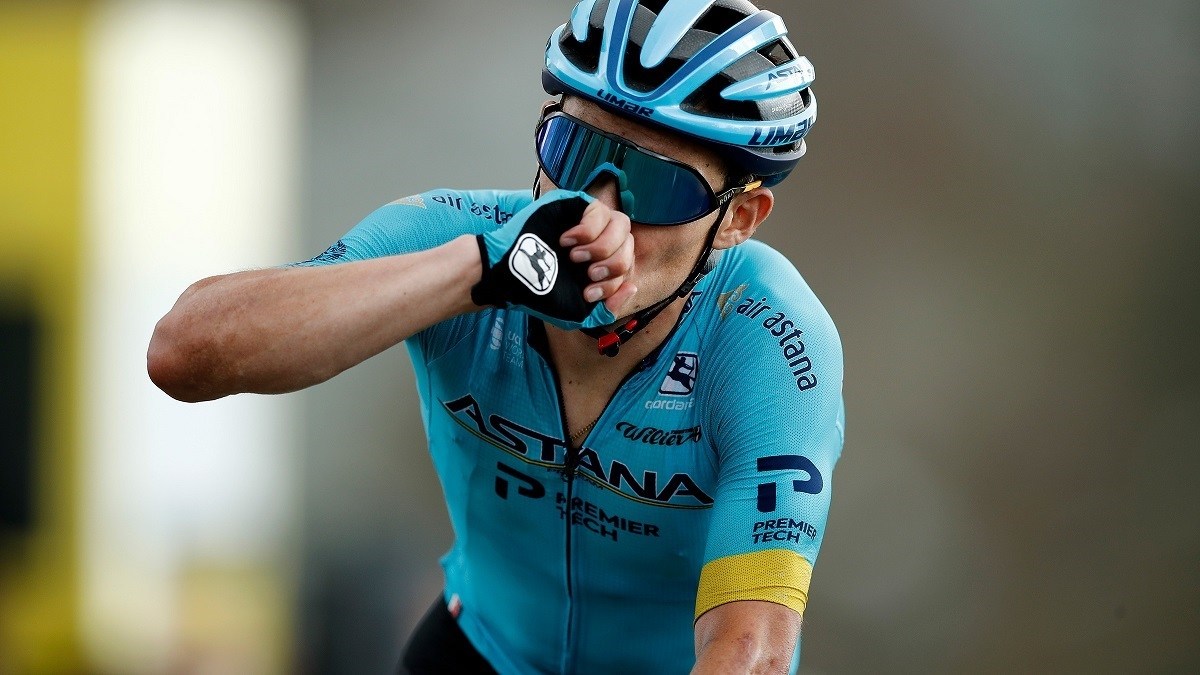 Lopez also held off an attack from the top American rider in Le Tour, Sepp Kuss (Jumbo-Visma), in the closing 2 km of Stage 17. Kuss, one of Roglic's teammates at Jumbo-Visma, finished in fourth place at Meribel.
TOUR de FRANCE STAGE 17 RESULTS
Miguel Angel Lopez (Astana) 04:49:08
Primoz Roglic (Jumbo-Visma) +00:15
Tadej Pogacar (UAE Team Emirates) +00:30
The top three riders to reach the finish at Col de La Loze were awarded time bonuses. Lopez gained an additional 10 seconds on Roglic to move into third place overall in the GC.
Roglic will continue to wear the yellow jersey after he padded his lead over Tadej Pogacar (UAE Team Emirates) by an additional 15 seconds. Pogacar now trails the leader by almost a full minute.
Stage 17: Grenoble > Meribel
The most difficult day of the Tour de France presented itself in Stage 17 during a 170 km ride from Grenoble to Meribel. The ride included two monstrous ascents with Category HC climbs, but they didn't deter Superman.
Greg LeMond once described Col de la Madeleine as "a punishing monster" that takes the peloton up a 17 km ascent to reach the summit at 2,000 meters.
It's hard enough that the riders have to face Col de la Madeleine, but to then face a summit finish at on a stop in the Alps is brutal. Le Tour has never gone up to the top of Col de la Loze, but thanks to a brand-new road, the peloton got its first taste of the seventh-highest peak in France at 2,304 meters.
Richard Carapaz (Ineos Grenadiers) led a breakaway that included Julian Alaphilippe (DQS). Carapaz reached the summit of Col de la Madeleine first and built up almost 10 minutes on the peloton.
Fans were scattered along the mountain pass to the top of Col de la Loze. There was no shortage of support for fan-favorite Alaphilippe, with spectators holding "Merci Julian" signs or scribbling his name and a heart on the road.
Col de la Loze is a different type of monster, with many changes in gradients, up to 24% in the final km of the ascent@Mark_Renshaw explains how specific an effort this is and what to expect on Stage 17 of #TDF2020 #TDFdata | @GlobalNTT pic.twitter.com/VDqjbk0RHJ

— letourdata (@letourdata) September 16, 2020
Superman Surge at Cole de la Loze
A chase pack with the GC leaders and Jumbo-Visma emerged. They shaved time off Carapaz's lead, which was cut down to two minutes on the descent of Madeleine. During the ascent of Col de la Loze and with less than 5 km to go, Alaphilippe cracked and the chase pack caught up to Carapaz.
Kuss and Lopez battled up front with Roglic and Pogacar giving chase. Kuss seized the lead for a hot second before Superman surged ahead.
"I looked back and nobody was behind me actually," said Kuss. "All of a sudden Lopez came across and I tried to stay with him, but he was going really strong. At that point, when I knew I was over the limit, I backed off and tried to pace Primoz a little bit, accelerated with him."
No one caught Lopez, and Superman rode to an unopposed victory in Stage 17, while the battle continued for second place between Roglic and Pogacar. The relentless Pogacar never gave up, stayed with Roglic up until the final 500 meters.
"I'm really happy and very emotional," said Lopez. "We worked really hard for this, and it wasn't easy to get there. It's amazing, this is for my wife and son. It's hard being a long way away from them, but this is my job. But I think of them all the time."
Pogacar finished in third, and Kepp in fourth place.
On Deck: Stage 18 Meribel > La Roche-sur-Foron
The third of three crazy mountain stages will conclude on Wednesday with Stage 18.
It's another 180 km ride in the Alps from Meribel to La Roche-sur-Foron. There are five climbs of note, with a pair of Category 1 climbs and another HC category to the top of Plateau de Glieres.
If you like picturesque stages, then don't miss the ascent to the top of Cormet de Roselend.
Alaphilippe won a stage in 2018 that involved Plateau de Glieres near the start of that race, but the organizers made sure this year's stage ends at Plateau de Glieres.
GC STANDINGS THRU STAGE 17
Primoz Roglic (Jumbo-Visma) 74:56:04
Tadej Pogacar (UAE) +0:57
Miguel Angel Lopez (Astana) +1:26
Richie Porte (Trek-Segafredo) +3:05
Adam Yates (Micthelton-Scott) +03:14
Kuss moved up to 16th place overall. The young American from Durango, Colorado impressed his European counterparts with his performance alongside Roglic at Le Tour.
Superman moved into third place in the GC and is trailing Roglic by less than 90 seconds.
Roglic leads by nearly a full minute. Pogacar missed his chance to shave precious minutes off his second-place time.
"It was a really tough day," said Pogacar. "In that hard finale, I'm happy to not lose more time."
Roglic is now one day closer to a Tour de France victory. Oddsmakers in Europe have him at 1/9 odds to win Le Tour. At DraftKings, you can find Pogacar at 7/1 odds to pull off the comeback and win the Tour de France.