Put yourself in Motion Emotion's hooves for the moment. You've held off the entire Fleur de Lis Stakes field coming around Churchill Downs' far turn, and a quarter-mile remains between you and your first stakes victory. Then, all of a sudden, you get passed like you're standing still.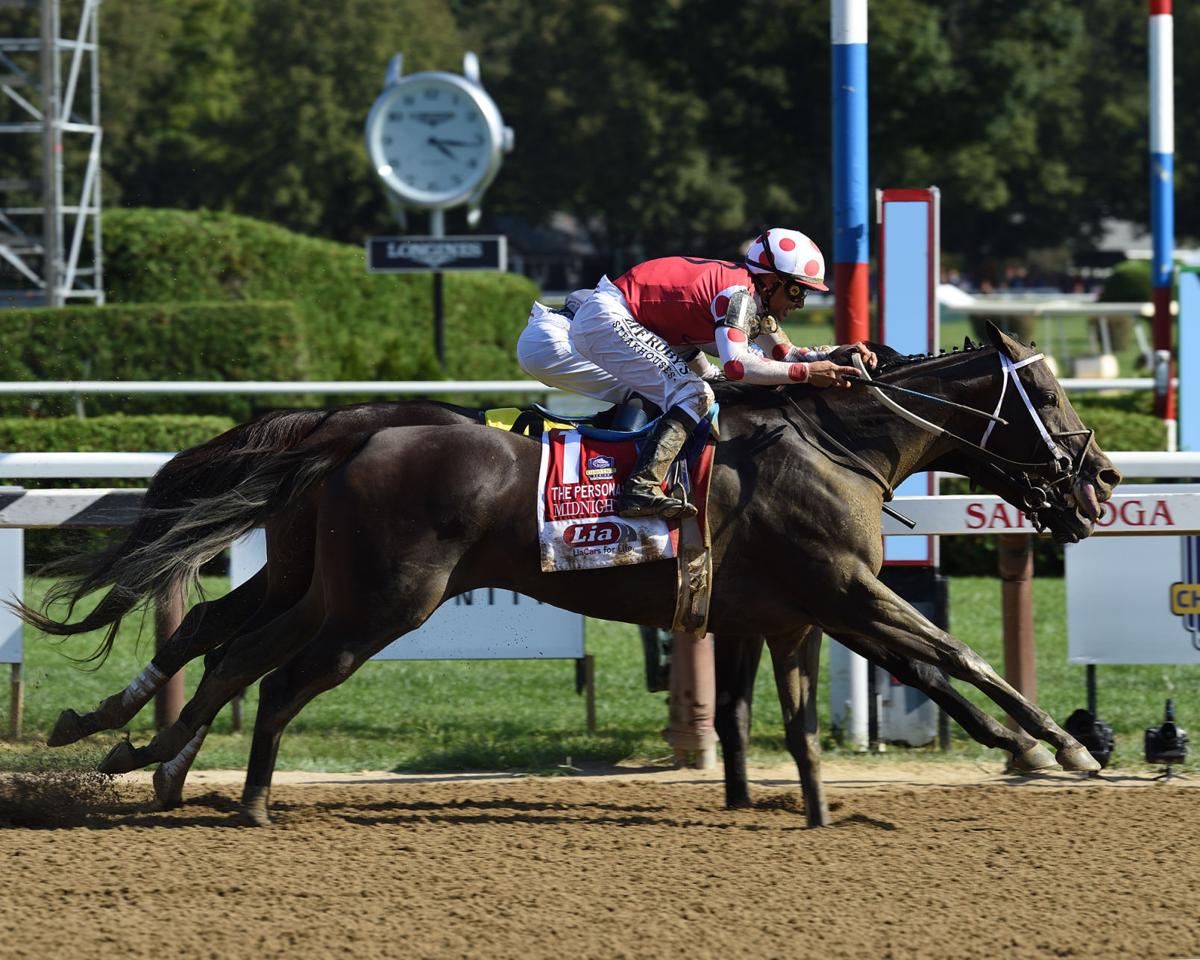 Courtesy of Midnight Bisou, Motion Emotion endured this fate in June. Should she lead Saturday's Grade 1 Personal Ensign Stakes entering Saratoga's far turn, 20/1 Motion Emotion will likely endure it again.
Such is life in Midnight Bisou's world for fillies and mares. The five-time Grade 1 winner seeks her second Personal Ensign title in as many years as the 2/5 favorite in the 1 1/8-mile race. Her duel to the wire with Elate was so razor-close that track announcer Larry Collmus was flummoxed trying to chronicle what happened.
Should Midnight Bisou repeat, she'll be the first back-to-back winner of the Personal Ensign since Beautiful Pleasure in 1999-2000. Given what awaits her in the six-filly/mare field, horseplayers may look fondly at 2/5 when the gate opens.
Rest of Field 16 Wins, Midnight Bisou 13
Midnight Bisou owns 13 wins in 21 races. The other five horses own 16 wins. Combined. Of those five, Abounding Joy (20/1) claims the most wins – four. None of those are in a graded stakes because Abounding Joy – coming off a 5 ½-length win in the Iowa Distaff — hasn't run a graded stakes until now. Put another way, Midnight Bisou owns more Grade 1 victories (five) than any other horse owns in total.
Personal Ensign Stakes
Morning Line (Jockey)
Abounding Joy, 20/1 (Jose Ortiz)
Motion Emotion, 20/1 (Irad Ortiz Jr.)
Midnight Bisou, 2/5 (Ricardo Santana Jr.)
Vexatious, 5/1 (Jose Lezcano)
Bossy Bride, 50/1 (Junior Alvarado)
Point of Honor, 5/2 (Javier Castellano)
Every other horse in the field comes in with three victories apiece. So you get what they're up against, and what you're up against trying to beat this talented a favorite. If you're looking for likely exotic choices to balance out Midnight Bisou's basement-dwelling odds, the list starts with the best other horse in the field – Point of Honor (5/2).
Point of Honor does have a graded stakes victory on her resume: the Grade 2 Black Eyed Susan Stakes last Preakness weekend. She also has three seconds and a third in Grade 1s, the last runner-up coming at the Ogden Phipps last month. The third came in April's Apple Blossom Handicap at Oaklawn Park.
Vexatious Trying to Avoid the Dreaded Bounce
Dig a bit deeper and you find Vexatious (5/1) coming off her career-best 100 Beyer Speed Figure, finishing second to Monomoy Girl in the Grade 2 Ruffian earlier this month. Her last Grade 1 effort was a fifth at the Spinster Stakes last October at Keeneland. For Vexatious' last win, go back to October 2018 at the Dowager Stakes at Keeneland – 10 races ago.
"She ran such a good race in the one-turn mile. My concern going into the Ruffian was it was a new dimension for her cutting back to one turn," Vexatious' trainer, Jack Sisterson, told the New York Racing Association. "That one-turn mile is an extended sprint, and you don't get much of a breather chasing fast fractions."
Vexatious won't get much of a breather Saturday, although a repeat of her Ruffian outing will put her on the board and in the mix.
Race Fans Want Midnight Bisou to Emulate Personal Ensign
The Personal Ensign is a "Win and You're In" event for the Breeders' Cup Distaff. Midnight Bisou stamped her passport for the only big prize eluding her with her Fleur de Lis win.
That brings us back to Midnight Bisou and her legacy. The Personal Ensign gets its name from prominent racing figure Ogden Phipps' undefeated filly, who – among her 13 career wins — beat the boys in the 1988 Whitney Stakes. Midnight Bisou beat all but one boy – Maximum Security – at February's Saudi Cup, and sentiment abounds for her to take them on again in the Breeders' Cup Classic.
The pick: Midnight Bisou. While Saratoga has the reputation as the "Graveyard of Champions," (see Onion vs. Secretariat in the 1973 Whitney, among others), we can whistle past the graveyard on this one.