Last week, Real Madrid lost at home to Champions League newcomers Sheriff Tiraspol from Moldova. The dimension of Sheriff's win is unmatched in the history of the most important European club competition.
A team able to spend a budget as small as $6 million per year — and with players earning between $70K and $200K each season — Sheriff managed to beat all odds as they flew home from Madrid with three points in the bag. In comparison, more than half of the players on Real Madrid's squad earn yearly salaries bigger than Sheriff's annual budget. Welsh attacker Gareth Bale alone makes more than $25 million per year, four times Sheriff's expenditures.
Real Madrid, shot by Sheriff
It's not just the financial numbers that show the difference between the two clubs. According to Gracenote's Euro Club Index, the team from Tiraspol had just a 1.4% chance of winning against Real Madrid. Described as a "strength indicator" by its creators, the Euro Club Index was first calculated to help predict the outcome of football games in 2010. Since then, no other team in the history of the Champions League has managed to win a game at a lower predicted chance than Sheriff.
Real Madrid was ranked third on the Euro Club Index before last week's match, with only Bayern Munich and Manchester City ahead of them. FC Sheriff, on the other hand, was 175th amongst Europe's top-flight teams going into the game at the Bernabeu.
Before Sheriff's shock win against Real Madrid, Celtic's home triumph versus Barcelona in November 2012 was the biggest surprise recorded in the Champions League. Celtic's chance of beating Barcelona back then was estimated at 7.1%.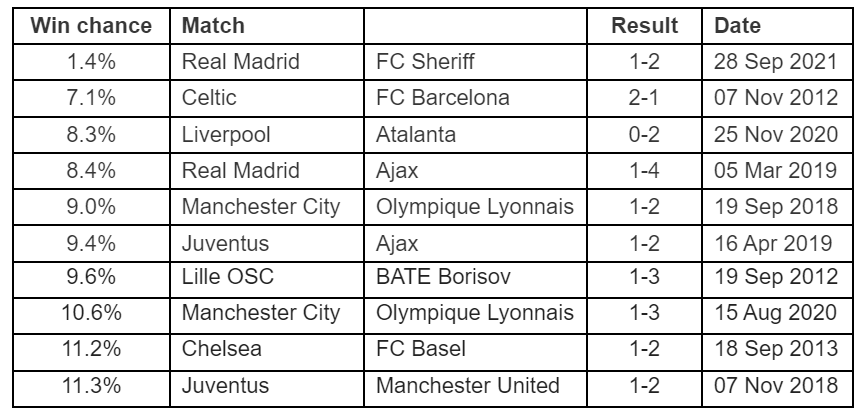 Real Madrid in danger: Crisis looms after two defeats in one week
After losing to Sheriff in the UCL, Real Madrid doubled the alarm as they had to accept defeat against Espanyol in La Liga as well. Real were down by two goals on the hour mark and managed to score only once until the game finished, thanks to an effort from Karim Benzema.
The negative series puts extra pressure on Carlo Ancelotti's shoulders. Real are still first in La Liga with 17 points in eight games, the same as defending champions Atletico Madrid and Real Sociedad. Real needs to find its form quickly, however, as they play Athletic Bilbao at home in La Liga, then Shakhtar away in the Champions League before the first El Clasico of the season at the Camp Nou against their arch-rivals, FC Barcelona.