Mircea Lucescu, the head coach of Ukrainian champions Dynamo Kyiv, returned to his native country Romania after all sporting activity was suspended in the whole country. Following Russia's invasion, all events were put on hold for at least a month. Roberto De Zerbi, Shakhtar Donetsk's head coach, is still in a hotel in Kyiv with his players.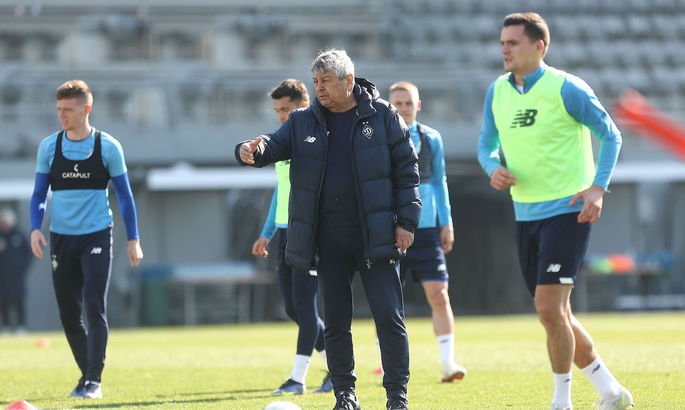 Before Russia's attack, Lucescu said he wasn't considering leaving. "I am not a coward, I will not run away. For the time being, everything is blocked. I'll see what happens and then I will make a decision," he told Romanian portal Fanatik just a couple of hours before Russia's multiple bombings on Wednesday night.
After Russia launched their attack, Lucescu agreed with Dynamo Kyiv's hierarchy that returning home would be best. Lucescu left Ukraine by car on Friday morning. The coach will turn 77 this year and he is the oldest still active at the highest level in world football. Under him, Dynamo played in the Champions League group stage for the past two seasons and won the league and Cup double in Ukraine in 2021.
This season, Shakhtar is leading the league race after 18 rounds. They have a two-point advantage over Dynamo.
Shakhtar is led by Italian manager Roberto De Zerbi. The former Sassuolo boss now lives in a hotel in Kyiv. He is in constant contact with the Italian embassy in Ukraine, who advises him.
"I could not turn my back on the fans," De Zerbi said. "I could have returned home, but I preferred to wait. We woke up to the noise of explosions the other night," the Italian coach revealed.
"There are no heroes here, but our job puts us in front of responsibilities. We were supposed to play on Saturday, so I could not run away," he stressed.
"The road leading to the border is blocked, there are long queues of cars. They talk about 70-kilometer long queues. Gasoline supplies are not enough, as are food supplies. Going somewhere in such conditions is a matter of survival. It would be very dangerous to leave the hotel," De Zerbi commented.
Lucescu has a complicated relationship with Dynamo's radical ultras
Mircea Lucescu previously coached Shakhtar himself for 12 years, so his appointment by arch-rivals Dynamo came as a shock in 2020. Despite getting Dynamo trophies almost instantly, he was in an open conflict with part of the club's ultras. They were unhappy not only because of his past with Shakhtar, but because of an interview he granted to a Russian paper in 2016, when he moved to Zenit Saint Petersburg. He said "Russia and Ukraine are the same country," infuriating some of the Ukrainians. "Customs and life are the same, the way of thinking is identical, the type of behavior too," he also stressed.
Shakhtar is originally from Donetsk, the biggest city in the Donbas area, which was part of the conflict between Ukraine and Russia for years. Following the enclavisation of the region, Shakhtar moved to Kyiv and played its home matches away from Donetsk since May 2014.