As the 4/5 favorite, Rushing Fall brought no rush of value to bettors in Saturday's Grade 1 Jenny Wiley Stakes at Keeneland. But when the chalky favorite defended her Jenny Wiley title, she brought a record rush to what is already a glittering resume.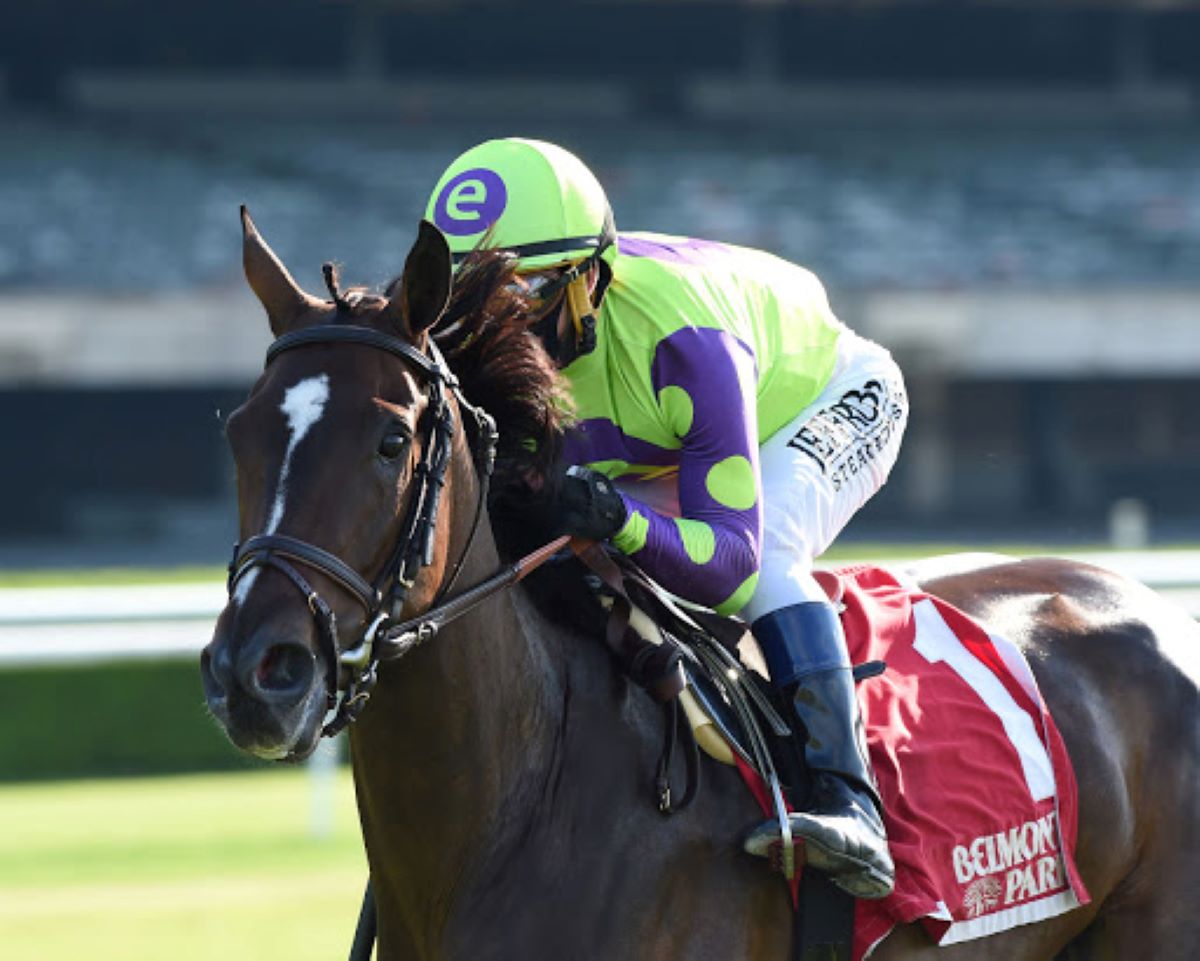 Rushing Fall became only the third horse since 1976 to win Grade 1 races at ages 2, 3, 4 and 5. She joined Lady Eli and Beholder in that august club. Like that pair, Rushing Fall has a Breeders' Cup title: the 2017 Juvenile Fillies Turf. That accounted for Grade 1 victory No. 1.
The others? The Queen Elizabeth II Challenge Cup at Keeneland in October 2018 and last year's Jenny Wiley, along with the Just A Game Stakes at Belmont Park.
"It's a dream come true. Everyone wishes for a horse like this," owner Bob Edwards said after the race. "I hope I get another one in my racing career like her. This is just phenomenal. We're all sitting around watching it at the house. I'm still shaking. The adrenaline spike is still there even when you're watching from your couch."
Rushing Fall as Consistent as They Come for Bettors
Along the way, Rushing Fall bumped her career record to 10 wins and two runners-up in 13 races. And she continued her remarkable record at Keeneland, where she is now 5-for-6. That's dominant territory occupied by recent Hall of Fame inductee Wise Dan, who holds the Keeneland stakes record (seven) and Take Charge Lady.
This is now the company Rushing Fall keeps, largely because it's hard to keep her company on the track. Her 1:39.02 clocking for the 1 1/16 mile trek was a Jenny Wiley and Keeneland record, one earning her a 120 Equibase Speed Figure. That, along with $210,000 that pushed her career earnings north of $2.27 million.
There were good horses trying to keep up, starting with multiple graded stakes winner Jolie Olimpica. She set decent pace-setting fractions of 23.42 for the quarter-mile and 46.94 for the half. Javier Castellano calmly let Jolie Olimpica set her pace, perched Rushing Fall outside coming into the final turn, then sling-shotted past her on the turn. Jolie Olimpica gamely tried keeping up with her on the rail, but Rushing Fall found another gear in midstretch and pulled away.
Castellano's On Board Across the Board
"To me, in my career, my personal life, this one's at the top, ever," Castellano said after the race. "I think she's the best filly. She's always consistent. She never disappoints."
That's because Rushing Fall displayed all her considerable tools in that one-length victory. That includes the speed Rushing Fall lost last July in the Grade 1 Diana Stakes at Saratoga (a second). The only time Rushing Fall missed the board came at the Grade 1 First Lady Stakes last October at Keeneland, when she somehow fell to fourth.
Rushing Fall's trainer Chad Brown, who also trained Lady Eli, gave his prize charge the next eight months off. That recharged Rushing Fall's batteries enough to win the Grade 3 Beaugay Stakes by two lengths at Belmont Park last month.
Extra Racing, Hold the Breeding
With the Jenny Wiley win, Rushing Fall justified Edwards' decision to run her as a 5-year-old. The breeding shed can wait.
"It was a conscious decision to run her again this year, not to go after (Beholder and Lady Eli), but just to run because racing's fun," Edwards told Bloodhorse. "We love racing as a family and the sport itself is great (and) to have something you can be competitive with on a regular basis like Rushing Fall is just that much more fun."